April 29, 2014
Mystery Meat -- Fairy Musketeer Akazukin
It's 39 episodes long, and I've watched the first 8. It isn't too bad. The hero, Souta, is supposed to be 14 but the way everyone is drawn, and the kind of voices they all have, it's more like this is grade school.

(Ringo)
Ringo is his neighbor, childhood friend, and almost-tsundere (she doesn't physically beat him but she crabs at him constantly). Her voice is Rie Kugimiya.

(Ibara, Akazukin, Shirayuki)
Akazukin has the same voice as Nanoha, and the seiyuu is just as good as always. "Akazukin" means "red hood", and she's Little Red Riding Hood. Shirayukihime is Snow White. Ibara (means "thorns") is actually Sleeping Beauty. Together with a talking wolf named Val, they are the Fairy Musketeers, whose symbol is a four-leaf clover.

(Gretel)
Two of the opponents are Hansel and Gretel. They are aided by a talking cat screwup named Randagio who has the ability to summon and control magical beasts called "nightmariens". And we've already run into Hameln, whose weapon is a horn. (No flute.)
Once there was a man who was wise and intelligent. The king gave him a job to do, expecting him to fail. But he succeeded, and in so doing gained great magic, to supplement his knowledge of science and technology. After that, he became insufferably arrogant and lazy, but increasingly powerful. The king was actually Kami-sama and for reasons not yet revealed, he decided to split the world in two.
Elde is the world of science and technology, and Fandevale is the world of magic. (And, evidently, of fairy tales.)
Souta and Ringo live in Elde and attend school there. Souta's mother vanished when he was very young, and his father is away working a lot, so Souta mostly lives alone. Ringo comes over to wake him up every morning, and she often cooks for him.

(Shirayuki, Souta, Akazukin)
Souta is a little strange: he can talk to flowers. They often respond by changing physically, becoming stronger and healthier and more beautiful, which is widely known, so he isn't teased for this. But most people don't truly believe, either. Anyway, there's a fairy tale his mother told him (the one about the arrogant hero and the king) which he keeps reliving in his dreams, which ends with monsters dragging his mother away and chasing him. In his dream, she doesn't finish the story.
He's out walking one time and hears a mysterious voice, repeating that same fairy tale, and he follows it. Turns out Souta is "Elde's Key" and only the key could hear it. The one speaking was one of Randagio's nightmariens, who attacks Souta and tries to capture him. Before he can, Akazukin appears and defeats him.
Then we get a series of introductory episodes, bringing new characters into the story. First Shirayuki, then Hansel, then Gretel, then Ibara, and the stories tend to include Man-from-Mars elements as the Fairy Musketeers try to operate on Elde without causing problems. Eventually they decide that they have to return to Fandevale, and take Souta with them. Ringo ends up going along, and as of ep 8 they're on the other side and the gateway to Elde is now closed, so they can't return until they win.
The final boss turns out to be Cinderella. We see her briefly a few times when underlings report to her.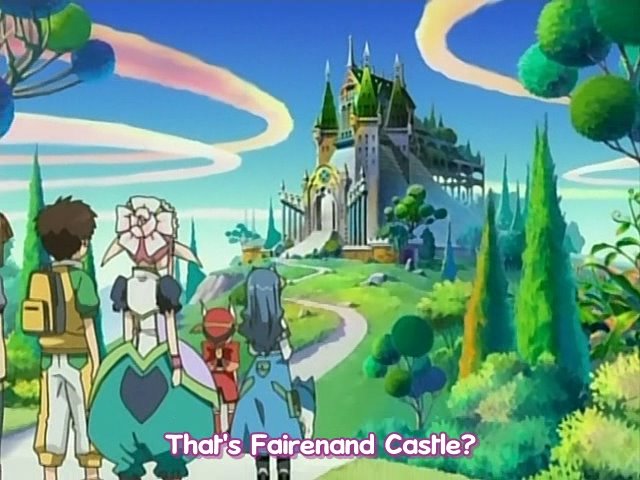 It's a trifle, and it's rather too cute, but it's been fun so far. I'm not sure I believe that there's really 39 episodes worth of story in this concept without loads and loads of filler, but time will tell.
Posted by: Steven Den Beste in Mystery Meat at 01:05 PM | Comments (10) | Add Comment
Post contains 602 words, total size 4 kb.
Posted by: Pete Zaitcev at April 29, 2014 02:30 PM (RqRa5)
Posted by: Steven Den Beste at April 29, 2014 08:15 PM (+rSRq)
Posted by: muon at April 29, 2014 10:28 PM (XIprt)
Posted by: Steven Den Beste at April 30, 2014 04:33 AM (+rSRq)
Posted by: Steven Den Beste at April 30, 2014 11:51 AM (+rSRq)
Posted by: EYanyo at April 30, 2014 02:11 PM (RXa2b)
Posted by: Pete Zaitcev at April 30, 2014 06:17 PM (RqRa5)
Posted by: muon at April 30, 2014 08:32 PM (XIprt)
Posted by: Pete Zaitcev at May 01, 2014 08:15 AM (RqRa5)
Posted by: Steven Den Beste at May 01, 2014 09:47 AM (+rSRq)
Enclose all spoilers in spoiler tags:
[spoiler]your spoiler here[/spoiler]
Spoilers which are not properly tagged will be ruthlessly deleted on sight.
Also, I hate unsolicited suggestions and advice. (Even when you think you're being funny.)
At Chizumatic, we take pride in being incomplete, incorrect, inconsistent, and unfair. We do all of them deliberately.
How to put links in your comment
Comments are disabled.
12kb generated in CPU 0.0054, elapsed 0.0168 seconds.
20 queries taking 0.0125 seconds, 27 records returned.
Powered by Minx 1.1.6c-pink.