January 26, 2011
Mystery Meat -- Havoc in Heaven
Da nao tian gong means "havoc in heaven" or "uproar in heaven". It's an 80 minute animated feature (in the version I have) which was produced in Shanghai in the late 1950's and early 1960's. It was released in two halves, the first in 1961 and the second in 1964.
It's a very ambitious work, and the animation is smooth and the art is of very high quality. It seems as if the artists were trying to live up to the kind of standards Walt Disney had set with his 1940's feature-length cartoons, but of course using Chinese style art and characters and situations.
It's based on the early part of Journey to the West, and it may well be the earliest cartoon to tap into that mythos. It stars the Monkey King, Sun WuKong. His people live on the Mountain of Fruit and Flowers, and one day he watches them practicing their martial arts. He decides to put on a show for them, dancing with his sword.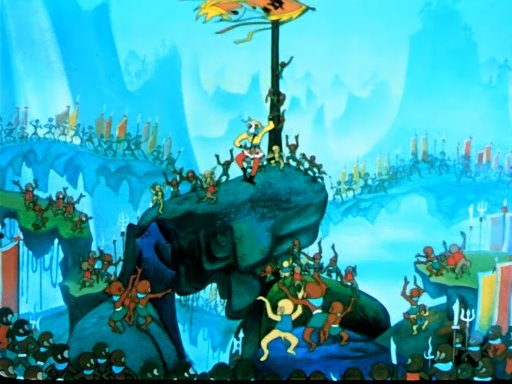 But the sword breaks, and he laments that there is no weapon there worthy of him. One of his advisors tells him that he can journey to the castle of the dragon king, where there are many worthy weapons. So he does.
But none of them are good enough. Even the one that weighs 1600 kilograms is too light, too flimsy. Then they show him Ruyi Jingu Bang, a magical staff which can change size at the will of the wielder. When Sun WuKong first sees it, it is huge, and it had been left there by the gods to quell the oceans and make them calm. The Dragon King tells Sun WuKong he may have the staff if only he can pick it up, but the offer is not genuine. The Dragon King thinks he'll fail, become discouraged, and leave.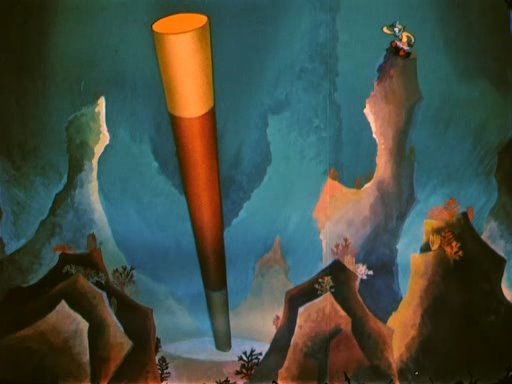 Unfortunately for him, Sun WuKong does pick it up, and it responds to him by changing size as he wishes it to. He prepares to leave with it, and the Dragon king says wait, you can't take that. But you said I could, and so I will.
The Dragon King goes to the Jade Emperor, top of all the gods in heaven, and complains that Sun WuKong has stolen the staff. The Jade Emperor is ready to order an arrest for it, but one of his advisors, an old sycophant who apparently is Venus, instead suggests that they bring Sun WuKong into heaven and give him a low position there, so they can keep an eye on him.
And that is what they do. Sun WuKong is made head of the stables. But he's a troublemaker, and the first thing he does is to release all the horses so they can run free. For that the horses love him, but it gets him into trouble with the power structure.
The head of the imperial cavalry attacks him for it, and is defeated easily. Sun WuKong realizes he's been tricked, and goes back to the Mountain of Fruit and Flowers.
But the Jade Emperor has not forgotten about him, or given up. Two gods are sent to capture him, but Sun WuKong defeats them both. And the story proceeds from there.
It's an amazing film, and though I got really tired of the Beijing-Opera-style music, the animation is superb from beginning to end.
The Wikipedia article about the film is rather somber reading. The Shanghai animation scene had gotten going in earnest in the early 1950's, once things had settled down from WWII and the Chinese Civil War, and had gotten bigger, better, and more successful. This film was the last one made there, and it was a critical and commercial success, getting all kinds of awards.
Shortly after this film was released, the entire industry was shut down by the Cultural Revolution. It's one of the lesser crimes of that terrible event, but a crime nonetheless. The sheer mastery of the animation form in this film offers the promise of much that might have come after, but didn't... because it didn't fit within Mao's idea of how the nation should be.
Fortunately, they didn't outright destroy this film, or maybe copies of it survived overseas. Whichever it was, this masterpiece is available to us now, and I recommend it highly.
Posted by: Steven Den Beste in Mystery Meat at 08:31 PM | Comments (6) | Add Comment
Post contains 725 words, total size 5 kb.
Posted by: Avatar_exADV at January 27, 2011 11:25 PM (mRjOr)
Posted by: Mauser at January 28, 2011 01:28 PM (cZPoz)
Posted by: Don at January 28, 2011 02:06 PM (YfANZ)
Posted by: Steven Den Beste at January 28, 2011 02:15 PM (+rSRq)
Posted by: metaphysician at January 28, 2011 07:20 PM (hD30M)
Posted by: Avatar_exADV at January 28, 2011 07:52 PM (pWQz4)
Enclose all spoilers in spoiler tags:
[spoiler]your spoiler here[/spoiler]
Spoilers which are not properly tagged will be ruthlessly deleted on sight.
Also, I hate unsolicited suggestions and advice. (Even when you think you're being funny.)
At Chizumatic, we take pride in being incomplete, incorrect, inconsistent, and unfair. We do all of them deliberately.
How to put links in your comment
Comments are disabled. Post is locked.
11kb generated in CPU 0.0037, elapsed 0.0108 seconds.
21 queries taking 0.008 seconds, 23 records returned.
Powered by Minx 1.1.6c-pink.