November 13, 2014
Mouretsu Pirates movie -- arrives
Delivered just after 9:00, and so I beat the torrents (where it hasn't yet arrived).
I'm ripping it to HD right now, but it's going to be a while. It's 38G total, mainly in a 31G file and a 7G file. More later.
UPDATE: Fully ripped, but messing around with a 31G M2TS file is... painful... so I'm using Handbrake to convert it into a much smaller MKV. Which is going to take another hour, probably.
My computer has a quad core, all of which are hyperthreaded, so it looks like 8 CPUs to the system. Handbrake is using them all, which is pretty neat.
UPDATE: And it is awesome. It was wonderful to watch, even without subtitles. I started taking frame grabs to share and ended up with 58, so I'm going to practice discipline and limit myself to just 1:
This is the single coolest image in the film.
I'm sure it's going to be even better once a sub comes out. I hope we don't have to wait long for it.
UPDATE: Some comments (probably including spoilers) below the fold.
---
It's the same director as did the TV series, and he has taken liberties with a lot of the art. I get the feeling that in the movie he had the time and budget to do what he had really wanted to do with the TV series but wasn't able to do. So he redesigned the bridge, for instance, including the look of the various stations. He redesigned Schnitzer rather substantially. Some of the character art is subtly different, but you get used to it quickly.
The yacht club has a heavy presence in the movie and it doesn't feel contrived. Grunhilde is a major character, even more so than Gruier.
He did a couple of things which seem to damage continuity, but I guess could be handwaved. Marika's home was attacked and pretty much destroyed, but I suppose it could be rebuilt. And Barbaroosa lost its torpedo at the beginning, but I guess it could be replaced.
Except for those things, it fits pretty cleanly into the continuity just before the Pirate Hunter arc, but after the yacht race story line. For one thing, Marika has learned to pilot the shuttle, so Kane doesn't have to bring her down to Uminoakehoshi. (He offered to train her at the end of the yacht race story.) It's a point in the story line where Marika is no longer a trainee.
Chiaki is in it and plays a small, but important, part. Jenny likewise. Lyn plays a big part, and teams up with Courier and Hyakume to engage in cyberwar with an enemy. (That's where that frame grab came from; the chibi Marikas are computer icons representing Lyn's counter-attack.)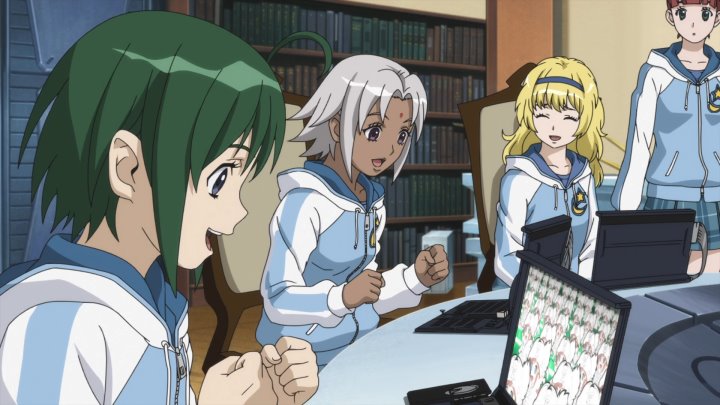 The girls are shouting "Ike! Ike!"
I was afraid the new character, Kanata, was going to turn out to be a snot, but he isn't. He's a bit overwhelmed during a lot of the film, not least because he's surrounded by girls a lot of the time, but also for other reasons.
Truly awesome and worthy of being part of the canon. I wonder if it's an original story, or if it's based on one of the light novels?
Posted by: Steven Den Beste in General Anime at 09:16 AM | Comments (1) | Add Comment
Post contains 515 words, total size 3 kb.
Posted by: sqa at November 13, 2014 08:00 PM (OZu5e)
Enclose all spoilers in spoiler tags:
[spoiler]your spoiler here[/spoiler]
Spoilers which are not properly tagged will be ruthlessly deleted on sight.
Also, I hate unsolicited suggestions and advice. (Even when you think you're being funny.)
At Chizumatic, we take pride in being incomplete, incorrect, inconsistent, and unfair. We do all of them deliberately.
How to put links in your comment
Comments are disabled.
7kb generated in CPU 0.01, elapsed 0.02 seconds.
21 queries taking 0.0143 seconds, 18 records returned.
Powered by Minx 1.1.6c-pink.