June 23, 2012
Mouretsu Pirates -- thoughts about episode 25
Random comments and speculation on ep 25, below the fold.
---
In episode 24, while Bentenmaru is under fire, Hyakume makes a comment that it's the worst they've seen since they came out of warp in the middle of the Empire Seventh fleet.
In ep 25, Kenjo makes a comment that even the Seventh Fleet never ventures to the area of the Pirate's Nest.
I'm going to make a bet that the Empire fleet that we are shown coming out of warp in the next ep teaser is the Seventh Fleet.
In Cowboy Bebop, there are three old guys who keep showing up. They're all over the solar system. In the Bebop movie, they're on Mars. I remember them as being on one of the moons of Jupiter. I'm sure they showed up other places, too. In the movie they actually made a difference but my vague memory was that in the TV series proper they were just background, and the way that they kept popping up was something of a running gag.
These guys reminded me of them. Think it's a deliberate callout?
Marika really, really opened up the purse for upgrades. The matter converters were repaired, and maybe replaced. All the existing engines got upgrades of some kind, and they mounted two entirely new engine nacelles on the lower part of the hull. Bentenmaru is going to be very lively after all this.
They added a bunch of other things which are apparent from the outside. The sensor array on the lower mast is about twice the size now, for one thing. And there are three gizmos mounted at 1/3 increments around the front of the ship. In a drawing that Courier showed Marika, they're extended:
But when the ship starts sailing at the end of the episode, they're retracted.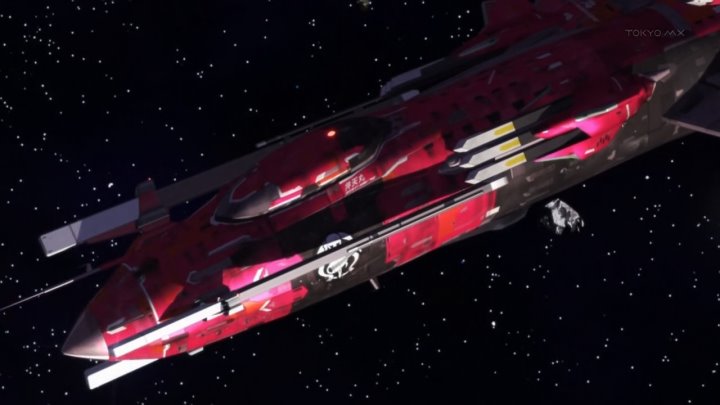 Think they're weapons? Or do they create a shield? That would certainly be helpful!
Some of the stuff Marika ordered is mainly for this particular mission. It doesn't really seem as if Bentenmaru will be leading fleet actions very often, so the extra communications gear won't get a lot of use. But I think that most of what she bought will be useful later.
Here's how I think the battle will go: All the pirate ships are going to dodge fire from the Grand Cross, in order to survive and buy time. They're going to do what Marika did when she engaged Grand Cross.
All the EW officers will coordinate their attacks, led by Courier, and will succeed in taking down the Grand Cross's control systems. That will immobilize it. Then all the pirate ships will close and dock, and we'll get the mother of all boarding actions, with a dozen groups of marines infiltrating the Grand Cross led by their respective captains, with their movements coordinated by Courier and the other EW officers, who will observe everything using Grand Cross's internal sensors.
About the time they reach the bridge, the Empire's Seventh Fleet is going to show up, commanded by the Queen, who's gonna shout "Stop! Stop!" and end the game. Maybe this happens after they capture Quartz Christie but before the hothead can kill her.
I think that's how Marika has it planned. And it not only is a good plan, with a decent chance of success, it has the additional benefit that no single ship is the star. Bentenmaru plays a bit of a leading role, but everyone will be involved in the successful EW attack, and everyone's going to board and storm. No one is going to feel left out. No spear carriers. There will be plenty of glory to go around.
Another advantage is that the plan is that it doesn't require a fleet commander. The pirate ships won't be operating as a group; they're going to be spread out and moving independently. They all will know the plan, and won't need orders while the battle is going on, unless something unexpected happens.
Marika presented her plan in the small room just before they all had shaved ice with honey, and they all seem to have agreed to it.
The Queen ain't gonna be happy about how the pirates come close to killing her daughter, but she won't really be able to blame them for it. Quartz Christie is the one who picked the fight, and she's already taken out a lot of pirate ships, causing who knows how many deaths. It's to be expected that the remaining pirate ships in the sector would try to fight back.
The actual primary reason for Seventh Fleet to show up will be to rescue Grand Cross and prevent the pirates from picking up all the delicious advanced technology that's on it. Losing that would be a disaster for the empire. But saving the princess is important, too.
So we're going to get an ultimatum from the empire: Pirates, work for us or don't work at all. Take Letters of Marque from us or face being hunted down by our ships.
So... I've been pretty lousy at predicting what Sato was going to do next, so I'm probably wrong about a lot of this. But it's going to be amazing, whatever it ends up being.
Posted by: Steven Den Beste in General Anime at 08:35 PM | Comments (8) | Add Comment
Post contains 875 words, total size 5 kb.
1
If I'm right and the pirates collectively manage to capture Grand Cross, then legally it's theirs. It's a prize; that's covered by the Letter of Marque.

If, then, the Empire shows up and wants it back, they may have to buy it back. Which would involve a really huge amount of money, which would be split evenly among the ships that were involved, and leave them all very well off.

The Empire might have to pay ransom for Quartz Christie, too, which would only increase the take.

And since it'll be Marika's plan that makes this all happen, it isn't going to hurt her reputation among the pirates at all.

Hot-head's ship isn't there. He's in the infirmary at the Pirate's Nest, and some of his men are in custody there. So he's going to miss out on this. Schadenfreude...
Posted by: Steven Den Beste at June 24, 2012 11:49 AM (+rSRq)
2
In the narration for next week
Posted by: Dave Young at June 24, 2012 03:23 PM (ZAk0Z)
3
I don't think they're going to use
Posted by: Steven Den Beste at June 24, 2012 03:26 PM (+rSRq)
Posted by: Steven Den Beste at June 24, 2012 03:47 PM (+rSRq)
5
"Legally it [the Grand Cross] is theirs"...by whose law? Normally, RL Letters of Marque are honored only by the issuing governments; the governments at which they're targeted regard the privateers as pirates.
Posted by: jcm3 at June 24, 2012 07:11 PM (OU30d)
6
JCM3, please use spoiler tags.
The empire recognizes the Letters of Marque, at least tacitly. The deal that was made at the end of the revolution was that the Letters wouldn't be revoked for any ship which had one, but if the captain's line ended, or if the ship didn't make pirate raids at a rate of at least one per 49 days, then the letter was revoked and could never be gotten back.

I think the Empire intended to let the problem of piracy solve itself through natural attrition.

Also, we now know that the Empire itself has been, and still is, issuing Lettters of Marque themselves. In fact, they were doing it before the revolution.

Anyway, if things go the way I expect, then the Empire will have to deal because the pirates will be holding Quartz Christie as a hostage.

I'd also like to point out that right now the Empire likely thinks pretty highly of Marika, because she's the one that exposed that revolutionary movement and gave the Empire all the evidence about H&D's gun running. One of the reasons everyone tolerates the pirates is because they can be very useful at times, even for the authorities.
Posted by: Steven Den Beste at June 24, 2012 07:39 PM (+rSRq)
7
...the governments at which they're targeted regard the privateers as pirates.
Historically, this is not correct. Privateers were usually treated as if they were part of the navy of the issuing nation, and if captured were usually entitled to be treated as prisoners of war. (This was before the Geneva Conventions, and POW treatment varied quite a lot, of course.)
Regardless, historical precedent has nothing to do with this series.
Posted by: Steven Den Beste at June 24, 2012 07:48 PM (+rSRq)
8
"JCM3, please use spoiler tags."
I should've thought of that. Sorry.
Posted by: jcm3 at June 25, 2012 03:20 PM (OU30d)
Enclose all spoilers in spoiler tags:
[spoiler]your spoiler here[/spoiler]
Spoilers which are not properly tagged will be ruthlessly deleted on sight.
Also, I hate unsolicited suggestions and advice. (Even when you think you're being funny.)
At Chizumatic, we take pride in being incomplete, incorrect, inconsistent, and unfair. We do all of them deliberately.
How to put links in your comment
18kb generated in 0.0188 seconds; 23 queries returned 27 records.
Powered by Minx 1.1.4-pink.