March 06, 2012
Mouretsu Pirates -- BD 1
My copy of the first BD of Mouretsu Pirates got delivered this morning. The BD contains the first two episodes, of course. They're both together in a single file, which is unusual.
There's also a clean OP and a clean ED. And there's a 36 minute video of what seems to have been a live kickoff show for the series, featuring the director and the primary seiyuu.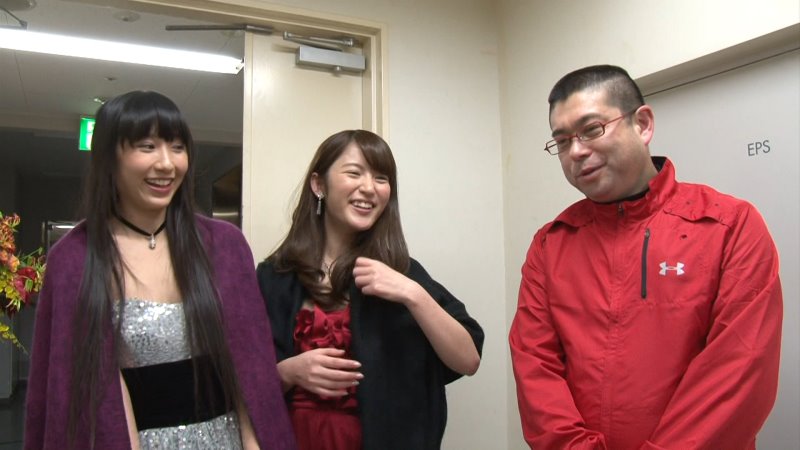 This is backstage picture from that video. On the left is Chiaki. In the middle is Marika. On the right is Sato, the series director.
There were five other women on stage.
Presumably one of those is Jenny Dolittle, but I can't tell which. That seiyuu's publicity picture at ANN is dreadful.
I think the reason they're all in red and white is that this was filmed in December, before the series began broadcasting. So it's Christmas themed.
I think this series is going to end up being a big hit. It'll be interesting to see how the first BD sells when the numbers come out next week.
UPDATE: I got the fancy version, which included a CD. The first track on the CD is an audio play which is thirteen and a half minutes long. The second track is a song sung by Marika. At which point I was beginning to worry.
But the third track is the music that plays under the ep teaser before the OP, so it's OK.
I think the background music on this series is particularly good, so I was hoping the CD would contain some of the best of it -- particularly the music under the action scenes.
UPDATE: Lots of good songs on that CD, and I'm going to upload three of them. I have no idea what they think they're named. Here are my names:
Electronic warfare (2.86 mb)
Odette II (3.04 mb)
Solar Sails (3.09 mb)
That last one: It plays during the last part of the battle with Lightning 11, while Marika is adjusting the solar sails to blind the enemy ship.
Posted by: Steven Den Beste in General Anime at 11:13 AM | Comments (5) | Add Comment
Post contains 322 words, total size 2 kb.
Posted by: Steven Den Beste at March 06, 2012 12:23 PM (+rSRq)
Posted by: Mauser at March 07, 2012 04:15 AM (cZPoz)
Posted by: Doyen at March 08, 2012 08:11 AM (eJtPw)
Posted by: Don at March 13, 2012 04:16 PM (bWedG)
Posted by: Steven Den Beste at March 13, 2012 08:35 PM (+rSRq)
Enclose all spoilers in spoiler tags:
[spoiler]your spoiler here[/spoiler]
Spoilers which are not properly tagged will be ruthlessly deleted on sight.
Also, I hate unsolicited suggestions and advice. (Even when you think you're being funny.)
At Chizumatic, we take pride in being incomplete, incorrect, inconsistent, and unfair. We do all of them deliberately.
How to put links in your comment
Comments are disabled. Post is locked.
8kb generated in CPU 0.005, elapsed 0.0133 seconds.
21 queries taking 0.0093 seconds, 22 records returned.
Powered by Minx 1.1.6c-pink.