May 22, 2012
Mouretsu Pirates -- another fix
My copies of BD 2 and BD 3 just got delivered, and I immediately checked a particular graphic which had always annoyed me. And I'm happy to report that they fixed it.
Ignoring relics like Bentenmaru and Barbarossa, there are three main classes of warships we see in this series, all of which have hulls that look like swords. The smallest is the Corback class, which has one turret on each side. It's classified as an "escort", or a "destroyer". The next class up is the Talbot class, a battleship, which is larger and longer and has four turrets on each side. The biggest is the Maracot class, which has two blades and has five turrets on each side. We only see two Maracots in the series (at least, so far): Queen Serendipity and Jabberwocky. Maracots are designed to be fleet flagships; they're loaded with communication gear.
This is from episode 9: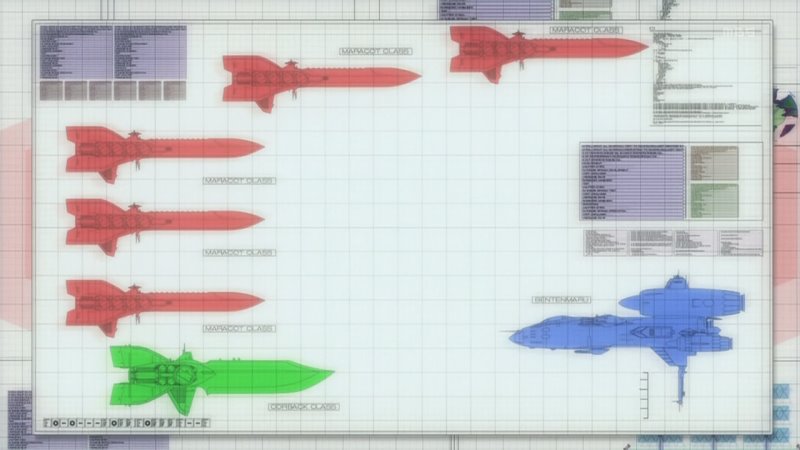 The actual situation is that there are five Corbacks and one Talbot. The green one uses the proper graphic and is labeled correctly. But the red ones all use the Talbot graphic, and they're all labeled as "Maracot class".
Well, they fixed it on the BD:
Now they're using the proper graphic and the proper labels on them all.
It's nice to see that someone is paying attention, and that they care enough to make the correction. It's less nice that the correction was even needed in the first place. But I guess the time pressure is different for the BD release.
These BDs each have four episodes on them, and they put all four together into a single file. These were the non-deluxe BDs; I wonder if they did the same thing for the deluxe release? (My copy of the first BD is deluxe, and the episodes were separate files on that one.)
Posted by: Steven Den Beste in General Anime at 08:57 AM | Comments (2) | Add Comment
Post contains 311 words, total size 2 kb.
1
Are those diagrams of the ship silhouettes to relative scale? The opposing ships look about right compared to each other, but the
Bentenmaru
looks a lot bigger than I imagined...
Posted by: Siergen at May 22, 2012 06:53 PM (PuIGa)
2
Bentenmaru is too large. When Bentenmaru was parked next to a Corback, it seemed to be maybe three quarters as long as the Corback.
The Corback relative to the Talbot seems to be about right.
Posted by: Steven Den Beste at May 22, 2012 07:01 PM (+rSRq)
Enclose all spoilers in spoiler tags:
[spoiler]your spoiler here[/spoiler]
Spoilers which are not properly tagged will be ruthlessly deleted on sight.
Also, I hate unsolicited suggestions and advice. (Even when you think you're being funny.)
At Chizumatic, we take pride in being incomplete, incorrect, inconsistent, and unfair. We do all of them deliberately.
How to put links in your comment
9kb generated in 0.0226 seconds; 23 queries returned 21 records.
Powered by Minx 1.1.4-pink.