April 16, 2014
More on trigger discipline
Speaking of trigger discipline, I always cringe when I watch this scene:
Lynn is about one mistake away from blowing that guy's head off. On the other hand, Sasha and Chiaki do it right: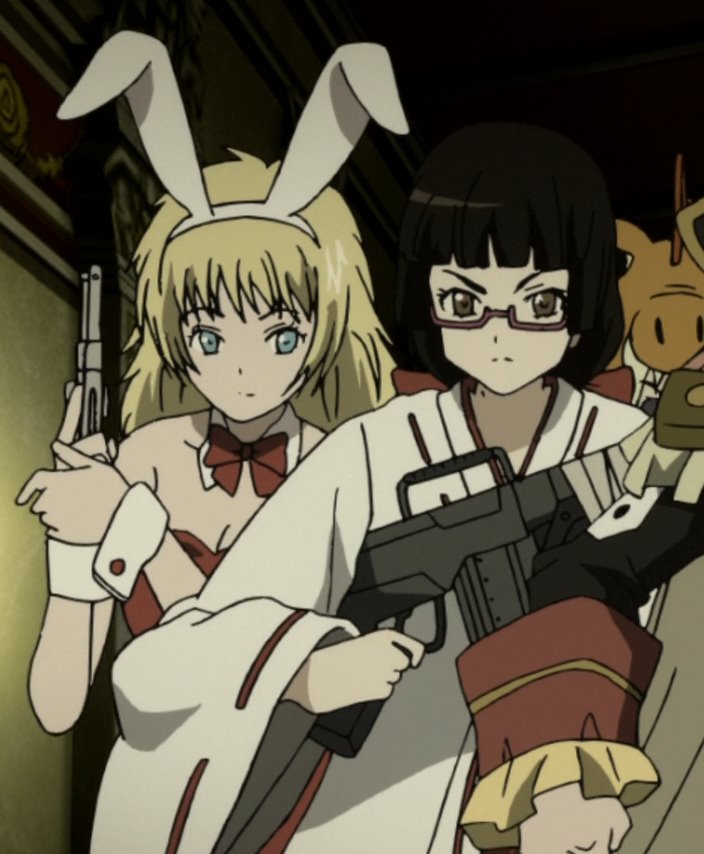 Chiaki's finger position is a bit odd, but that's because the grip on that blaster was designed for someone with bigger hands. She can't lay her index finger along the trigger guard because it's too far away.
Sasha, of course, is doing it perfectly. She's aiming the weapon straight up, where there isn't anything she cares about, and holding it with both hands, and her finger is extended, not on the trigger.
Beauty and brains.
Posted by: Steven Den Beste in General Anime at 03:59 PM | Comments (3) | Add Comment
Post contains 113 words, total size 1 kb.
1
Actually Sasha is doing it wrong. It's way too easy when pointing the gun up to have it end up poimting at the top of ones head, and even it is pointed straight up the flash, sound and powder burns of a discharge in that position could temporarily and even permanantly blind her. Down or out is best. OTOH her trigger discipline is, indeed very good and Lynn's, if that gun is not a prop is the stuff of nightmares.
2
Sasha and Lynn are using prop guns. They're actually blasters but are decorated to look like ancient powder-and-ball guns.
3
But yes, they're live weapons. (Lynn fires hers earlier in that scene.)
Enclose all spoilers in spoiler tags:
[spoiler]your spoiler here[/spoiler]
Spoilers which are not properly tagged will be ruthlessly deleted on sight.
Also, I hate unsolicited suggestions and advice. (Even when you think you're being funny.)
At Chizumatic, we take pride in being incomplete, incorrect, inconsistent, and unfair. We do all of them deliberately.
How to put links in your comment
Comments are disabled. Post is locked.
6kb generated in CPU 0.01, elapsed 0.0243 seconds.
21 queries taking 0.0161 seconds, 20 records returned.
Powered by Minx 1.1.6c-pink.