September 18, 2016
Minami Kaburagi, MD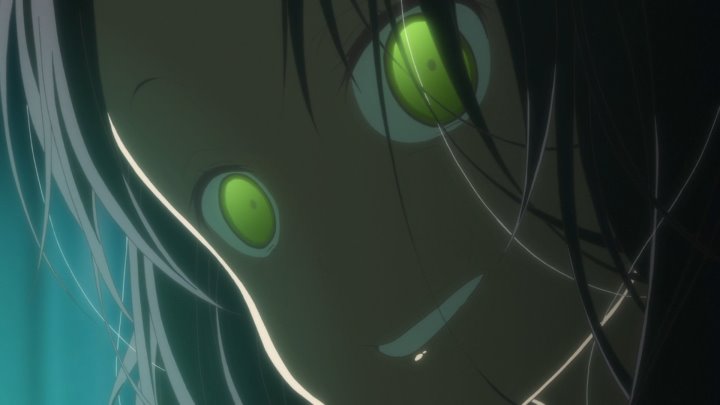 Minami-san is one of the most interesting characters in Haifuri and probably the most important after Misaki kanchou. She arguably contributed more to the victory than any other single person in the entire show.
Which is all the more impressive because she's only 12 years old. All her crewmates are 16, being first-year highschool. Minami is a super-genius and skipped a bunch of grades so as to enter and graduate from University. I am not actually sure if she's a finished doctor or merely a pre-med graduate, but if she isn't legally a doctor it's clear she's got the knowledge and skill. So she checks out some people rescued from a sinking ship.
She's got brains and she's got guts. Hiding under a bed in sick-bay actually was intelligent in this particular moment: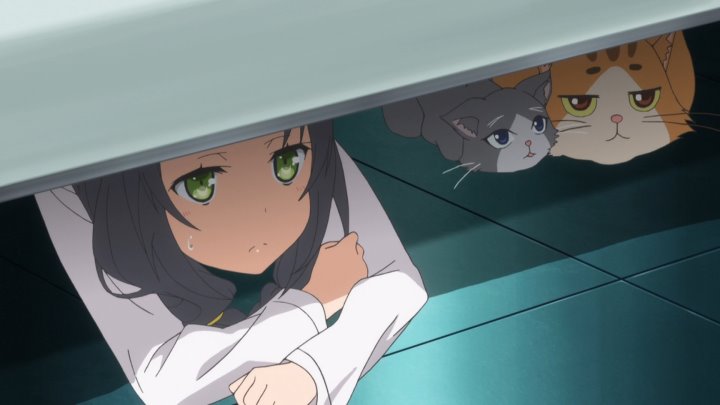 The way things turned out, the only way to save the crew of some of the ships is to board, and she's a necessary part of the boarding party.
She's loaded up and ready to rumble.
Well, she doesn't actually rumble. It's the job of the other four to bring down opposing crew, so that she can inject each one with the drug she's created.
If anyone beyond the captain gets a decoration or a personal commendation, Minami-san certainly will be among them.
Posted by: Steven Den Beste in General Anime at 12:19 PM | Comments (4) | Add Comment
Post contains 219 words, total size 2 kb.
1
She's well-suited to be chosen as a "
science babe
", by the way, because she
is
actually a science babe.
Posted by: Steven Den Beste at September 18, 2016 04:14 PM (+rSRq)
2
Did you watch HSF on Crunchyroll? I'd completely missed that she was so young. I'd actually thought she was one of the older people on the ship.
Of course the CR dub seemed really off at times early on.
Posted by: The Brickmuppet at September 18, 2016 05:51 PM (1zM3A)
3
I have the HorribleSubs rips. As to her age, it's only mentioned once, at the very end of the Equator Festival (Ep 10), after the sumo contest. Maron then announces that the festival is over, and Minami holds up her hand and says that she hadn't done anything yet and she wanted the crew to sing "I am a Child of the Sea." That's where it comes out that everyone else thought she was the oldest person on board but she was actually the youngest. One of the others mentions that it's a good song and asks, "Did you sing it to your children?" and then Minami says, "I'm only twelve years old!"
And they all sing, and it's nice. One thing I really liked is that no one's attitude towards her changed after that. For instance, she was ready for the next boarding action and no one tried to say she shouldn't go. She had been performing her duties superbly and they all expected her to keep doing so, and she did.
Posted by: Steven Den Beste at September 18, 2016 07:17 PM (+rSRq)
4
They've always throttled my torrent uplink to about 2 megabits per second total, about 240 kbytes. Because I didn't want to be constantly setting off alarms (if) I myself set uTorrent to throttle to 200 kbytes uplink.
Posted by: Steven Den Beste at September 20, 2016 07:35 PM (+rSRq)
Enclose all spoilers in spoiler tags:
[spoiler]your spoiler here[/spoiler]
Spoilers which are not properly tagged will be ruthlessly deleted on sight.
Also, I hate unsolicited suggestions and advice. (Even when you think you're being funny.)
At Chizumatic, we take pride in being incomplete, incorrect, inconsistent, and unfair. We do all of them deliberately.
How to put links in your comment
Comments are disabled.
8kb generated in CPU 0.01, elapsed 0.0207 seconds.
21 queries taking 0.0139 seconds, 21 records returned.
Powered by Minx 1.1.6c-pink.