January 08, 2012
Messages
So your main girl character is flying a single-seat plane of some kind, and you show a cockpit shot of her, with the camera low and forward, facing back. There's two messages you can send. Here's the first:
"This show will feature lots of fan service." (Aika Zero, from Studio Fantasia.)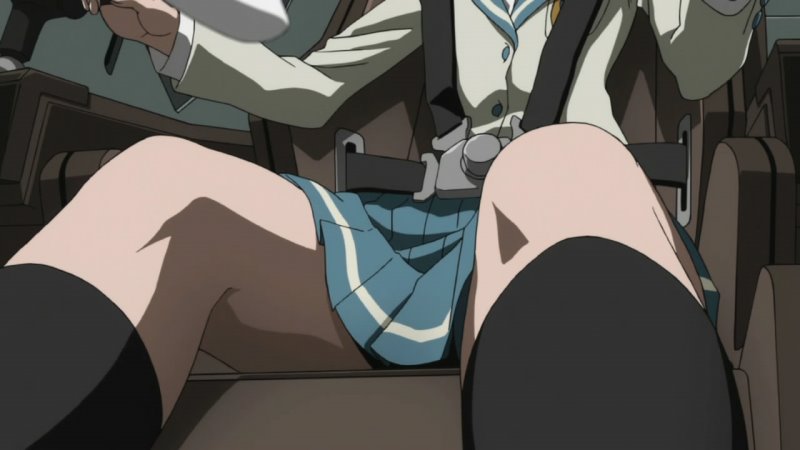 "This show is not about pandering. We won't be doing gratuitous fan service."
Which is the message from Mouretsu Pirates.
UPDATE: Pete, that thing looks like it could make a soprano out of you.
Posted by: Steven Den Beste in General Anime at 06:09 PM | Comments (3) | Add Comment
Post contains 87 words, total size 1 kb.
1
I really wish the lower 2 points were where they should be, because this design would not restrain the pilot from moving up (shoulder points will start working first, at best).
But ok, downloading the raw.
Posted by: Pete Zaitcev at January 08, 2012 07:20 PM (G2mwb)
2
Could be worse. Aika wasn't strapped in at all.
Posted by: Steven Den Beste at January 08, 2012 07:24 PM (+rSRq)
3
There was the pirate/nurse lady whose attire seemed to have suffered a run-in with the Very Hungry Caterpillar.
Posted by: Pixy Misa at January 08, 2012 09:34 PM (PiXy!)
Enclose all spoilers in spoiler tags:
[spoiler]your spoiler here[/spoiler]
Spoilers which are not properly tagged will be ruthlessly deleted on sight.
Also, I hate unsolicited suggestions and advice. (Even when you think you're being funny.)
At Chizumatic, we take pride in being incomplete, incorrect, inconsistent, and unfair. We do all of them deliberately.
How to put links in your comment
Comments are disabled. Post is locked.
6kb generated in CPU 0.0056, elapsed 0.0141 seconds.
21 queries taking 0.0103 seconds, 20 records returned.
Powered by Minx 1.1.6c-pink.