October 04, 2016
Matoi the Sacred Slayer -- ep 1
AKA "Soushin Shoujo Matoi". I think this could end up being pretty good. There are demons who come to Earth and possess people, turning them demonic. Ordinary weapons are useless against them, and the first one we see is defeated by a young woman that the British Army calls "fatima". For her it's easy. She seems to have a power they call "Divine Union".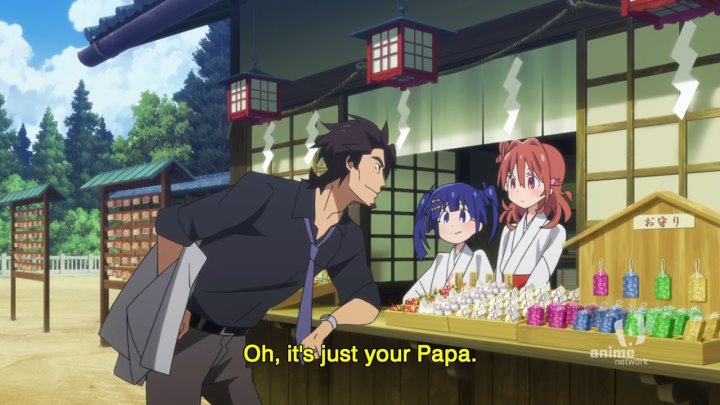 And then we leave the UK and go to Japan where we meet our main characters, most of whom are difficult to take seriously. The show appears to not be massively serious; it isn't horror though some of the images we see in the first episode could have come from a horror series. The main character is a middle-school girl named Matoi whose interesting wish is to be ordinary. She doesn't want to be special.
Her mother is dead and she lives with her father, Shingo, who is an odd one. Their relationship is a bit strange anyway because she calls him "Shingo-kun". He's a police officer and gets called away all the time to investigate bizarre crimes.
Matoi's best friend is Yuma, who is daughter of the high priest of a shrine who is a clown. Anyway, with one thing and another there is a demonic appearance at that location and it defeats everyone who tries to fight it. Yuma found an ancient scroll which describes how to do exorcisms and is all excited to give it a try, and it works, sort of. Only when the divine power comes down out of the sky it doesn't go to Yuma; it goes to Matoi. And she transforms into the spitting image of her mother, with a fancy costume, and easily defeats the demon.
It looks like Matoi has the ability to summon some sort of goddess and to join with her, gaining tremendous powers. (Or maybe it's Yuma who does the summoning.) Matoi doesn't want this, and it looks like part of this show is "reluctant hero".
Good news: one of the main characters is voiced by Ayako Kawasumi. It's been too long since we've heard her in a show. Unfortunately, her character is rather deadpan, so at least so far it isn't much of an opportunity to act.
Bad news: Horriblesubs is stealing it from Anime Network, and it's hard subbed. I hope there's a raw source somewhere and some circle picks it up.
UPDATE: Ohys has posted a raw, so I think it likely someone will post a soft-sub.
Posted by: Steven Den Beste in General Anime at 04:00 PM | Comments (1) | Add Comment
Post contains 423 words, total size 3 kb.
1
In the translation I watched, in the preview for ep. 2, she says all she wants is to live with her parents and be a normal girl. Is her mom merely gone somewhere?
Her Dad mentioned that she "came back" to him (mistaking his daughter).
Posted by: topmaker at October 05, 2016 05:14 PM (6stZH)
Enclose all spoilers in spoiler tags:
[spoiler]your spoiler here[/spoiler]
Spoilers which are not properly tagged will be ruthlessly deleted on sight.
Also, I hate unsolicited suggestions and advice. (Even when you think you're being funny.)
At Chizumatic, we take pride in being incomplete, incorrect, inconsistent, and unfair. We do all of them deliberately.
How to put links in your comment
Comments are disabled.
7kb generated in CPU 0.0405, elapsed 0.0644 seconds.
21 queries taking 0.0479 seconds, 18 records returned.
Powered by Minx 1.1.6c-pink.