October 19, 2010
Marie & Gali -- ep 20, cliffhanger?
Marie & Gali is one of the secret, unsung treasures of the last couple of years. It came out a long time ago, and the first group to sub it gave up after 8 eps.
Recently a new group, Wasurenai, has picked it up. They began with ep 10 and have made it up to ep 20. The episodes are only five minutes long, so watching one every few days isn't really very satisfying. So I've been waiting until three or four of them accumulate which I watch in a single session.
Ep 20 came out today, and I did a catchup of the last four eps. And ep 20 ends with a cliffhanger. I wonder how they'll write their way out of it? Spoilers below the fold.
---
Ep 20 is about astronomy. DaVinci mods the island streetcar so that it will go out into space. Galileo ends up outside for a while:
And they fly past Jupiter and Saturn, on the way to Neptune.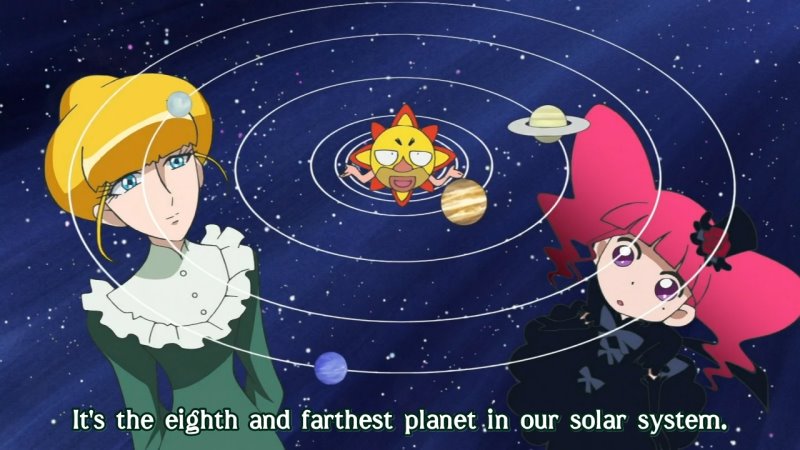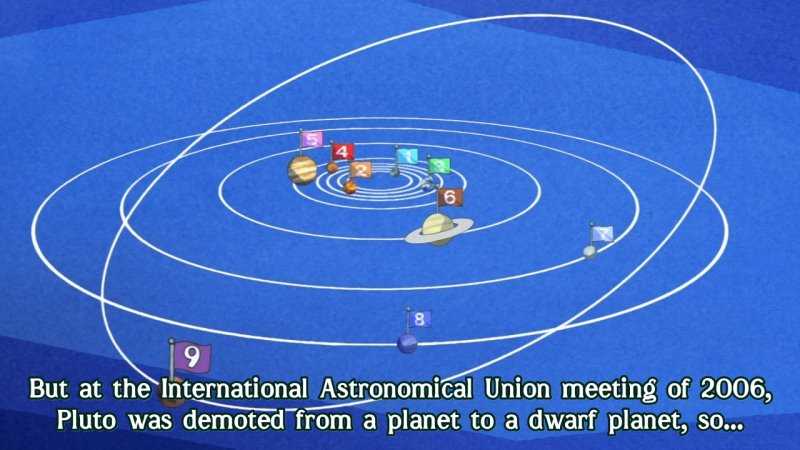 I was cheering. Hey, their science is up-to-date!
And then it started getting weird. Turns out the ex-planet Pluto is angry about being demoted, and it sucks in the street car. Marie gets mad and kicks it, making a huge dent. They fly back to Earth, and return to Galihabara. Only everything's changed. The place is old. The only person they meet is DaVinci, and he's so old he doesn't remember them. Seems they were subject to relativistic effects on their trip.
Will they just ignore it and reset the continuity? Unfortunately, that's exactly what they did. I have the raws for the whole series and took a look, and in ep 21 everything is back to normal.
Posted by: Steven Den Beste in General Anime at 07:50 PM | Comments (2) | Add Comment
Post contains 290 words, total size 2 kb.
1
That's what I figured they would do.
Even at the speed of light though, a jaunt out to Pluto and back couldn't possibly account for that kind of time dilation..
Posted by: Mauser at October 20, 2010 06:47 PM (cZPoz)
2
Even though it's a science show, they're not really trying too hard to be scientifically accurate. Cartoon physics also applies, including the
Rule of Funny
. (Galileo has done some falling scenes worthy of Wiley Coyote.)
Posted by: Steven Den Beste at October 20, 2010 08:02 PM (+rSRq)
Enclose all spoilers in spoiler tags:
[spoiler]your spoiler here[/spoiler]
Spoilers which are not properly tagged will be ruthlessly deleted on sight.
Also, I hate unsolicited suggestions and advice. (Even when you think you're being funny.)
At Chizumatic, we take pride in being incomplete, incorrect, inconsistent, and unfair. We do all of them deliberately.
How to put links in your comment
Comments are disabled. Post is locked.
6kb generated in CPU 0.01, elapsed 0.0209 seconds.
21 queries taking 0.0144 seconds, 19 records returned.
Powered by Minx 1.1.6c-pink.