February 09, 2010
Japanese -- iiyoii?
There's a word I keep hearing in some situations which I can't parse. Lafiel uses it at the ends of her sentences several times in the first part of the first episode of Banner of the Stars and Eineus (same seiyuu) uses it once in the first episode of Macademi Wasshoi.
It sounds like ee-oh-ee and I'm wondering if it's ii yo ii which would be translated as "Good! good." That can't be it, though. I can post a video clip if need be, but does anyone have any idea what she's saying?
Posted by: Steven Den Beste in Japanese at 10:49 AM | Comments (8) | Add Comment
Post contains 96 words, total size 1 kb.
1
Well,
yoi
is the same thing as
ii
. I usually hear it in period pieces, so I thought it was archaic. Usually some figure of authority or other says "sorede yoi". Lemme check the Banner though.
Posted by: Pete Zaitcev at February 09, 2010 02:40 PM (/ppBw)
2
I think it's just yoi. E.g. Lafiel says "dasu ga yoi" where Pickard would've said "on screen".
Posted by: Pete Zaitcev at February 09, 2010 02:53 PM (/ppBw)
3
You could be right. Maybe it's just that Kawasumi emphasizes the "ee" sound at the beginning of "yo".
Posted by: Steven Den Beste at February 09, 2010 03:10 PM (+rSRq)
4
Not archaic so much as "royal". It's just that you don't -ever- see the Emperor in a modern-day story...
Posted by: Avatar_exADV at February 09, 2010 03:15 PM (RSAzX)
5
Kawasumi uses it as Eineus in Macademi Wasshoi. Eineus is a top-ranked demon. (If you believe Finea, Eineus is the top Vergest, the top demon-beast.) Like all demons, she's also immortal and thus as old as the universe.
So it's not totally out of character for Eineus to talk that way, too.
Posted by: Steven Den Beste at February 09, 2010 04:06 PM (+rSRq)
Posted by: cuc at February 10, 2010 01:41 AM (F1l5x)
7
Also, I'm under the impression that as a monster, the barghest is slightly more popular in Japan than in the west.
Posted by: cuc at February 10, 2010 01:48 AM (F1l5x)
8
When she first appears in the series, they toss up this intro frame: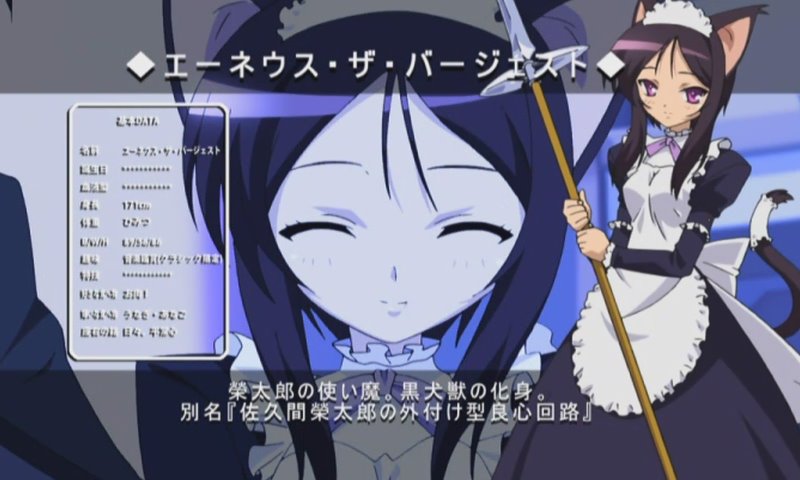 The top line is エーネウス ザ バージュスト "eeneusu za baajusuto". (I'm not absolutely certain about the ュ.)
There is a standard way of representing the foreign sound "va" in katakana, ヴァ. But I'm not sure how widespread it is. I think it's a pretty recent innovation and it may not have caught on.
You're far more likely to see v- sounds converted to b- sounds, and it looks like the fansubbers assumed that was the case here. This particular group screwed up some other names e.g. Synclavier became "Shinkurado". So it wouldn't be too surprising if they screwed this up, too, as obscure as it is.
Posted by: Steven Den Beste at February 10, 2010 09:31 AM (+rSRq)
Enclose all spoilers in spoiler tags:
[spoiler]your spoiler here[/spoiler]
Spoilers which are not properly tagged will be ruthlessly deleted on sight.
Also, I hate unsolicited suggestions and advice. (Even when you think you're being funny.)
At Chizumatic, we take pride in being incomplete, incorrect, inconsistent, and unfair. We do all of them deliberately.
How to put links in your comment
Comments are disabled. Post is locked.
8kb generated in CPU 0.01, elapsed 0.0678 seconds.
21 queries taking 0.0614 seconds, 25 records returned.
Powered by Minx 1.1.6c-pink.