September 04, 2013
FTL Jump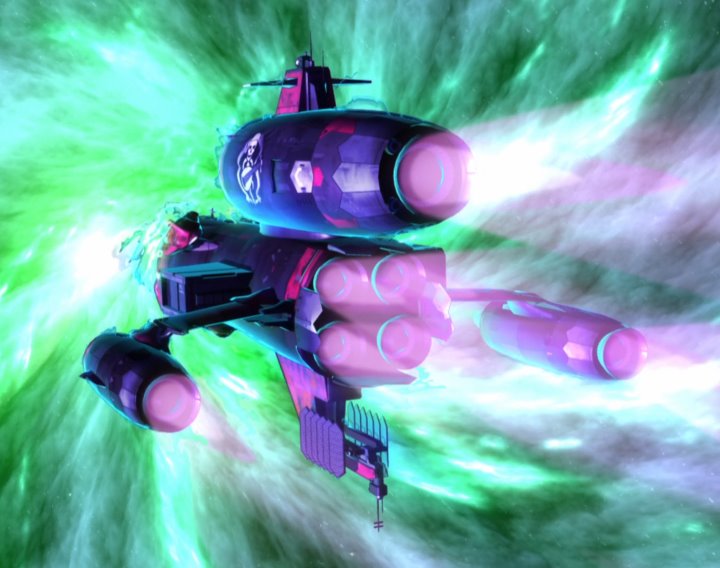 I've been trying for a while to figure out just what they say in Mouretsu Pirates that gets translated as "FTL jump", and today I think I got it.
超光速調略
chou kousoku chouryaku
chou means "super, ultra, hyper".
kousoku means "speed of light". So together it means "faster than light".

chouryaku means "plan, scheme, intention, project, design" (probably the latter).
So the phrase overall refers to the hyperdrive engine, with the implication "make it go".
Posted by: Steven Den Beste in Japanese at 06:33 PM | Comments (4) | Add Comment
Post contains 77 words, total size 1 kb.
1
Aah, Pirates. Is that franchise still continuing at all? Did the movie ever come out?
You're real close, btw. Impressive since that's kind of an obscure compound.
超光速跳躍, as I recall.
Posted by: tellu541 at September 04, 2013 09:07 PM (g3Agm)
2
I always have a hard time distinguishing ryo from yo and rya from ya. I just can't hear the difference, though I know there must be one.
Posted by: Steven Den Beste at September 04, 2013 09:24 PM (+rSRq)
3
As to a movie, we were told there would be one, but no word yet on when it might come out.
Posted by: Steven Den Beste at September 04, 2013 09:24 PM (+rSRq)
4
Well,
according to this ANN posting
& associated links, the film should be out in February 2014. Not too bad, all things considered. Less than 2 years after the series aired.
Posted by: sqa at September 04, 2013 11:24 PM (ZbXtX)
Enclose all spoilers in spoiler tags:
[spoiler]your spoiler here[/spoiler]
Spoilers which are not properly tagged will be ruthlessly deleted on sight.
Also, I hate unsolicited suggestions and advice. (Even when you think you're being funny.)
At Chizumatic, we take pride in being incomplete, incorrect, inconsistent, and unfair. We do all of them deliberately.
How to put links in your comment
Comments are disabled. Post is locked.
6kb generated in CPU 0.01, elapsed 0.0157 seconds.
20 queries taking 0.0105 seconds, 21 records returned.
Powered by Minx 1.1.6c-pink.