September 28, 2013
Hyperdimension Neptunia -- ep 12
And done! This episode had three different "the cavalry rides in to save the day" moments. Three of them, and the last one was a huge surprise.
And we get a twist ending! Not a bad way to finish up the series.
---
I don't think we ever heard an official goddess name for the revived goddess of Tari, so I'm going to call her Tari. Neptune is fighting her, while Nepgear is working below helping to evacuate people from the area of the fighting. Neptune gets hit several times, but notices that she's taking more damage than she'd expect. And Nepgear, who isn't fighting, is also losing power. Histoire advises Nepgear to power down, leaving more energy for Neptune, but it isn't enough. It's looking like she's about to get killed. Then Noire, Uni, and Vert show up. Uni is carrying 5PB (the idol). And they restore the balance of the fight.
Tari has a device which steals share energy. It's mounted on the bottom of the floating island, and until now Tari has been using it to steal enxergy from Planeptune, but then she changes it to steal from Vert and Noire's nations, too, and they start to weaken. They try to make an attack on it but can't. Tari sets up her "Pong laser" to fire on a group of people on the ground, including IF, Compa, Nepgear, and 5PB. And it fires.
And a second round of cavalry shows up: Rom and Ram use a tremendous ice shield to stop the shot, and Blanc (who figured out the situation, finally) destroys the share-energy stealing device.
So the gang's all here. But Tari isn't helpless yet. She's the worst kind of bad guy, I might mention, motivated by hatred and seeking only destruction, while sprinkling her dialogue with the occasional shrieking evil laughter. Ick. Anyway.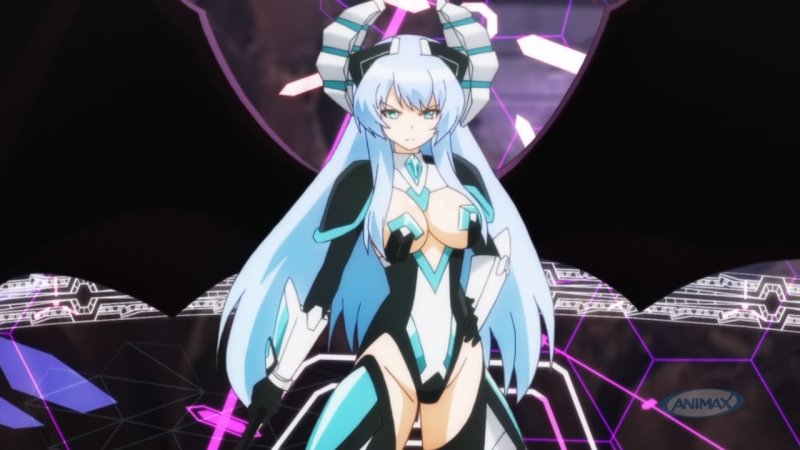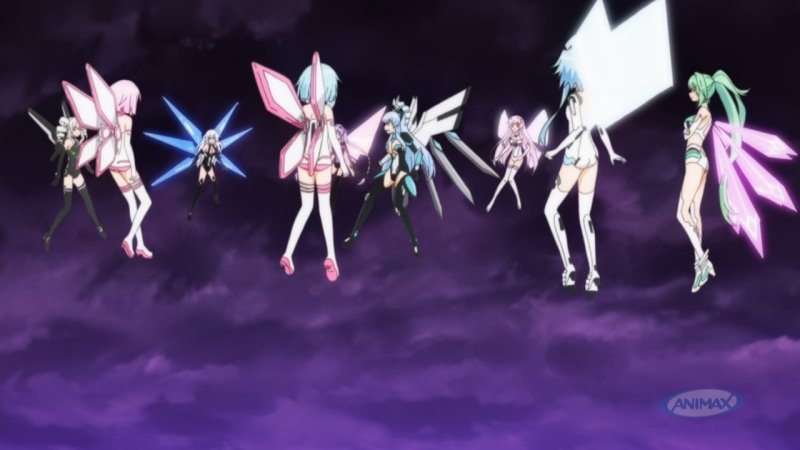 8 goddesses surround her and demand a surrender. But she isn't helpless yet; she's got a jewel on her neck which is full of share energy and she decides to detonate it all at once. If she does it probably would level Planeptune and maybe do a whole lot more damage besides. So the goddesses all hold hands and form a ring around her, to try to contain the energy.
It goes off and the energy is mostly directed upwards harmlessly. Some of it goes down and ruins a pretty big area (which was already evacuated).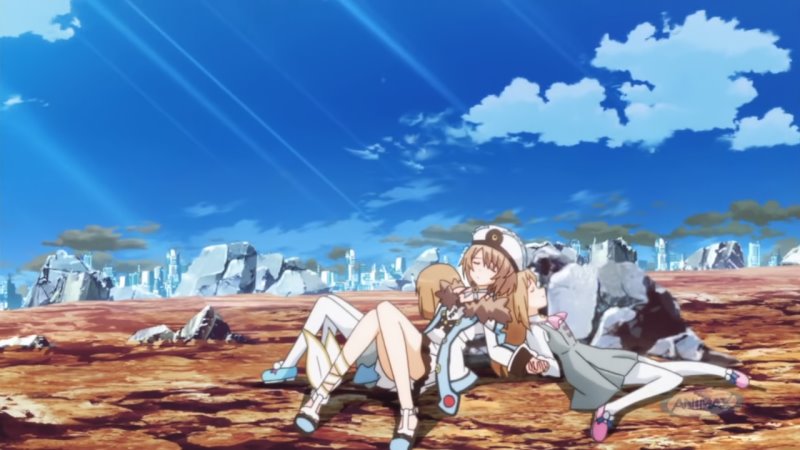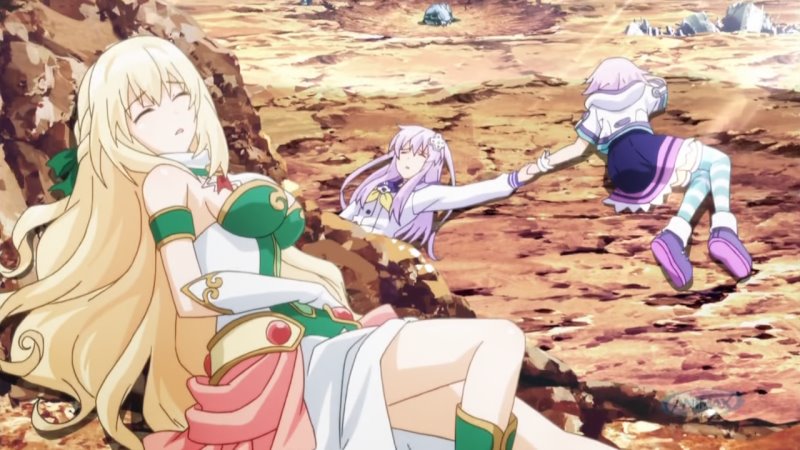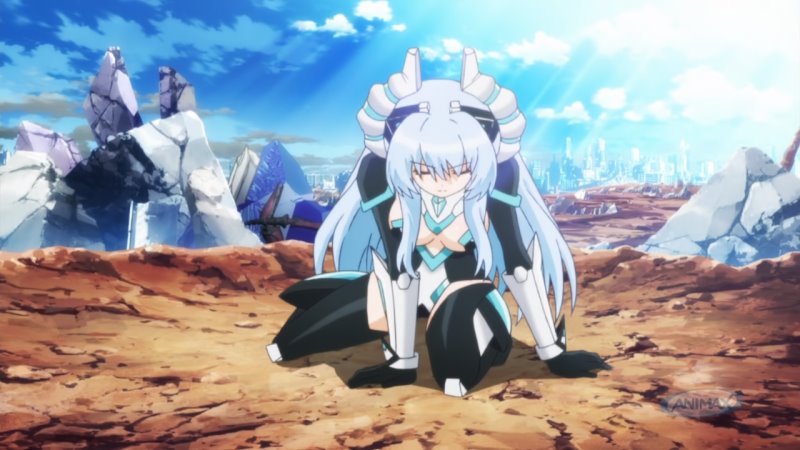 The goddesses all survived but they're all on the ground, out cold, powered down. Tari realizes she still has some energy left and is about to use it to kill them all. And then we get the third cavalry rescue: Arfoire and the mouse show up and use those red crystals to destroy Tari's remaining energy store. And then they walk away.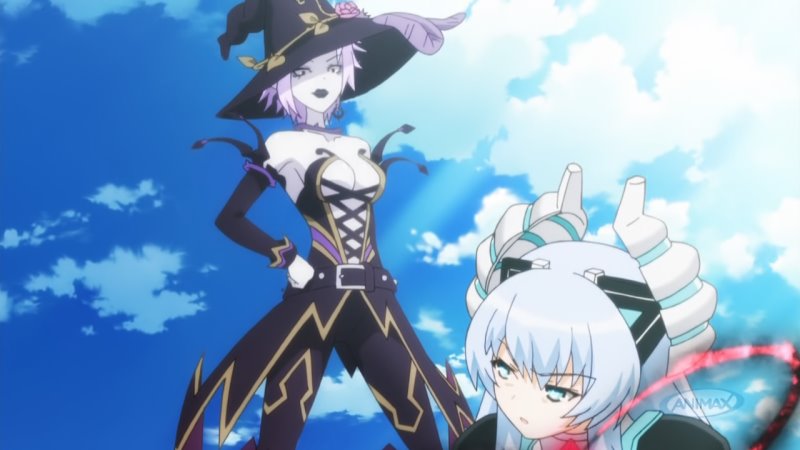 A few months later, Planeptune is being rebuilt, and the neighboring goddesses are invited for a ceremony. Evening gowns all around. Neptune makes an announcement: the treaty is off! They don't need it any more because they've truly become friends. Everyone transforms and heads for the sky for a friendly battle, just for the hell of it.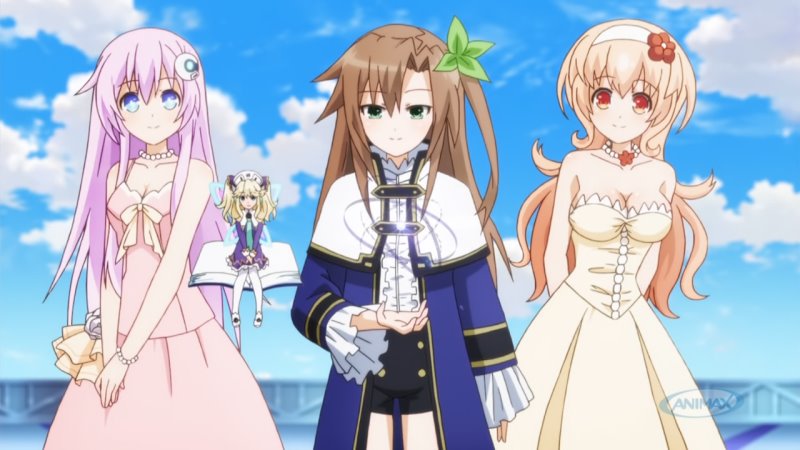 And then lay in the grass together. The End.
Posted by: Steven Den Beste in General Anime at 10:13 AM | Comments (9) | Add Comment
Post contains 536 words, total size 4 kb.
1
I don't think we ever heard an official goddess name for the revived goddess of Tari
In Neptunia canon, she does not go by anything other than Rei (Last name depends on which release of the game.).
Ironically, the anime Rei actually gives a coffee break version of her motivation from the game for being as crazy as she is. But given the abbreviated nature of the anime's story compared to the game (As well as the cut characters.), this does work too well.
Note that IF and Compa are part of Planeptune's delegation to the ceremonies - which is an excellent sign of how close they are to Neptune. There is really only one other human character (Even in the games.) who has anywhere near as close a relationship to a CPU.
Finally, anyone recalling the sight of a witch/mage at the very beginning of Episode 1, when Neptune was announcing the first ceremony, and who never appeared again - that is a cameo by the MAGES. and for whom the company she is based on was one of the music producers for both the games and the series.
Posted by: cxt217 at September 28, 2013 11:42 AM (rqXs0)
2
Argh...
...this does NOT work too well.
Is what the line should have said.
Posted by: cxt217 at September 28, 2013 12:01 PM (rqXs0)
3
I like the look of the Gothy witch character in the 11th picture, I was trying to figure out what was so different about her design, then it hit me. Lips.
Posted by: Mauser at September 28, 2013 04:26 PM (TJ7ih)
4
That's Arfoire and she's a bad guy, except that she saved everyone this time.
Posted by: Steven Den Beste at September 28, 2013 05:07 PM (+rSRq)
5
Ah, this was the best cap of her so far, so I didn't really notice her lips earlier.
While trying to look up the other episode reviews, I discovered that the search thingy apparently doesn't include the post titles. It's also a little difficult to navigate the archives since there are no previous/next post buttons.
Posted by: Mauser at September 28, 2013 10:21 PM (TJ7ih)
6
If life gives you eggplants... make eggplantade?
Posted by: Avatar_exADV at September 29, 2013 12:17 AM (GJQTS)
7
Haha, Avatar, very good.
I have a soft spot for the villain "saves the day", as they can't conquer the X if its destroyed. Pretty much WW2 all over again.
Posted by: sqa at September 29, 2013 12:42 AM (rdcLU)
8
If life gives you eggplants... make eggplantade?
Nope, demand life takes back the eggplants because you do not want them.
Since they just announced yet another Neptunia game in the main series...Eggplants are not wanted.
Posted by: cxt217 at September 29, 2013 08:41 AM (rqXs0)
9
... and you get the lab boys to develop combustible eggplants and use them to burn life's house down.
/Portal2 Ref
Posted by: Mauser at September 29, 2013 06:31 PM (TJ7ih)
Enclose all spoilers in spoiler tags:
[spoiler]your spoiler here[/spoiler]
Spoilers which are not properly tagged will be ruthlessly deleted on sight.
Also, I hate unsolicited suggestions and advice. (Even when you think you're being funny.)
At Chizumatic, we take pride in being incomplete, incorrect, inconsistent, and unfair. We do all of them deliberately.
How to put links in your comment
Comments are disabled. Post is locked.
13kb generated in CPU 0.0065, elapsed 0.0263 seconds.
21 queries taking 0.0213 seconds, 26 records returned.
Powered by Minx 1.1.6c-pink.