May 29, 2011
Hyakka Ryouran Samurai Girls -- ep 2
Watching episode 2 again was really painful. In the first episode, Muneakira stood without any apparent fear, with the tip of the blade of a naginata inches from the bridge of his nose. By the end of episode 2 he was whimpering and cowering like a frightened child.
When Jyubei first showed up, she was strong and seemingly ruthless, the perfect warrior. In the second episode she's like a brain damage victim. She acts like she's about five years old.
I really wish this Jyubei was a regular character in the series:
But it looks like this is similar to Moka and alt-Moka in Rosario to Vampire, where alt-Moka only shows up briefly, once in a while, when she's needed for action sequences. In that series it worked OK, because normal Moka was herself an interesting character. Weak childlike Jyubei, on the other hand, is painful to be around.
Fortunately, Sanada is at least something of an interesting character.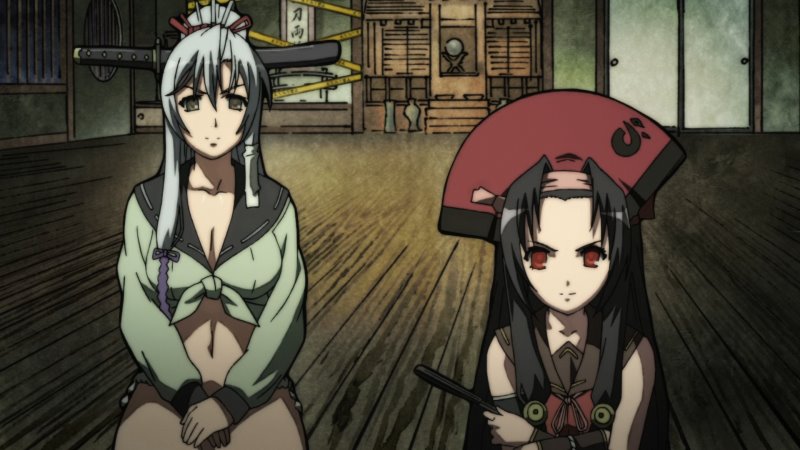 This isn't a typical Kugimiya Rie insecure pettanko tsundere. (Though she is violent, flat-chested, and a bit insecure about her chest.) And so it's a bit (only a bit, but a bit) of a change of pace for Kugimiya. Her retainer, Matabei, seems to be in the series mainly so she can take off her clothes: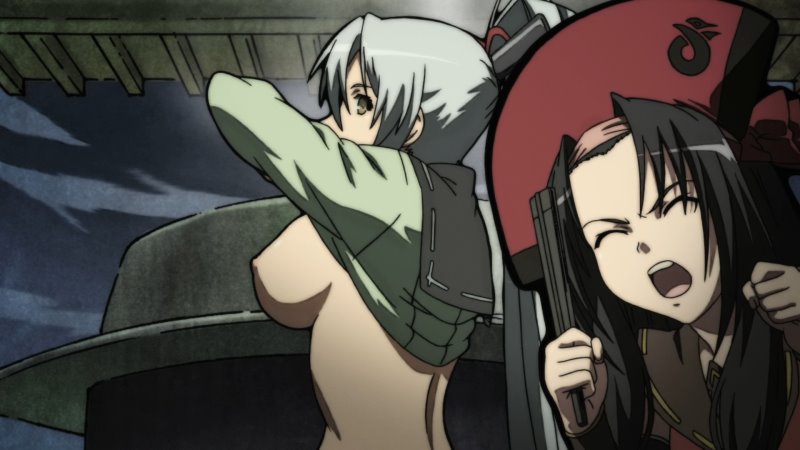 Which is not the worst role in this show.
And now I venture into unknown territory, with episode 3. What horrors await me? Only time will tell!
UPDATE: And with ep 3, it's taken a drastic turn for the better. But that's because alt-Jyubei (I guess I have to call it) was featured heavily.
It was also a pleasant surprise to learn that Sanada is a practitioner of magic. I hope we get more of that from her.
I'm not sure whether it was a pleasant surprise to learn that alt-Jyubei is a master of the Most Common Special Attack, which she uses on Sen.
UPDATE: And with episode 4, it's back to being crappy.
There's a huge question, to which I bet we never get an answer. If it is only members of the Tokugawa family who can create master samurai, then does that mean Muneakira is not really aware of his own lineage? If he is truly Tokugawa, how closely related is he to Sen?
Reason I don't think we'll get an answer to that is because his ability to make master samurai is a deus ex machina to establish the story, I bet.
UPDATE: There is a genuine, if highly contrived, reason for this:
It isn't quite what it looks like. Not quite.
Posted by: Steven Den Beste in General Anime at 05:40 PM | Comments (2) | Add Comment
Post contains 232 words, total size 3 kb.
1
I didn't really interpret it as "only people from the Tokugawa lineage can produce master samurai", but rather "all the people who can are being controlled by the Tokugawa shogunate".
Posted by: Jordi Vermeulen at May 29, 2011 11:13 PM (AJZdn)
2
That point is kind of ambiguous for a while and I'm not sure but that it might be a translator issue. In the end, I think it came down to that actually being the basis of the Tokugawa rule.... and it's a big spoiler so...
Enjoy the humor in episode 5, try not to wince too much at Muneakira. He gets a little better towards the end. And the surprising thing to me was
Posted by: ubu at May 29, 2011 11:33 PM (GfCSm)
Enclose all spoilers in spoiler tags:
[spoiler]your spoiler here[/spoiler]
Spoilers which are not properly tagged will be ruthlessly deleted on sight.
Also, I hate unsolicited suggestions and advice. (Even when you think you're being funny.)
At Chizumatic, we take pride in being incomplete, incorrect, inconsistent, and unfair. We do all of them deliberately.
How to put links in your comment
Comments are disabled. Post is locked.
9kb generated in CPU 0.0042, elapsed 0.011 seconds.
21 queries taking 0.0076 seconds, 19 records returned.
Powered by Minx 1.1.6c-pink.