September 22, 2016
Haifuri -- Ship mystery
Part of the "Girls in combat machines" genre is that the weapon systems they use should be accurate and based on existing equipment (unless it's mechas, in which case blah).
So the tanks in Girls und Panzer are actual tanks which fought in WWII or were deployed but didn't see combat. And in High School Fleet the ships we see are all actual designs from the era (or modern ships).
Haifuri is an alternate timeline. For one thing, Japan didn't participate in WWII. For another, in that timeline heavier-than-air aircraft were never developed. There are blimps, but no airplanes and no helicopters. Which leads in some cases to anachronisms (like why Musashi has anti-aircraft batteries) but let that pass.
A lot of the ships in the series actually did exist. Harekaze is completely fictional; there never was such a ship. But it's based on the Kagerou-class which really did exist, and were excellent ships. Like most destroyers their best weapon was their torpedoes, and like most Japanese destroyers the Kagerou's carried the Long Lance, the best torpedo of the early war.
The Blue Mermaids use ships which are based on the American Independence-class littoral combat ships. Modern Japan doesn't have anything like that, but they look really cool and really modern so I'm not surprised that the director decided to poach them. Trimarans are awesome.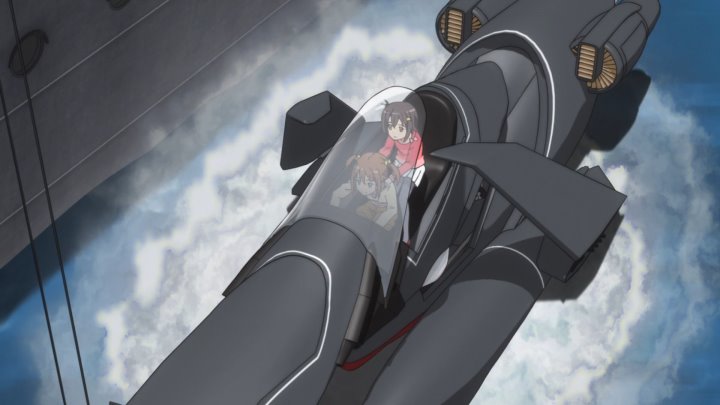 And there's these things, which they call "skippers". I want to call them "water motorcycles" but of course they aren't. I don't recognize them. It looks like they're hydrofoils, and it looks like they're propelled by a pair of baby jet engines. Given that everything else in the show is realistic, are these based on something real?
Posted by: Steven Den Beste in General Anime at 12:13 PM | Comments (6) | Add Comment
Post contains 286 words, total size 3 kb.
1
Looks like the Sea Shepherd speedboats. Take a look at the
Ady Gil
.
Posted by: Ben at September 22, 2016 01:50 PM (B1bvu)
2
(Type 93) ...the best torpedo of the early war.
The best torpedo of the war, full stop. The only torp that could be considered in the same ballpark as it would be the German G7es "Zaunkonig" torpedo, and that only because it was a moderately effective acoustic homing weapon.
Posted by: Wonderduck at September 22, 2016 03:44 PM (vZvpB)
3
If those really were Long Lances in the last episode then it's no surprise that
Posted by: Steven Den Beste at September 22, 2016 08:28 PM (+rSRq)
4
Skipper looks fully fictional, but there's a thing called "Seabreacher", which is absolutely real.
Posted by: Pete Zaitcev at September 22, 2016 08:43 PM (XOPVE)
5
I just looked at that. It's a diving machine, so obviously it's not the stem of this idea.
It's possible that the director just made these up. In fact, it seems likely because that design really is terrible. If a high wave or some sort of splash hit the intake of one of those engines, well, I wouldn't want to be nearby.
But that's OK; it's ultimately a fantasy and a good director shouldn't let engineer's disease interfere with telling a good story.
Posted by: Steven Den Beste at September 22, 2016 09:27 PM (+rSRq)
6
The intake is what always interested me about Seabreacher, too. The craft is powered by a typical piston engine. Originally they used a common Chevy V-8, but switched to Rotax early on, because it's lighter for the power. The intake is on a snorkel mast, so it sticks out of the water most of the time.... but not always. You can even see videos of Seabreacher banking or rolling 360 degrees. There must be some kind of a device, including possibly a cut-off valve and an accumulator tank, or something more clever, which provides an uninterrupted supply of air to the engine. We can postulate a similar device a "skipper" too.
Posted by: Pete Zaitcev at September 22, 2016 10:07 PM (XOPVE)
Enclose all spoilers in spoiler tags:
[spoiler]your spoiler here[/spoiler]
Spoilers which are not properly tagged will be ruthlessly deleted on sight.
Also, I hate unsolicited suggestions and advice. (Even when you think you're being funny.)
At Chizumatic, we take pride in being incomplete, incorrect, inconsistent, and unfair. We do all of them deliberately.
How to put links in your comment
Comments are disabled.
10kb generated in CPU 0.004, elapsed 0.0101 seconds.
21 queries taking 0.0071 seconds, 23 records returned.
Powered by Minx 1.1.6c-pink.