October 12, 2014
Girl Friend (beta) -- ep 1
Gaah! Keep it away from me!
I only got halfway through the episode before giving up. If there's any reason for this show (besides pumping a telephone game) I'll be damned if I know what it is.
This is Kokomi, who may be the main character in the show. And this is the beginning of my disenchantment, for it there's anything I hold in more contempt than performance art, it's gotta be rhythmic gymnastics. Kokomi is on the team and has a tournament coming up.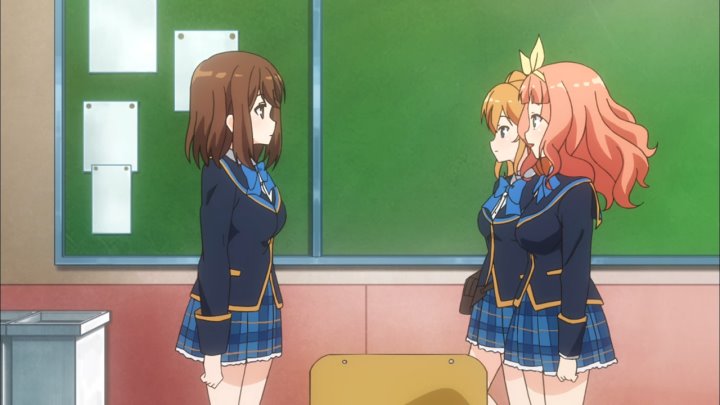 The only other notable thing about the show is that all the girls (and there are a swarm of them) are top-heavy. Not Maken-Ki level, to be sure, but way beyond the norm for Japanese girls.
When Mochizuki showed up, her voice grated terribly; it's a horrible performance from a seiyuu who ought to know better. Bad directing? Who knows. Maybe just lack of time to do a proper job; there were at least 20 different voices in the first half of the first episode, and every expectation that it's going to keep on like that.
I expected this show to be brain dead, and it is. It doesn't even rise to the level of "cute girls doing cute things".
Dropped, like a hot rock!
UPDATE: Pete is lukewarm.
Posted by: Steven Den Beste in General Anime at 01:59 PM | No Comments | Add Comment
Post contains 220 words, total size 2 kb.
Enclose all spoilers in spoiler tags:
[spoiler]your spoiler here[/spoiler]
Spoilers which are not properly tagged will be ruthlessly deleted on sight.
Also, I hate unsolicited suggestions and advice. (Even when you think you're being funny.)
At Chizumatic, we take pride in being incomplete, incorrect, inconsistent, and unfair. We do all of them deliberately.
How to put links in your comment
Comments are disabled.
5kb generated in CPU 0.01, elapsed 0.0299 seconds.
19 queries taking 0.0216 seconds, 16 records returned.
Powered by Minx 1.1.6c-pink.