September 08, 2009
Koi Koi Seven -- ep 1
The rule is that if a high school girl wears glasses, then she's brainy and she's a repressed volcano of passion. But if a high school boy wears glasses then he's a dork.
Meet the dork. His name is Tetsurou. He's been granted a full scholarship to attend the Whatsis academy, and is arriving today for his first day there. It doesn't turn out to be quite what he expects: he's the only boy in what appears to be a girls' school. Why he was brought there is a mystery but there seems to be a reason, one that's secret.
The rest of this is below the fold.
---
Turns out there are two factions in the school, old timers and newcomers, and they're engaged in something of a war. A shooting war. One side uses combat machiners, such as attack helicopters and mechs, and the other side relies on super powers, mostly. And I started to get flashbacks to Project A-Ko.
Tetsurou nearly gets killed by being run over by a truck, and gets saved by a girl with long pink hair who smiles a lot, tells him she loves him, says they made a promise a long time ago (when they were really little), and is one of the super-powered ones. Her name is Yayoi and she's the ultimate ditz. I think she's suffered brain damage.
She takes him on a tour of the school.
She shows him the changing room: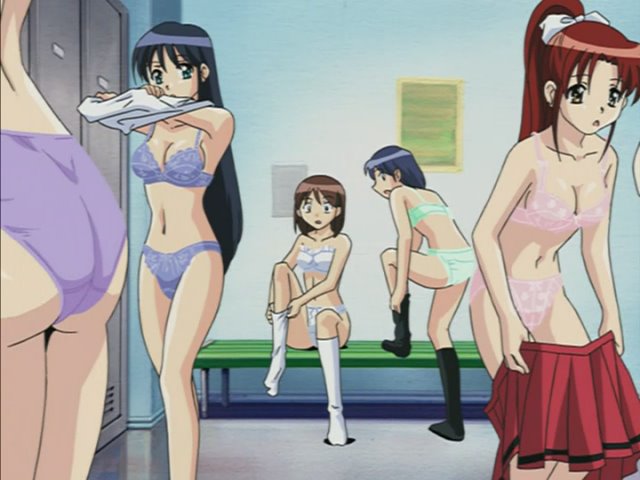 And the shower room: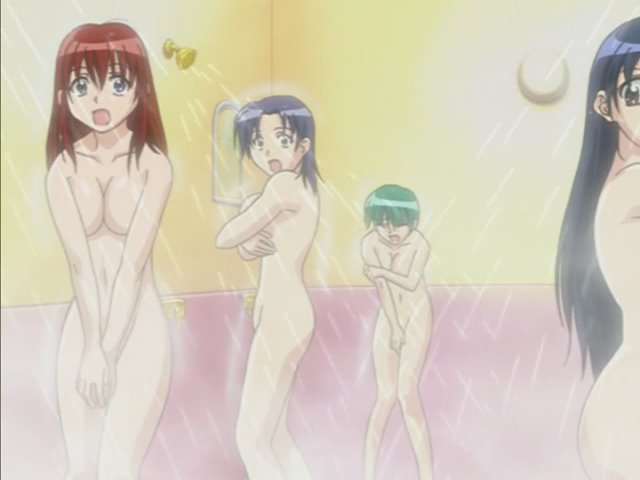 And the infirmary:
And what's a story about a girl's high school without a bit of yuri?
The super powered girls are known as "Koi Koi 7" even though there are only six of them. Not yet explained why.
The little one with yellow hair is a classic emotionless girl, and it's possible she's a robot. She seems to be able to talk to the others telepathically and she has some degree of clairvoyance. In battle she tends to do planning and coordination, and the others readily take her suggestions. Her name is Otome.
The one with green hair is Hifumi. She's super strong and seems difficult to damage. A building-sized mech tried to pulp her and she caught the blow and stopped it.
The one with long purple hair is Miyabi. Her hair is very special. A mech tried to slice her with a giant energy sword, and she stopped the energy blade with her hair. She can fly, and she cut a mech in half with her hair.
Yayoi, with the pink hair, it's not clear just what her powers are. She was shown flying at the beginning when she saved Tetsurou from the truck, but later on she saves him again and this time she sprouts wings. She says it's the first time. So I'm confused. Anyway, she's another with super strength. But she's really a ditz.
The one with short blue hair is Sakuya. She talks like a guy, something of a thug-ben. She uses -ze and -zo. She also seems to be carrying quite an arsenal, though it's not obvious where. (None of your business, Sam!) At various times in the first episode she materializes a shoulder-launched SAM, a GE minigun, and a high-tech laser rifle, as well as a light saber. And it may be that she can fly, too; not clear. (Either that or she can "jump real good.")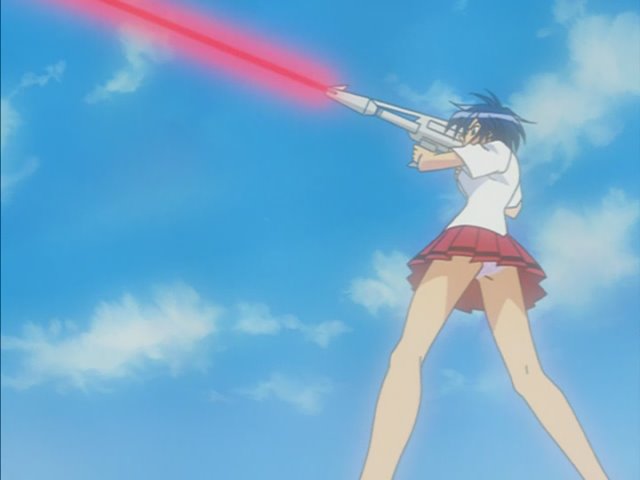 And the one with red hair is Akio. In a group of strong girls, she takes it to an extreme. She is shown at one point easily picking up a steel ball that must be four feet in diameter, which must have weighed several tons. She is another that can fly.
Anyway, at the end of the episode Tetsurou finally locates the dorm where he's supposed to be staying, and finds out that those girls all live there. So does his teacher. Yayoi shows him to his room, and it turns out to be next to hers. And there's a big piece missing from the wall between them, which she thinks is just fine.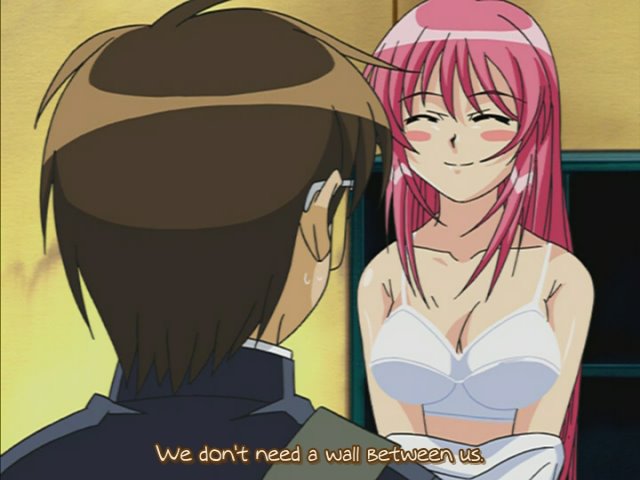 I can't even begin to count all the things that are wrong with this. And yet, it seems to be a pleasant trifle, with an abundance of fan service, and likeable characters. Tetsurou isn't a perv and seems to do his best to maintain in the midst of this insanity. And that's a lot of the reason why I'm not repelled by it.
And there's a gray haired girl, who wears an eye patch, who shows up in the OP but only appeared briefly in the first episode, just at the end, partially wrapped in bandages and calling out to Tetsurou mentally. I wonder if she's the reason the school principal arranged to have him there?
Posted by: Steven Den Beste in General Entertainment at 11:10 PM | Comments (5) | Add Comment
Post contains 359 words, total size 5 kb.
Posted by: J Greely at September 09, 2009 06:44 AM (2XtN5)
Posted by: Steven Den Beste at September 09, 2009 08:08 AM (+rSRq)
Posted by: J Greely at September 09, 2009 10:38 AM (9Nz6c)
Posted by: Steven Den Beste at September 09, 2009 01:05 PM (+rSRq)
Posted by: ubu at September 09, 2009 03:32 PM (fH0L/)
Enclose all spoilers in spoiler tags:
[spoiler]your spoiler here[/spoiler]
Spoilers which are not properly tagged will be ruthlessly deleted on sight.
Also, I hate unsolicited suggestions and advice. (Even when you think you're being funny.)
At Chizumatic, we take pride in being incomplete, incorrect, inconsistent, and unfair. We do all of them deliberately.
How to put links in your comment
Comments are disabled. Post is locked.
12kb generated in CPU 0.01, elapsed 0.0196 seconds.
20 queries taking 0.013 seconds, 22 records returned.
Powered by Minx 1.1.6c-pink.