August 27, 2010
Buck Godot -- Gallimaufrey
I just finished reading (and carefully downloading) the whole "Buck Godot -- Gallimaufrey" series.
I collected it when it was first released as a BW independent. One of the frustrating things was that Foglio didn't do a very good job maintaining the release schedule. It's 8 issues, so it was supposed to take 7 months start-to-finish, but I vaguely remember that it was more like 2 years.
Of course, it was bumped by paying work. About that time Foglio started doing card pictures for Wizards of the Coast, for example, and that probably paid better. Buck Godot was more of a labor of love -- but love don't put food on the table.
So I can't blame him, but it was really frustrating, especially as the story got hotter. Especially the way he ended so many of the individual issues with cliff-hangers.
No longer a problem. The whole thing is online so it can be read straight through now. And now it's colorized. The colorized JPG version looks fantastic, to the point where I even found myself wondering if the art had been redone.
That's from the second issue. This one from the seventh is more astounding: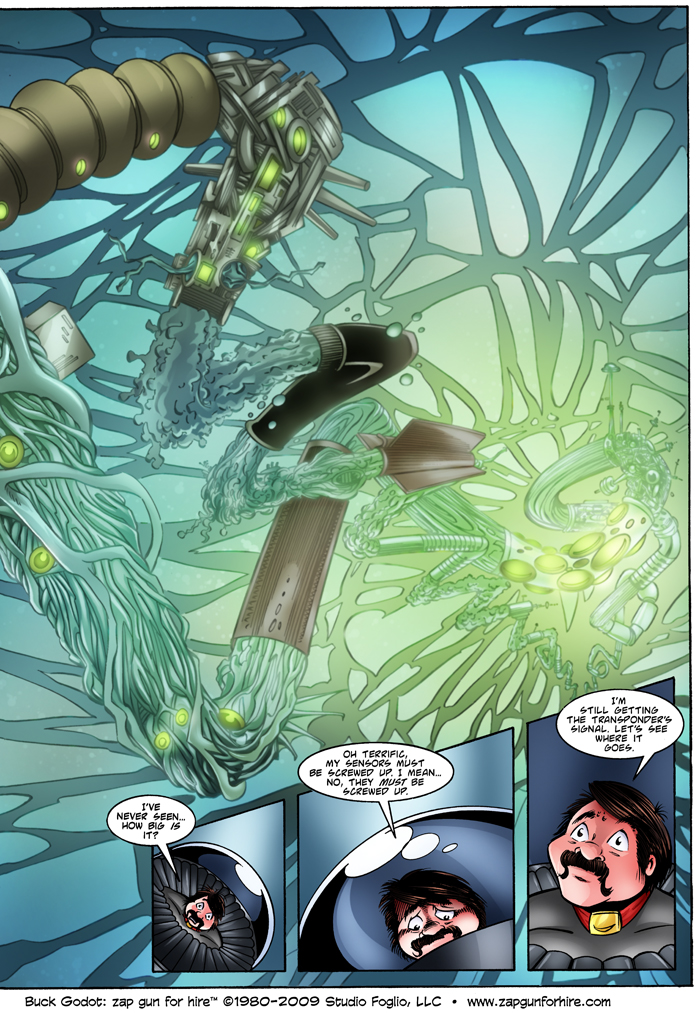 Now there's no possible way that was made by scanning the comic book. No way it would look that good. So they worked from something a lot better. Were these originally done in pen-and-ink? If so, they must have scanned them in high res, and then gone to work on them big-time with a graphics editor. It could well have ended up taking nearly as much time per page to colorize as the original art did, in order to end up with results that gorgeous.
My first reaction was that it was originally done with a graphics editor, using scalable stroke graphics. But there really weren't any back then. This originally came out in the mid 1980's IIRC.
Anyway, all the Buck Godot stories are fun, but Gallimaufrey was last, and best. It's a great story, full of sex, violence, wonderful images, heroism, villainy, honor, betrayal, and did I mention sex? Sex turns out to be a plot point.
The Klegdixal ambassador is my favorite supporting character, but Hyraxx is a close second.
UPDATE: I guess my memory is getting fuzzy. According to this page, the first issue came out in 1993 and the last one in 1998.
There were modern graphics editors in 1993, from Corel for instance. I wonder if Foglio used them?
UPDATE: Comic artists are most easily distinguished by how they draw faces. I can pick out Urushihara every time by how he draws mouths.
Foglio's faces are very distinctive, too:
And I find it interesting that he seems to be able to put readily-identifiable noses on his women, while still making them gorgeous.
Posted by: Steven Den Beste in General Entertainment at 12:29 PM | Comments (6) | Add Comment
Post contains 470 words, total size 3 kb.
Posted by: Douglas Oosting at August 27, 2010 02:10 PM (9eDDd)
Posted by: Douglas Oosting at August 27, 2010 02:11 PM (9eDDd)
Posted by: J Greely at August 27, 2010 04:46 PM (2XtN5)
Posted by: CatCube at August 27, 2010 06:27 PM (Te0W1)
Posted by: David at August 27, 2010 08:00 PM (rlE2m)
Posted by: Tatterdemalian at August 30, 2010 11:52 AM (TaHHC)
Enclose all spoilers in spoiler tags:
[spoiler]your spoiler here[/spoiler]
Spoilers which are not properly tagged will be ruthlessly deleted on sight.
Also, I hate unsolicited suggestions and advice. (Even when you think you're being funny.)
At Chizumatic, we take pride in being incomplete, incorrect, inconsistent, and unfair. We do all of them deliberately.
How to put links in your comment
Comments are disabled. Post is locked.
10kb generated in CPU 0.01, elapsed 0.0196 seconds.
20 queries taking 0.0126 seconds, 23 records returned.
Powered by Minx 1.1.6c-pink.