April 22, 2016
To Love-ru Darkness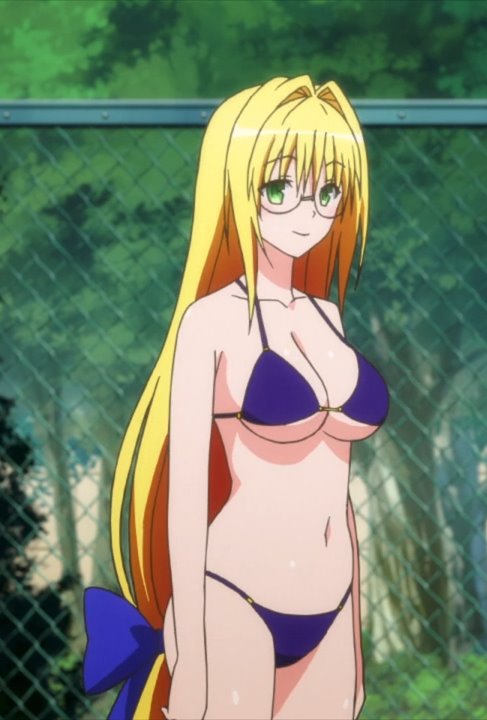 It just didn't feel right to not try to harvest To Love-ru Darkness so I took a swing at it, and I got hooked on the story. So I downloaded the second cour of it (it was a split-cour series) and watched that last night and this morning.
Overall it wasn't anything like as fruitful to plunder. I got 51 candidates from both cours. But I had been watching it with the sound turned off, and I finally got curious and started listening to it. And got a huge surprise: I recognized a lot of the voices.
In particular, Nana has the same voice as Saten in Railgun. It was a perfect casting choice IMHO, and in fact this series has a really top-drawer cast overall. I wish they had cast a man to do the voice of Rito, though.
Darkness is a lot different than To Love-ru and Motto To Love-ru. Those two shows are simple comedy. There really isn't any significant plot line. (TLR did have a climax at the end when Lala's father showed up. MTLR didn't even bother with that.)
The format was that each episode was divided into thirds, with each third telling a funny story that didn't affect the situation, even if it seemed to. There were some changes to the continuity, like introducing characters, but for instance one third-of-an-ep of MTLR ended with most of the girls in the high school turned to little kids. The next third picked right up with everyone back to normal.
Darkness is entirely different. Each episode tells a complete story. A lot of them contributed to a long term story line. Maybe about half of them were serious overall. And continuity was maintained scrupulously.
And it reminded me a bit of Divergence Eve. It was loaded with gratuitous fan service which detracted from the story telling and characterization. It was in there because it was pandering to the existing fan base of the series, because TLR and MTLR had lots of fan service. It's really a shame; I spent a lot of time skipping through Darkness.
The main character of Darkness is Yami aka Golden Darkness, and the way that ended up developing and how it was resolved were disappointing. I'm sorry; it wasn't what I wanted. It was just too stupid. It should have been Mikan who saved Yami, not Rito. Having Ushizu save Mea was pretty cool, but it should have been Momo.
Regardless, Momo and Nana were awesome, so that part wasn't disappointing. I can't see myself ever watching any of this again, but it wasn't torture to watch it once.
Posted by: Steven Den Beste in General Anime at 10:45 AM | Comments (1) | Add Comment
Post contains 440 words, total size 3 kb.
1
I don't claim to know all the story behind it, but MTLR was a series of OVA's that covered the latter part of the original manga -- or the first part of the new one? I forget. TLRD was actually a separate manga series, separate from the first. Perhaps the author decided to get a bit more "serious".
One of the pluses to the second series is the shift to Momo. Lala just takes things as they come; Momo has goals and plans. They all focus on Rito, but at least she has some. Then there's the threat from Darkness herself, giving the series a long-term antagonist. These collectively raise the series from "fanservice dreck" to "not a complete waste of time."
Posted by: ubu at April 22, 2016 12:12 PM (SlLGE)
Enclose all spoilers in spoiler tags:
[spoiler]your spoiler here[/spoiler]
Spoilers which are not properly tagged will be ruthlessly deleted on sight.
Also, I hate unsolicited suggestions and advice. (Even when you think you're being funny.)
At Chizumatic, we take pride in being incomplete, incorrect, inconsistent, and unfair. We do all of them deliberately.
How to put links in your comment
Comments are disabled.
7kb generated in CPU 0.01, elapsed 0.0214 seconds.
20 queries taking 0.0158 seconds, 18 records returned.
Powered by Minx 1.1.6c-pink.