January 18, 2016
Popura Taneshima
I just ran into a picture of this girl: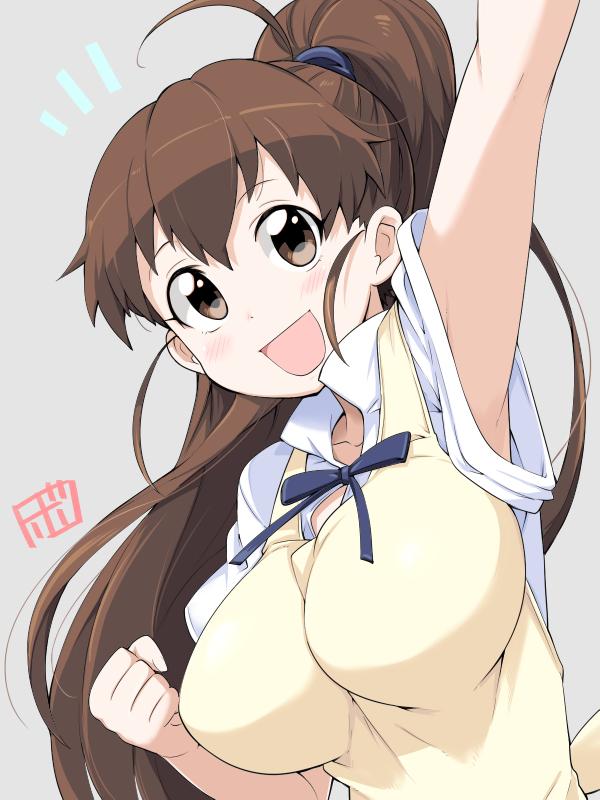 Is that really how she looks? She has the same seiyuu as Blanc (Hyperdimension Neptunia), Nyaruko-chan, and Yukikaze from Dog Days. Also Reina in Strike the Blood. She's one of my favorite voices.
Popura is one of the three lead characters in Wagneria, according to ANN. The description of the show never really attracted me, but maybe this is one worth plundering. Or maybe even watching if her voice is right.
Does she really look like that? Or is this a case of fan artists making a good thing better? (Which has been known to happen...)
Posted by: Steven Den Beste in General Anime at 02:52 PM | Comments (6) | Add Comment
Post contains 107 words, total size 1 kb.
1
I'm not sure it will have anything to plunder, I don't recall any real fanservice. They don't actually get to the onsen in the "onsen episode"...
It's a fairly decent comedy show. On the plus side, there's a fair amount of physical comedy, so nothing gets lost in the translation; it's not the typical Japanese storm of puns. On the minus side, about half of the physical comedy is Inami (the androphobic girl) punching the male lead in the face. That got old fast.
Popura isn't flat, but those pictures are quite optimistic. She is very short, which can make her seem more buxom than she is, I guess... thus the fanart running a bit wild. (That's the first gag in the show; if I recall correctly... the MC flips out over Popura, gets called a lolicon, and retorts that he likes small things, not young things.)
Posted by: Mikeski at January 18, 2016 04:25 PM (LIUK5)
2
So, Poplar is Popura now? Man, this was worse than Raising Heart.
Posted by: Pete Zaitcev at January 18, 2016 06:30 PM (XOPVE)
3
Blame Japan (literally, in this case - they made me change it!)
Posted by: Avatar_exADV at January 18, 2016 08:53 PM (/lg1c)
4
Checked some short clips on Youtube, and, no, that's not how she 'really' looks. Though I suppose by the usual standards of Japanese teens she's fairly well built, she's obviously not a young Hitomi Tanaka.
Posted by: Brett Bellmore at January 19, 2016 03:05 AM (l55xw)
5
Here's her
official art
, including what looks like a
framegrab
from the anime, so as you said it was fan art making a good thing better.
I thought popura would make a better love interest for the MC than the androphobic girl. The joke about her name is that her parents were hoping she'd grow as tall as a poplar tree.
Posted by: muon at January 19, 2016 04:34 AM (IUHrD)
6
Oh, well. But at least it was an excuse for posting cheesecake.
Posted by: Steven Den Beste at January 19, 2016 03:14 PM (+rSRq)
Enclose all spoilers in spoiler tags:
[spoiler]your spoiler here[/spoiler]
Spoilers which are not properly tagged will be ruthlessly deleted on sight.
Also, I hate unsolicited suggestions and advice. (Even when you think you're being funny.)
At Chizumatic, we take pride in being incomplete, incorrect, inconsistent, and unfair. We do all of them deliberately.
How to put links in your comment
Comments are disabled.
8kb generated in CPU 0.01, elapsed 0.0186 seconds.
20 queries taking 0.0123 seconds, 23 records returned.
Powered by Minx 1.1.6c-pink.