April 06, 2016
Onigiri -- the death of intelligence
Onigiri is not about rice balls, though it would be more enlightening if it were. It's based on a current? or forthcoming? MMORP phone game, in which the player is a guy and he manages to recruit a swarm of NPC companions, all of whom are cute girls, including one catgirl and one loli.
We've seen this before. And there's only two ways to approach it: take it completely seriously, even if you know it's stupid, or start laughing, and make fun of it all. This does the latter. Part of the reason is that episodes are 3:30 and you can't really be serious when you have so little time.
So they break the fourth wall constantly. For instance, the one guy doesn't have a voice. Everyone else does, but when he has something to say it shows up in a dialogue box.
In the first episode the team is just about to win a fight, and they waste time bickering about who gets to put in the killing blow so as to earn the experience points. This gives the enemy time to revive and blow them all over the countryside, miles away and separated from each other, but otherwise unhurt. Then we follow two of the girls who landed together.
Hmmm... looks like a random encounter to me! So let's strike a heroic pose, and then go to work!
Bows are fine, but you'll do better with a gun. MORE DAKKA!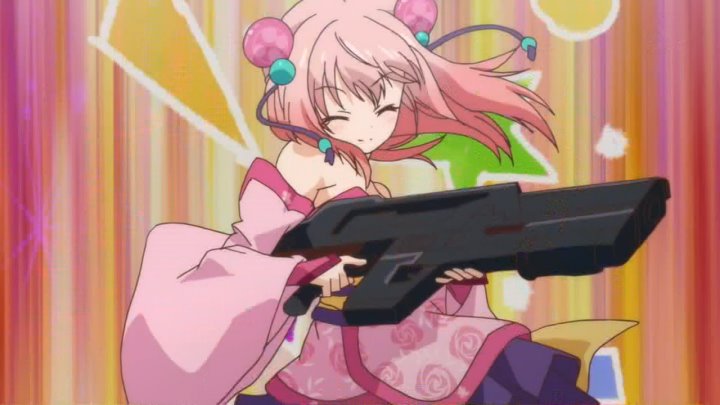 Or a minigun (but I couldn't get a clean image of it). And let's finish this with a nuke!
Oops, looks like Shizuka was caught cheating.
This will be worth plundering (the way Bikini Warriors was) but it won't be worth watching (the way Bikini Warriors wasn't). Dropped.
Posted by: Steven Den Beste in General Anime at 03:10 PM | No Comments | Add Comment
Post contains 296 words, total size 2 kb.
Enclose all spoilers in spoiler tags:
[spoiler]your spoiler here[/spoiler]
Spoilers which are not properly tagged will be ruthlessly deleted on sight.
Also, I hate unsolicited suggestions and advice. (Even when you think you're being funny.)
At Chizumatic, we take pride in being incomplete, incorrect, inconsistent, and unfair. We do all of them deliberately.
How to put links in your comment
Comments are disabled.
6kb generated in CPU 0.01, elapsed 0.0179 seconds.
18 queries taking 0.0128 seconds, 16 records returned.
Powered by Minx 1.1.6c-pink.