April 16, 2016
Netoge clothing
I'm not watching this any more but I just noticed something from RandomC's writeup of ep 2.
I remember seeing a comment once (when I was a kid) to the effect that there was no longer any article of men's clothing that women could not also wear, because fashion. Well, this episode proves that wrong.
One of the girls, who was playing a male character in the game, decided to change her avatars to female without bothering to change the character's clothing. This is what she looks like IRL: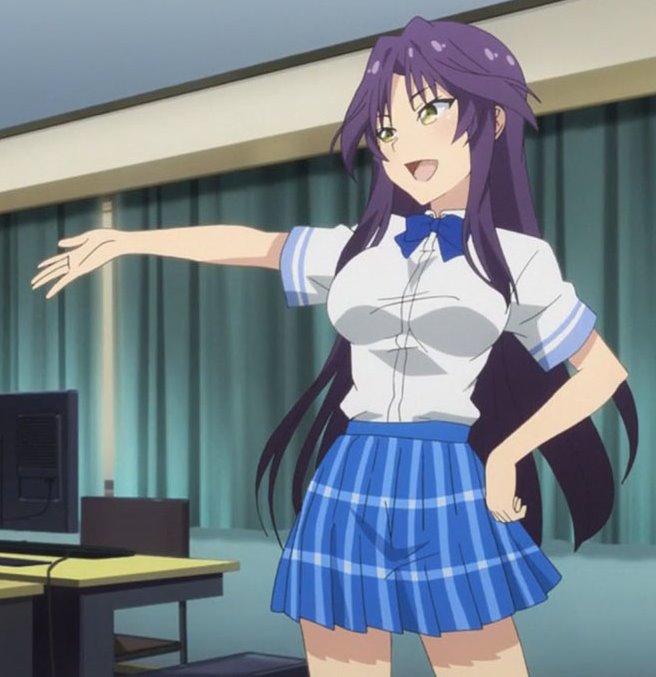 And this is what her character looked like, as a guy:
A bit odd, but not really scandalous... for a guy. But...
If she went out in public like this, she's be arrested.
UPDATE: It reminds me of this, from Seikoku no Dragonar:
She goes out in public like that, so maybe I'm wrong.
Posted by: Steven Den Beste in General Anime at 08:40 AM | Comments (4) | Add Comment
Post contains 125 words, total size 1 kb.
Posted by: Avatar_exADV at April 16, 2016 11:58 PM (v29Tn)
Posted by: Brett Bellmore at April 17, 2016 05:13 AM (l55xw)
Posted by: Civilis at April 17, 2016 06:40 AM (KlrGc)
Posted by: ubu at April 19, 2016 07:45 AM (SlLGE)
Enclose all spoilers in spoiler tags:
[spoiler]your spoiler here[/spoiler]
Spoilers which are not properly tagged will be ruthlessly deleted on sight.
Also, I hate unsolicited suggestions and advice. (Even when you think you're being funny.)
At Chizumatic, we take pride in being incomplete, incorrect, inconsistent, and unfair. We do all of them deliberately.
How to put links in your comment
Comments are disabled.
7kb generated in CPU 0.01, elapsed 0.026 seconds.
20 queries taking 0.0191 seconds, 21 records returned.
Powered by Minx 1.1.6c-pink.