January 27, 2016
Musaigen no Phantom World -- ep 4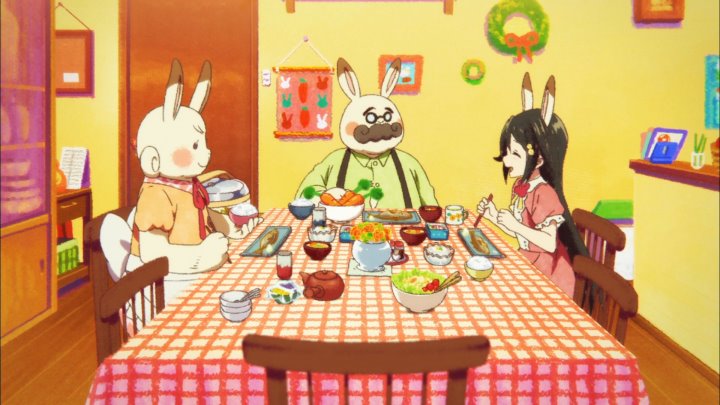 I think I understand now why this series has been so confusing to me. It's like Kamichu! in that it's an anthology series. The author has set up a basic scenario and is telling a series of one-ep day-in-the-life stories based in that scenario.
Also, it's looking increasingly like the phantoms are created out of human dreams, wishes, lost memories, and regrets. Ep 3 was Mai's story; the phantoms were based on something she did when she was maybe 4 or 5. Ep 4 is Reina's episode; it's based on the fact that Reina's real parents are cold, even harsh, towards her. They don't beat her or anything like that, but there also doesn't seem to be any love there. And this episode's phantoms gave her the loving family she wanted.
To the extent that there is any kind of series plot line, what these episodes did do was to educate us about different aspects of phantoms. But just like Kamichu! the episodes really do stand alone.
I'm not sure I like that. I didn't really like that aspect of Kamichu! partly because there was so damned much variation in story-telling quality from episode to episode. A lot of episodes really reeked; a couple are regular rewatches for me (particularly the Yamato episode). And I get the feeling that's what this series is going to be like, too.
The scenario isn't fully set up yet; we still don't know what's going on with the loli with the teddy bear. But aside from her, it was mostly set up by the end of ep 2, and now we're kind of cruising along. The center eight or nine episodes of Kamichu! could be watched in any order without losing any comprehensibility, and eps 3 and 4 of this series could have been in the opposite order without any problems.
UPDATE: Another anthology series was Mushishi. I only watched about 5 episodes of that. Not because it was badly done, but because I don't like horror and at its root it's a horror series. IMHO.
Posted by: Steven Den Beste in General Anime at 01:55 PM | Comments (3) | Add Comment
Post contains 349 words, total size 2 kb.
1
I liked
Mushishi,
but I agree that it is, at root, a horror story. The creatures creating the horror aren't tools of the devil or intrinsically evil, but they don't really care what happens to humans.
I can most certainly see why you wouldn't like it.
Posted by: Mark A. Flacy at January 27, 2016 07:08 PM (ATlQg)
2
Also agreed. I always thought the "mushi" felt closer to "unseelie court" faeries than to Japanese youkai, so it has a different flavor than most similar anime.
The least-horror-like episode is probably The Shrine in the Sea, and even that one will give you the wiggins on your midnight trip to the fridge. What happens if you feed the "eggs" to multiple women... do you get reincarnated into several bodies at once? Copies of your soul, or fragments of it in each one? Just one reincarnation, and several zombie births?
And it still made the "iyashikei" page at TVTropes. If you get the same warm fuzzies from Mushi-shi that you get from Aria or K-On!, you're not allowed to babysit my kids. (If I ever have any.)
Posted by: Mikeski at January 28, 2016 12:23 AM (LIUK5)
3
Since most of the mushi are non-sapient and just want food, it felt like a cross between dark fantasy and a medical drama. Most of the mushi afflictions are a lot less worse than leprosy and blood poisoning once Ginko figures out the cure.
Posted by: muon at January 28, 2016 07:45 PM (IUHrD)
Enclose all spoilers in spoiler tags:
[spoiler]your spoiler here[/spoiler]
Spoilers which are not properly tagged will be ruthlessly deleted on sight.
Also, I hate unsolicited suggestions and advice. (Even when you think you're being funny.)
At Chizumatic, we take pride in being incomplete, incorrect, inconsistent, and unfair. We do all of them deliberately.
How to put links in your comment
Comments are disabled.
8kb generated in CPU 0.01, elapsed 0.0165 seconds.
20 queries taking 0.0115 seconds, 20 records returned.
Powered by Minx 1.1.6c-pink.