March 09, 2016
Musaigen no Phantom World -- ep 10
AND... it's another girl-of-the-week episode. This week's girl is Ruru.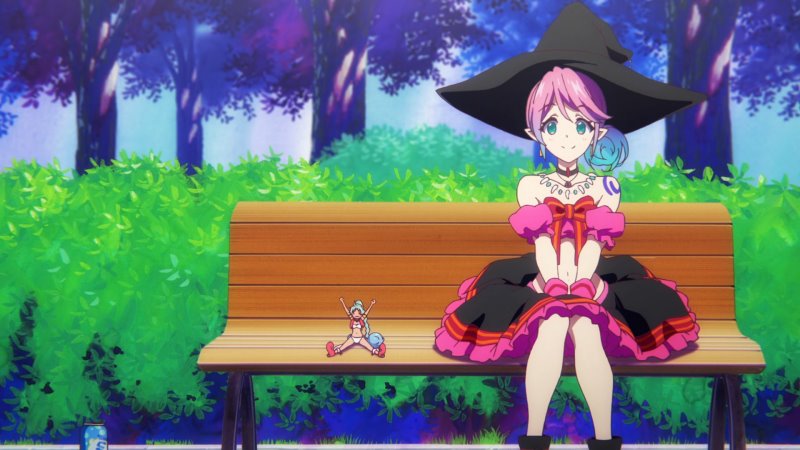 After Haruhiko steps on her, she wants to be big. So a deus-ex-machina shows up and grants her wish.
I got 8:30 into this episode and stopped watching. If this is one cour, they only have two episodes left to explain that device from way back in ep 2 and to start telling us what's really going on. If it's two cours, then it's being painfully stretched. Hell, it's already painfully stretched. (When the planning for this series began, there was only one novel available. Usually anime made from light novels will adapt three or even four volumes in one cour.)
This entire series has been filler. Of course, I shouldn't be that surprised since this is from the studio that brought us "Endless 8".
Posted by: Steven Den Beste in General Anime at 11:10 AM | No Comments | Add Comment
Post contains 142 words, total size 1 kb.
Enclose all spoilers in spoiler tags:
[spoiler]your spoiler here[/spoiler]
Spoilers which are not properly tagged will be ruthlessly deleted on sight.
Also, I hate unsolicited suggestions and advice. (Even when you think you're being funny.)
At Chizumatic, we take pride in being incomplete, incorrect, inconsistent, and unfair. We do all of them deliberately.
How to put links in your comment
Comments are disabled.
5kb generated in CPU 0.0, elapsed 0.0142 seconds.
18 queries taking 0.0105 seconds, 16 records returned.
Powered by Minx 1.1.6c-pink.