January 30, 2016
Luck and Logic -- ep 4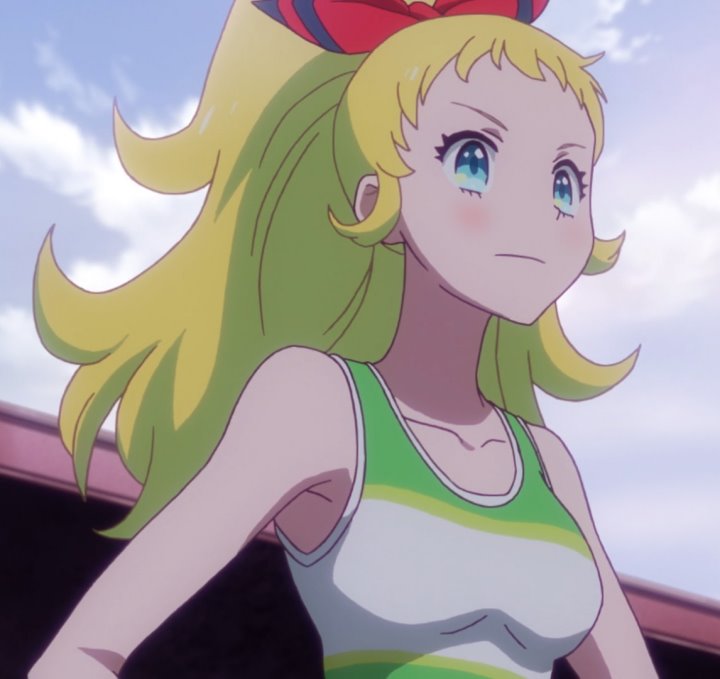 We seem to be doing girl-of-the-week episodes. Last week was Yurine and this week is Chloe. The series is also inherently monster-of-the-week, obviously, and this week's monster was pretty impressive.
Our Hero wasn't actually in the spotlight much, surprisingly, and they don't seem to be developing the show as a harem. Which is fine with me; it wouldn't be appropriate.
The team currently has two logicalists who don't have partners, and therefore can't participate in missions. One is Olga, the guy with green hair, and apparently he's been like that for a long time. He's desperately looking for a partner but none has come to him and none of the captured monsters will do it no matter how much he begs. My guess is that the reason is that he's an asshole, but that may have developed out of frustration. Anyway, he stays back at HQ and can only observe the missions. The other is the girl we saw recruited in the first episode. She seems to be a nice person but she also can't participate in missions.
I have a guess. Our Hero used to be a logicalist and engaged in a super-power battle in Hong Kong, where the only way to win was for him to use "Super Trance" which ultra-powered him but also cost him his memories. We've never heard who his partner was then, and my guess is that it was Athena, and the memories he lost were of her. She refused to accept that, and spent years finding and collecting his logic cards. When she had enough (all of them?) she came to him, in the first episode, and renewed the partnership, though he doesn't know that.
Anyway, there seems to be a problem with Athena; they were having problems with the trance in this episode and she confessed at the end of the episode that it was her fault. Next episode we're going to learn about Lucifer, the level 9.8 demon who appeared at the end of last episode. At that time I thought he was going to become Olga's partner. For a while I entertained the idea that he would team up with the new girl. But it's also possible that he's the series big-bad, or maybe the big-second-place-bad. We'll find out more next week.
This continues to be fun but it isn't breaking any records. Kind of grade B.
UPDATE: An interesting alternate possibility: his original partner was Lucifer, and Athena knows it, and that's why she's tied in knots now.
Posted by: Steven Den Beste in General Anime at 03:15 PM | Comments (1) | Add Comment
Post contains 425 words, total size 2 kb.
1
The rather stylized appearance each logicalist has when in trance comes from the partner. And we've seen Our Hero in flashback at Hong Kong, and he didn't look the same. So unless something happened to Athena, it seems like she wasn't his partner then.
Posted by: Steven Den Beste at January 30, 2016 05:18 PM (+rSRq)
Enclose all spoilers in spoiler tags:
[spoiler]your spoiler here[/spoiler]
Spoilers which are not properly tagged will be ruthlessly deleted on sight.
Also, I hate unsolicited suggestions and advice. (Even when you think you're being funny.)
At Chizumatic, we take pride in being incomplete, incorrect, inconsistent, and unfair. We do all of them deliberately.
How to put links in your comment
Comments are disabled.
7kb generated in CPU 0.02, elapsed 0.0217 seconds.
20 queries taking 0.0149 seconds, 18 records returned.
Powered by Minx 1.1.6c-pink.