February 12, 2016
GATE -- ep 18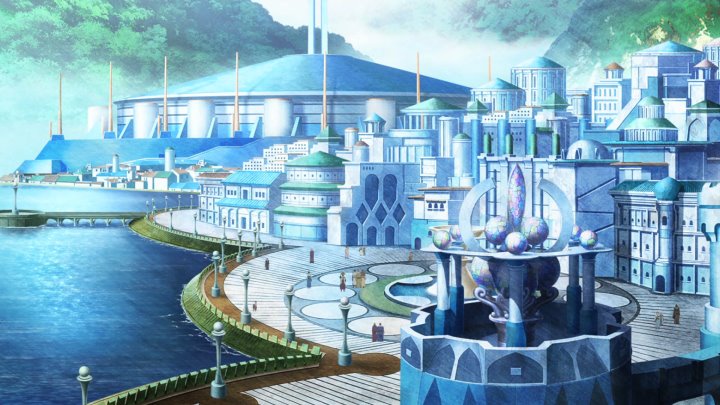 Welcome to the magical city of Rondel. It dates back further than the empire, and was founded by two people who later became the Gods of Education, so it's a pretty big deal.
Lelei has to wear this robe the entire time she's there. It means she is vying to become a Master. If she fails her exam, the masters will throw ink and oil all over her, and she has to keep wearing it as long as she's in the city. That, apparently, is the tradition.
Posted by: Steven Den Beste in General Anime at 04:27 PM | Comments (3) | Add Comment
Post contains 91 words, total size 1 kb.
1
I wonder if male applicants wear the same outfit. This reminds me of the wing bells in
Haibane
; they were really cute on the girls, but I bet it drove the boys crazy.
"Gods of education". Huh. The Greeks only managed a goddess of wisdom; as far as I know, they never thought to worship a god of education. I wonder if there's a translation hitch, maybe something to do with honorifics?
The Grand Master Lelei came to see is completely dotty, sort of like her own Master (who was a dirty old man). I wonder if there's something about Mastery that sends folks off the deep end.
Three "I wonders"; that's probably enough.
Posted by: 50srefugee at February 14, 2016 01:29 PM (OoOF7)
2
Hypothesis: In order to do magic, you have to use your brain in ways that are different from the way you use it for... actually thinking. The better you get at that, the battier you get. Eventually you get so good at doing magic you're a drooling idiot.
Unless you go the apostle route, which protects you somehow.
Posted by: Brett Bellmore at February 14, 2016 04:47 PM (l55xw)
3
In the manga Master Cato isn't a lech and isn't nutty. That's something they did in the anime.
I'm sure that male applicants wear something similar but not identical.
As to the Gods, when apostles finish their thousand year apprenticeship and become gods, they get to pick what they want to be gods of. The only limitation is that no one else already has it.
Apparently these two decided to become gods of education.
Posted by: Steven Den Beste at February 14, 2016 05:23 PM (+rSRq)
Enclose all spoilers in spoiler tags:
[spoiler]your spoiler here[/spoiler]
Spoilers which are not properly tagged will be ruthlessly deleted on sight.
Also, I hate unsolicited suggestions and advice. (Even when you think you're being funny.)
At Chizumatic, we take pride in being incomplete, incorrect, inconsistent, and unfair. We do all of them deliberately.
How to put links in your comment
Comments are disabled.
6kb generated in CPU 0.01, elapsed 0.0158 seconds.
20 queries taking 0.0108 seconds, 20 records returned.
Powered by Minx 1.1.6c-pink.