May 30, 2016
Bakuon! ep 9
So we introduce a new character with this episode. There isn't any suspense about it since they changed both the OP and ED to include her. Her name is Chisame and she's Yume's classmate in middle school.
Both of them took the entrance exam for this high school and both were accepted. But Chisame is really dark. She sucks the life out of every scene she appears in. The last scene in the OP shows her smiling, so I hope she gets better, but in this episode she seems to be suffering from the world's worst case of depression.
See, she's really little. Short, short, short; when she sits on her dad's motorcycle her feet won't reach the ground. She is also weak and uncoordinated and has always done really badly in sports, but she found herself in motorcycle racing, in a version where the bikes are tiny. There, her small size is an advantage because she doesn't weigh as much as her opponents so she can go faster. So she's been winning, but she's always lonely when she's on the victor's podium.
We were told that she doesn't think motorcycles should be ridden on the street. Actually, it's just that she herself can't do that because she's tiny.
Also, she's flat chested. Shows like this nearly always include a character who suffers from "A-cup angst" and originally I thought it was going to be Onsa but I was wrong. They were saving it for Chisame. (That's a guess; so far she's had other reasons to be depressed.)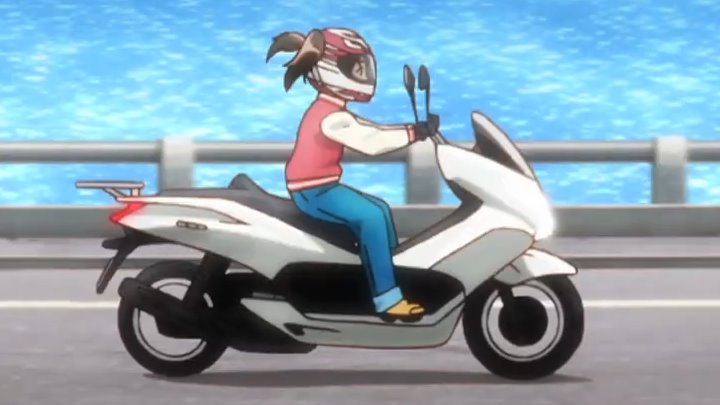 I'm pretty sure she rides a Honda PCX. That's a scooter that doesn't really look like a scooter and there's a pretty low spot in the middle she could straddle when stopped so that her legs reach the ground. And it weighs a lot less than a full size bike (like Lime's Ninja) so she should be able to do the "lift".
So will Hane's irrepressible cheerfulness defeat Chisame's depression? If this picture is anything to judge by (and it may not be) then Hane will win. I do hope so; one of the attractions of this series so far has been that no one is angsty. (Not even Rin. She's disgruntled but not angsty.)
There's an interesting link here between Chisame and Lime. 20 years ago (or however long it was) there were two girls who were friends of Lime and made the mistake that led to her catastrophic crash in that race. One of those eventually became the principal of this school. The other one got married and had a daughter that grew up to be Chisame. Seems like that has to be a plot point since if it wasn't there really wouldn't be any reason to include it, but I have no idea what it will mean. Anyway, Chisame's mother knows Lime and seems to know about her.
I have a bad feeling about this. Up to now the show has been very light-hearted but I'm afraid Chisame is going to drag it down into the darkness and make it serious.
Posted by: Steven Den Beste in General Anime at 08:41 PM | Comments (8) | Add Comment
Post contains 515 words, total size 3 kb.
1
...she found herself in motorcycle racing, in a version where the bikes are tiny.
Is it one of these
?
Posted by: Wonderduck at May 30, 2016 09:10 PM (X/kQu)
2
Well, they look a
bit
bigger than that, but that may be because Chisame is so tiny. (Her official height in the manga is 144.8 centimeters, which is about 57 inches.)
Posted by: Steven Den Beste at May 30, 2016 09:53 PM (+rSRq)
3
Posted by: Steven Den Beste at May 30, 2016 09:56 PM (+rSRq)
4
Even a
145cm woman
looks bigger on a pocket bike. A bit of googling suggests that Chisame is riding a Honda NSF100 mini racing bike.
-j
Posted by: J Greely at May 31, 2016 07:27 AM (ZlYZd)
5
Someone updated
the Wikipedia article
about the series to include info about Chisame. It confirms her racing bike is an NSF100, and her street bike is a Honda PCX 150.
Posted by: Steven Den Beste at May 31, 2016 09:33 AM (+rSRq)
6
Someone who hasn't been paying attention very well edited the Lime-senpai section of the English Wikipedia article: "
seasoned biker in her thirties who re-enrolled using a false 18-year-old student ID at the principal's request".
-j
Posted by: J Greely at May 31, 2016 03:12 PM (ZlYZd)
7
Yeah, I spotted that and harrumphed. I thought about jumping in and changing it, but we're really short on facts regarding her and my contribution would only be speculation, just like what's already there.
Posted by: Steven Den Beste at May 31, 2016 03:28 PM (+rSRq)
8
Heh, sounds like "Catherine's Little Sister" type of character.
Posted by: Pete Zaitcev at May 31, 2016 03:45 PM (XOPVE)
Enclose all spoilers in spoiler tags:
[spoiler]your spoiler here[/spoiler]
Spoilers which are not properly tagged will be ruthlessly deleted on sight.
Also, I hate unsolicited suggestions and advice. (Even when you think you're being funny.)
At Chizumatic, we take pride in being incomplete, incorrect, inconsistent, and unfair. We do all of them deliberately.
How to put links in your comment
Comments are disabled.
11kb generated in CPU 0.01, elapsed 0.0197 seconds.
20 queries taking 0.0114 seconds, 25 records returned.
Powered by Minx 1.1.6c-pink.