May 23, 2016
Bakuon ep 8 -- Punny Christmas!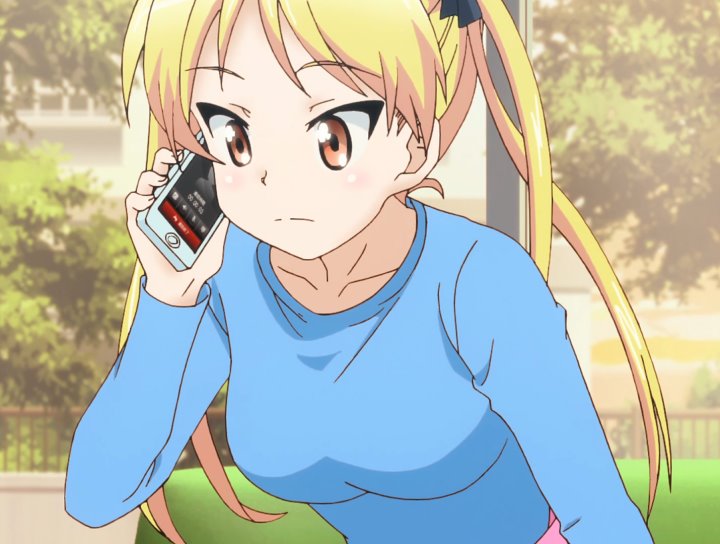 It's winter and we're approaching the end of December. Which means Hijiri's birthday is coming up and soon she'll be 16 and elegible for a driver's license. In fact, she already has one. There's a country which will issue one for enough money (and if there's anything Hijiri has it's plenty of money) and the Japanese government will accept it and roll it over into a Japanese license without any test.
---
The problem is that Hijiri doesn't actually know how to ride a bicycle, let alone a motorcycle. So the club members are going to try to help her learn. Hayakawa (her butler) goes to Nicoichi motors (the shop run by Onsa's father) and buys a Honda Super Cub, a small-displacement scooter, and Onsa, Lime, and Hane bring it back to the club. (The Honda Super Cub is a classic; it's been in continuous manufacturing since 1958 and 87 million have been sold so far, making it the most-produced motor vehicle in history.)
Lime's boobs are getting groped again. She doesn't seem to mind. And so, Hijiri's adventure begins.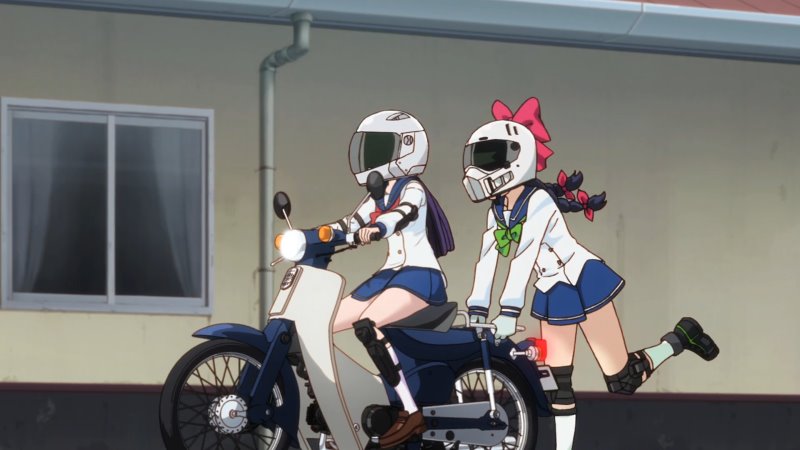 I don' t know how the heck you do a wheelie with a 100 cc four stroke engine, unless you're Lime, who is magical.
And after falling several times, she expresses her opinion on the scooter with a sledge hammer. Surprisingly, the motor still runs after she's done.
So another visit to Nicoichi Motors for rather extensive repairs, and she's good to go!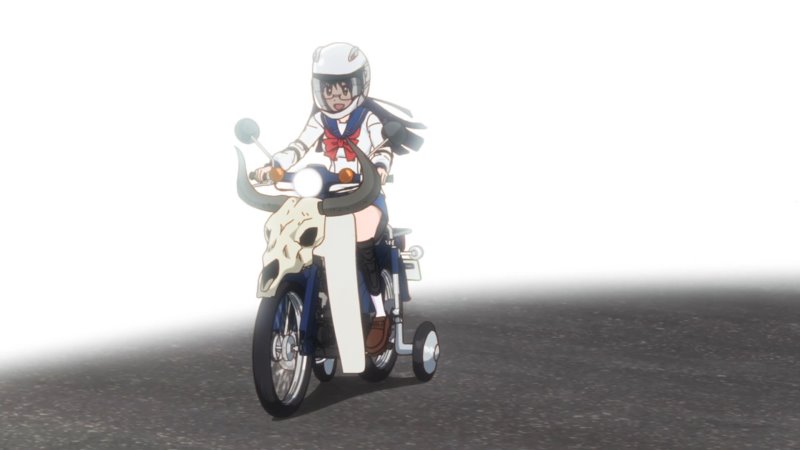 The skull is rather badass, but the training wheels ruin the effect.
Next segment: it's Christmas, and everyone is invited to Hane and Yume's house for a party and a gift exchange.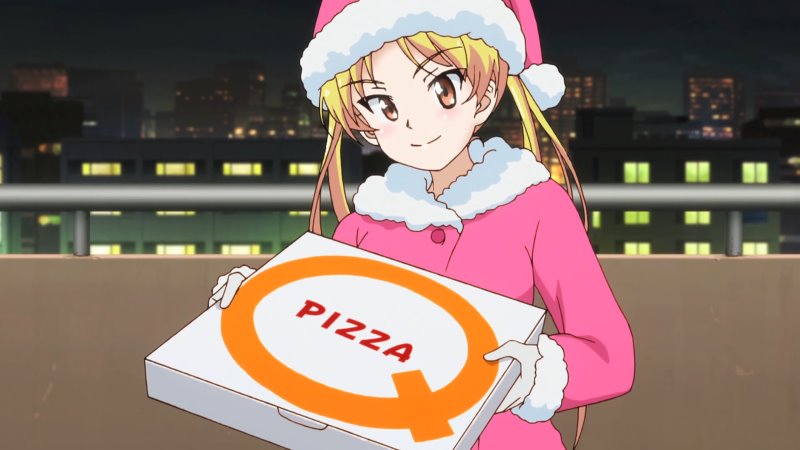 But Rin gets called to her part time job which, it turns out, is pizza delivery. Today (Christmas) she does her deliveries in a Santa costume. She has to leave before the gift exchange, which is a little sad.
Hane decides to deliver Rin's gift to her and head out on her Honda.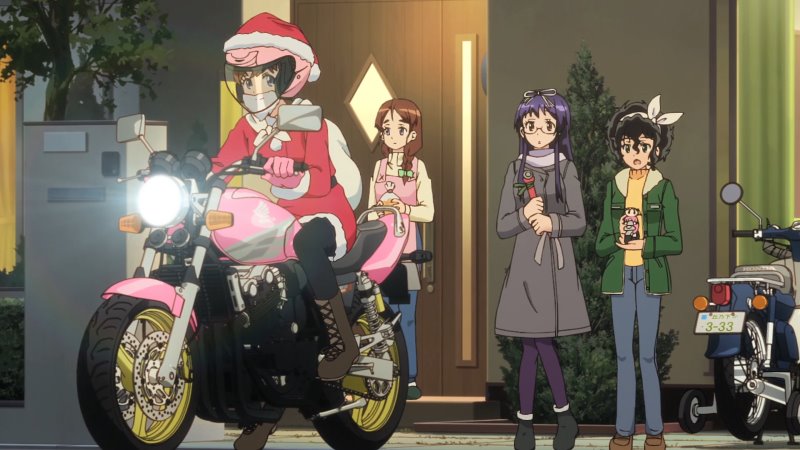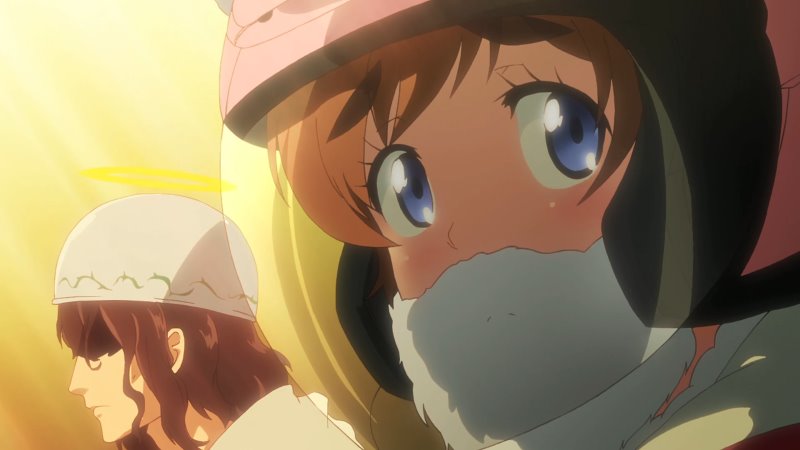 Hane doesn't know where Rin is and is searching aimlessly. But Kamisama shows up again, next to Hane at a stop light, and they speak to each other briefly.
And after he drives away, Hane sees Rin right there, and delivers the present to her.
There was a third section about visiting a shrine on New Years but this post is too long already. This episode was another good one. (It covered manga chapters 26-28.) Next episode we add a new continuing character, Chisame, who had a quick scene in ep 7. So it means we're skipping ahead to the spring for the next school year.
Posted by: Steven Den Beste in General Anime at 01:34 PM | No Comments | Add Comment
Post contains 439 words, total size 3 kb.
Enclose all spoilers in spoiler tags:
[spoiler]your spoiler here[/spoiler]
Spoilers which are not properly tagged will be ruthlessly deleted on sight.
Also, I hate unsolicited suggestions and advice. (Even when you think you're being funny.)
At Chizumatic, we take pride in being incomplete, incorrect, inconsistent, and unfair. We do all of them deliberately.
How to put links in your comment
Comments are disabled.
8kb generated in CPU 0.0, elapsed 0.0149 seconds.
18 queries taking 0.0108 seconds, 16 records returned.
Powered by Minx 1.1.6c-pink.