April 25, 2016
Bakuon!! ep 4 -- Fan service!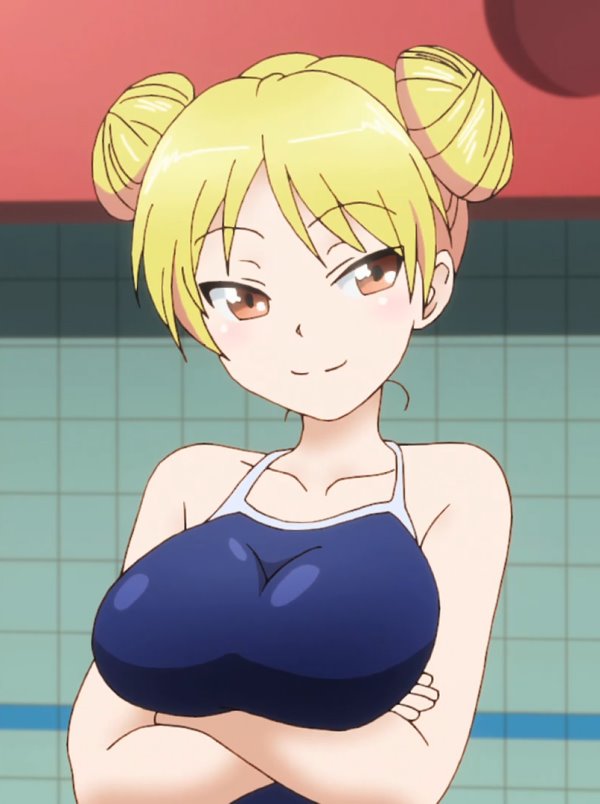 Of course, I think it's a foregone conclusion that every episode of this series is going to have a healthy dose of fan service, but this particular episode probably takes that to an extreme. (It turns out this is the only mainstream manga done by the mangaka. Everything else was R-18 at least. So it's not too surprising that the girls look really good, especially Rin.)
A school vacation is coming up, and our girls decide they want to take a road trip. Destination turns out to be Hokkaido, because Rin went there with her father when she was little. The story started sweetly, as if a treasured memory, but it ended up really badly. So regardless, they're going to do it.
But nothing is easy when it comes to this group, and they end up late for the ferry and miss it. Raimu gets on; Hijiri and her butler try but fail and drown the latest Ducati, and order a replacement to be delivered by helicopter. The other three decide to ride to Aomori, 700 km away, to catch a different ferry. And on the way, Onsa and Rin end up racing and leave Hane behind. So the group is now scattered all over the country side.
Lots of spoilers below the fold, OK? Also NSFW.
---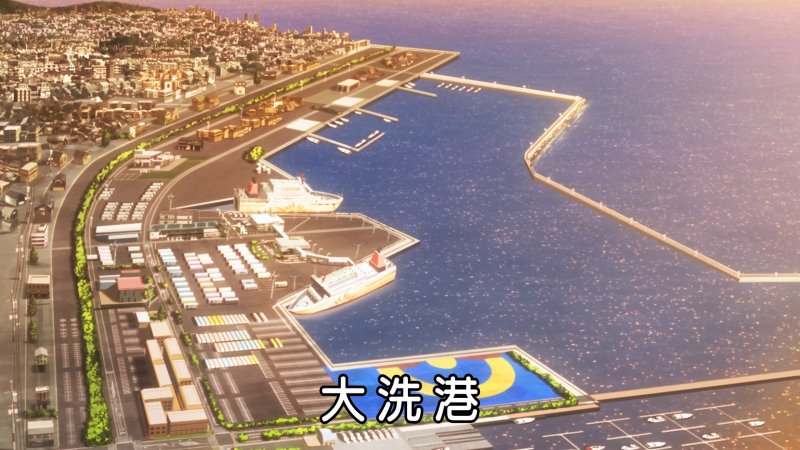 The translation said that this is was Oarai, but there aren't any tanks around so that can't be right. This is where they missed the first ferry.
While Hane is riding alone, she sees a guy pushing his motorcycle by the side of the road.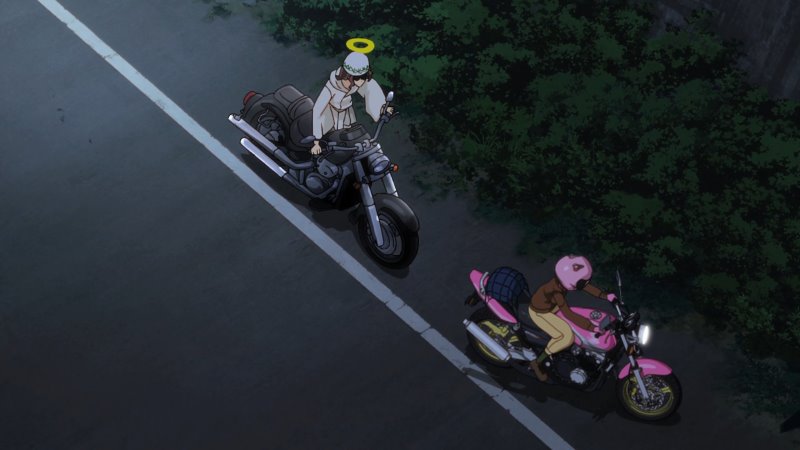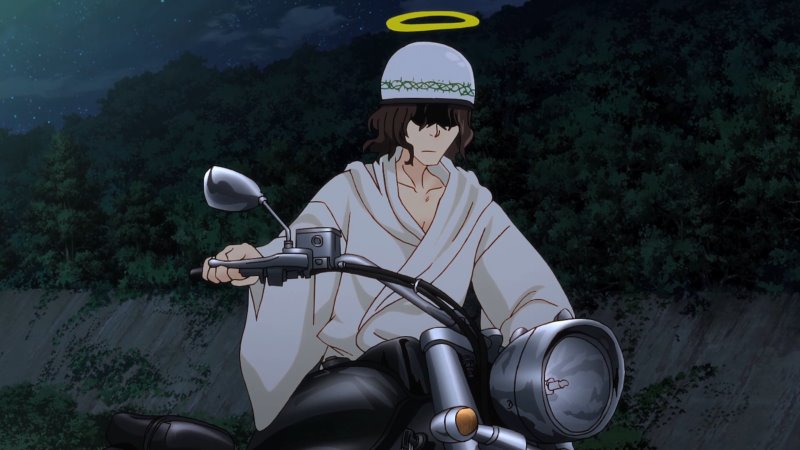 So she pulls over to help him. She herself is running low on fuel but she gives him half of what she has left, and they ride together and manage to make it to the next gas station.
And they sit and talk for a while. He tells her that God loves motorcycles.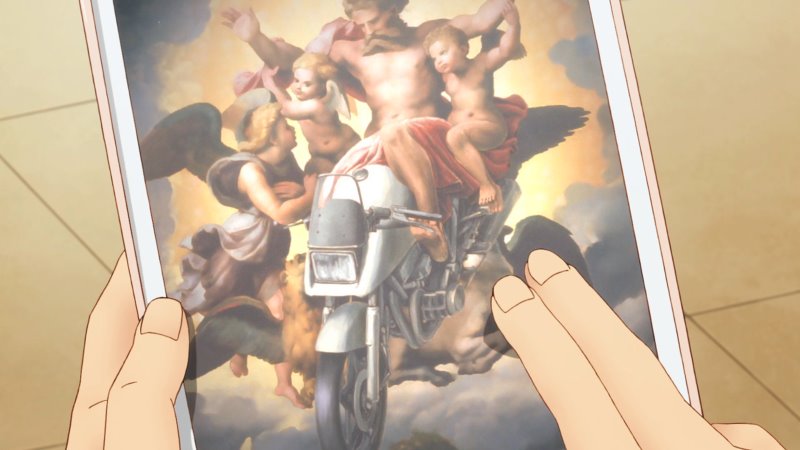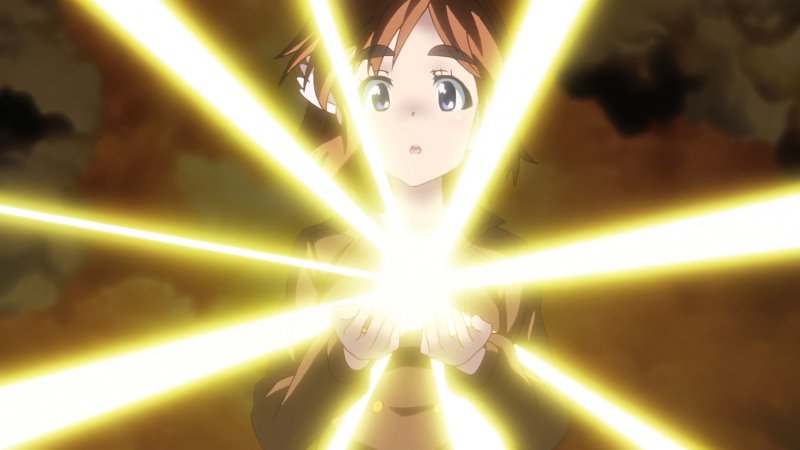 And then he gives her the Holy Grail. And does a miracle which sends her to Aomori, arriving before Onsa and Rin. Hane is a really nice girl but she's also amazingly oblivious and just takes this all in her stride.
This character drove me nuts because I recognized the voice but couldn't place it. I looked in the credits and the character was listed as 神様 kamisama, and I finally found out that the seiyuu did the narration at the beginning of each episode of Mouretsu Pirates.
Well, moving right along. They all manage to meet up again at a hot spring by the side of the sea, including Raimu who should have had no idea where they were because this hotspring wasn't originally in the plan. I still think she's supernatural, but it's possible that she's a kami rather than a ghost.
How did she get her clothes off without removing her helmet? We don't ask questions like that...
Please notice Rin's butt. (Hard to miss, I know...) This episode also explains how she got that scar in the shape of a Suzuki logo.
This show continues to be fresh and funny without descending to cruelty. And that's an unusual achievement for this kind of show.
Posted by: Steven Den Beste in General Anime at 04:07 PM | Comments (1) | Add Comment
Post contains 529 words, total size 3 kb.
1
I still want to know how Raimu eats ice cream during the opening credits. And now in this episode she manages a bowl of ramen. As for her clothing, at 18:30 you can see her secret: buttons.
Whatever she is, it looked like she didn't know where they were going until they remembered her. I suppose they could have called her on her cell phone, since they already used it at 6:24, but perhaps that's too mundane.
-j
Posted by: J Greely at April 25, 2016 10:31 PM (ZlYZd)
Enclose all spoilers in spoiler tags:
[spoiler]your spoiler here[/spoiler]
Spoilers which are not properly tagged will be ruthlessly deleted on sight.
Also, I hate unsolicited suggestions and advice. (Even when you think you're being funny.)
At Chizumatic, we take pride in being incomplete, incorrect, inconsistent, and unfair. We do all of them deliberately.
How to put links in your comment
Comments are disabled.
8kb generated in CPU 0.01, elapsed 0.0273 seconds.
20 queries taking 0.0191 seconds, 18 records returned.
Powered by Minx 1.1.6c-pink.