May 16, 2016
Bakuon! -- ep 7
It's time for the school festival, and all the clubs are supposed to put on events. The Bike club decides to put on a race and somehow Hijiri ends up in charge of it, and she's got big plans and strange ideas. (Ep 6 was the setup for this race but I didn't write about it last week. Sorry!)
Her plan is to turn the school itself into a track, around which they will run 10 laps. The stairs will have boards on them to make them smooth.
(By the way, word-of-god is that "Raimu" is really named Lime, and I'm going to call her that from now on. Her name, "Lime", shows up in writing in this episode.)
In order to get the other students interested enough to watch the race, they get permission to run a book and then they go around the school trying to get people to wager on the race. First visit is Rin's class, and she challenges a classmate to name the four domestic Japanese motorcycle makers. "Honda, Yamaha, Kawasaki, and... um... Ah! Mr. Harley David-san." (That's right, of course. Nailed it in one!)
So it's time for the race. Hane has modified her bike by adding mirrors, signal lights, and extra mufflers. (Actually, Lime did it for Hane at the end of ep 6.) Onsa is riding a special two-stroke bike her father used to ride. Rin is on her Katana but she's added a couple of mods.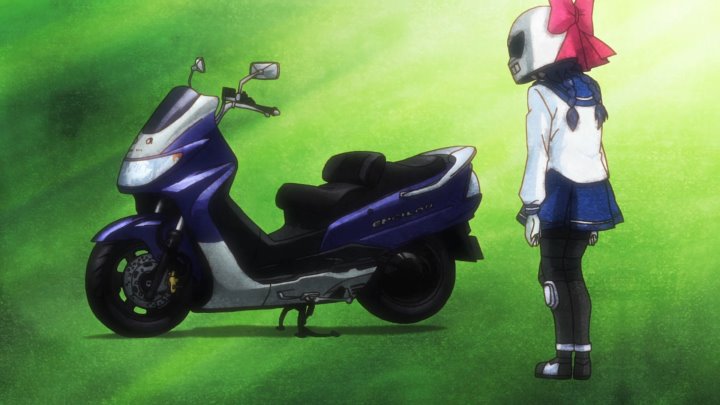 And Lime is riding a Kawasaki scooter as a handicap, provided by Onsa's father.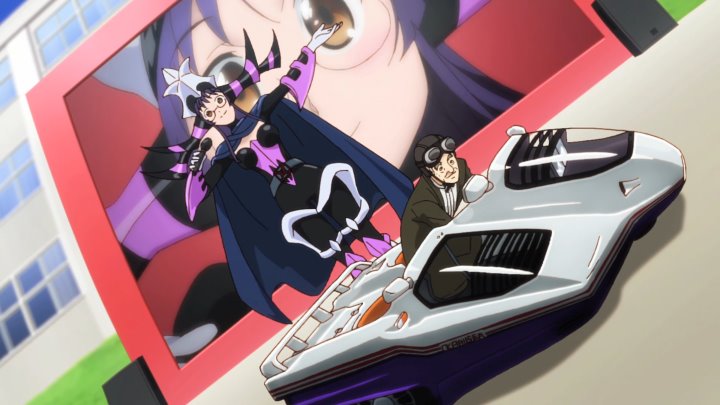 Hijiri is announcing the race, in a rather... interesting... costume standing on a rather... unusual... motorcycle.
And they're off! And Lime flips her scooter immediately and seems to be out of the race. The other three start off pretty slowly, being cautious and getting used to the track. But competitive spirit will out and they go faster and faster each trying to get into the lead. By the final lap it's pretty impressive and they're starting to take chances.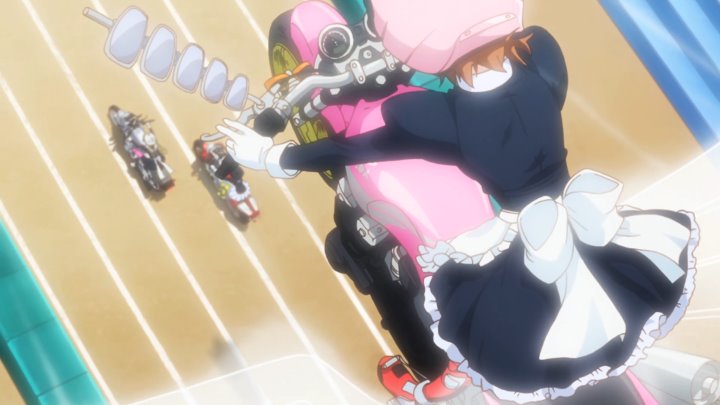 Coming into the final lap Hane is way behind and instead of going down the ramp slowly, she takes a jump. Her bike seems to have wings. She lands perfectly and catches up. Meanwhile, Lime finally recovered and got back into the race, making back up the couple of laps she lost. Heading for the finish line, all four bikes are very close. Then Lime's engine explodes (for reasons too complicated to explain) and she tumbles through the sky. The other three make it a photo finish.
While the photo is being evaluated, the audience begins to express its opinions. To each other. Violently.
So who won? That would be telling... All I can say is that it wasn't Harley David-san.
Posted by: Steven Den Beste in General Anime at 10:17 AM | Comments (7) | Add Comment
Post contains 463 words, total size 3 kb.
1
This was another laugh-out-loud episode, by the way. One thing that's nice is that the director has nice comedic instincts. He doesn't belabor the jokes. It helps that there are a lot of jokes to tell; the original mangaka also has nice comedic instincts. And the anime is following the manga very closely. We just finished chapter 23.
Posted by: Steven Den Beste at May 16, 2016 10:44 AM (+rSRq)
2
Has a Harley Davidson appeared in the manga?
Posted by: muon at May 16, 2016 09:53 PM (IUHrD)
3
I don't remember seeing one but I can't exactly claim to have been looking, and there might have been one in a background.
None of the girls have ridden one. It's all been rice burners except for the Ducatis that Hijiri keeps destroying.
Posted by: Steven Den Beste at May 16, 2016 10:00 PM (+rSRq)
4
What did Jesus ride though? I thought it was a Harley, in the manga at least.
Posted by: Pete Zaitcev at May 17, 2016 06:09 AM (XOPVE)
5
In the anime, Hane asks if it's a Harley, and Kami-sama says it's a "Suzuki Intruder".
Posted by: Steven Den Beste at May 17, 2016 06:48 AM (+rSRq)
6
The manga says the same thing.
Posted by: Steven Den Beste at May 17, 2016 06:50 AM (+rSRq)
7
By the way, it makes sense that it should be a Suzuki considering what the Holy Grail turns out to be.
Posted by: Steven Den Beste at May 17, 2016 07:20 AM (+rSRq)
Enclose all spoilers in spoiler tags:
[spoiler]your spoiler here[/spoiler]
Spoilers which are not properly tagged will be ruthlessly deleted on sight.
Also, I hate unsolicited suggestions and advice. (Even when you think you're being funny.)
At Chizumatic, we take pride in being incomplete, incorrect, inconsistent, and unfair. We do all of them deliberately.
How to put links in your comment
Comments are disabled.
10kb generated in CPU 0.02, elapsed 0.0231 seconds.
20 queries taking 0.014 seconds, 24 records returned.
Powered by Minx 1.1.6c-pink.