May 02, 2016
Bakuon!! -- ep 5
Last episode was an onsen, and even so I think this episode was even more ecchi. And Hane wins the episode. Prepare yourself!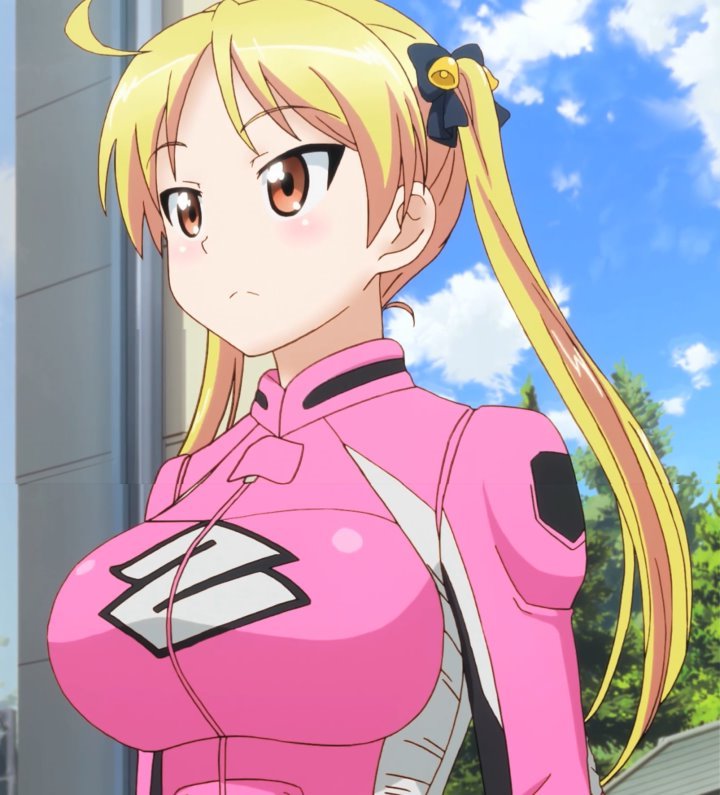 But first a bit of trivia. A couple of days ago I noticed that Rin's seiyuu also did the voice of Lelei in GATE. She sure is versatile; they're nothing at all alike! (Besides which, it gives me an excuse for putting Rin at the top of this post.)
(UPDATE: Apologies. I flipped the image so it would fit better in the site format. That's why the Suzuki logo is backward.)
Morning in Hokkaido. It's summer so sunrise must be about 5 AM. Hane is up for it and makes herself a cup of coffee, into which she puts four cubes of sugar. Blech. (I drink my coffee black.)
And they spend a night at a cheap inn, and have... problems... with one of their teachers who happens to be there, too. I'm not going to say any more about it except to say that laws got broken.
So they finally reach the dock and take the ferry home. So now it's time to clean their bikes!
And everything else is below the fold because a lot of it is pretty seriously NSFW.
---
Hane gets tired of working on her bike, and has a bright idea: how about involving her whole body in the cleaning?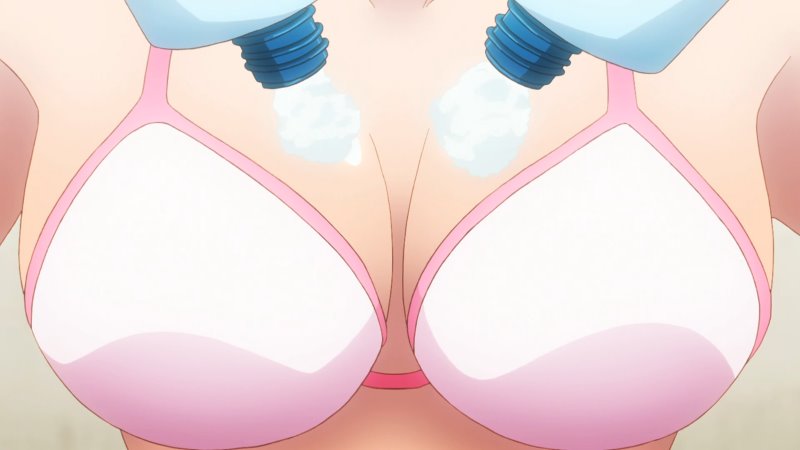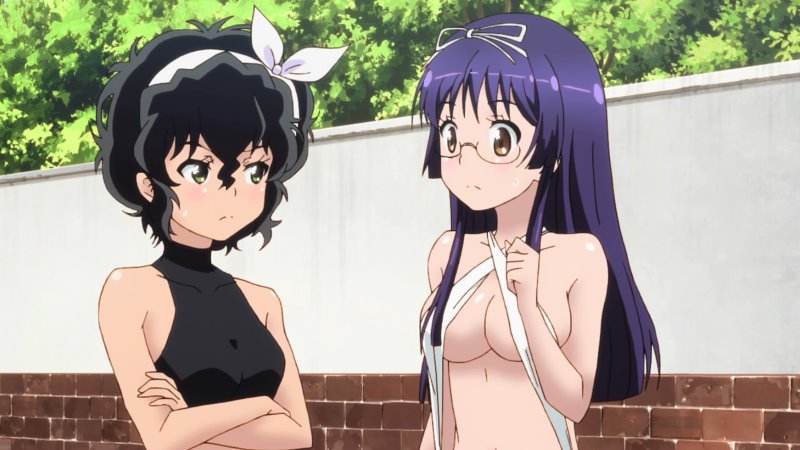 Hijiri observes that this proves that Hane loves her bike more than any of the others do.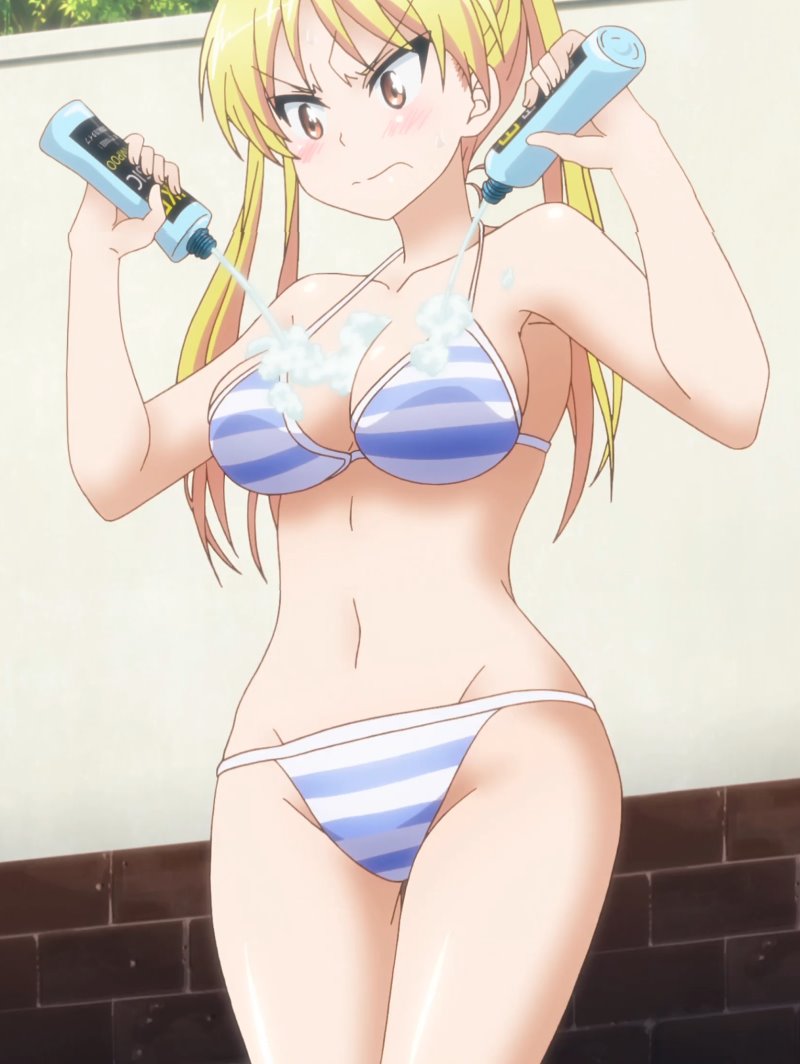 Rin can't let THAT go by, of course.
But she falls off her bike, and Hane checks on her.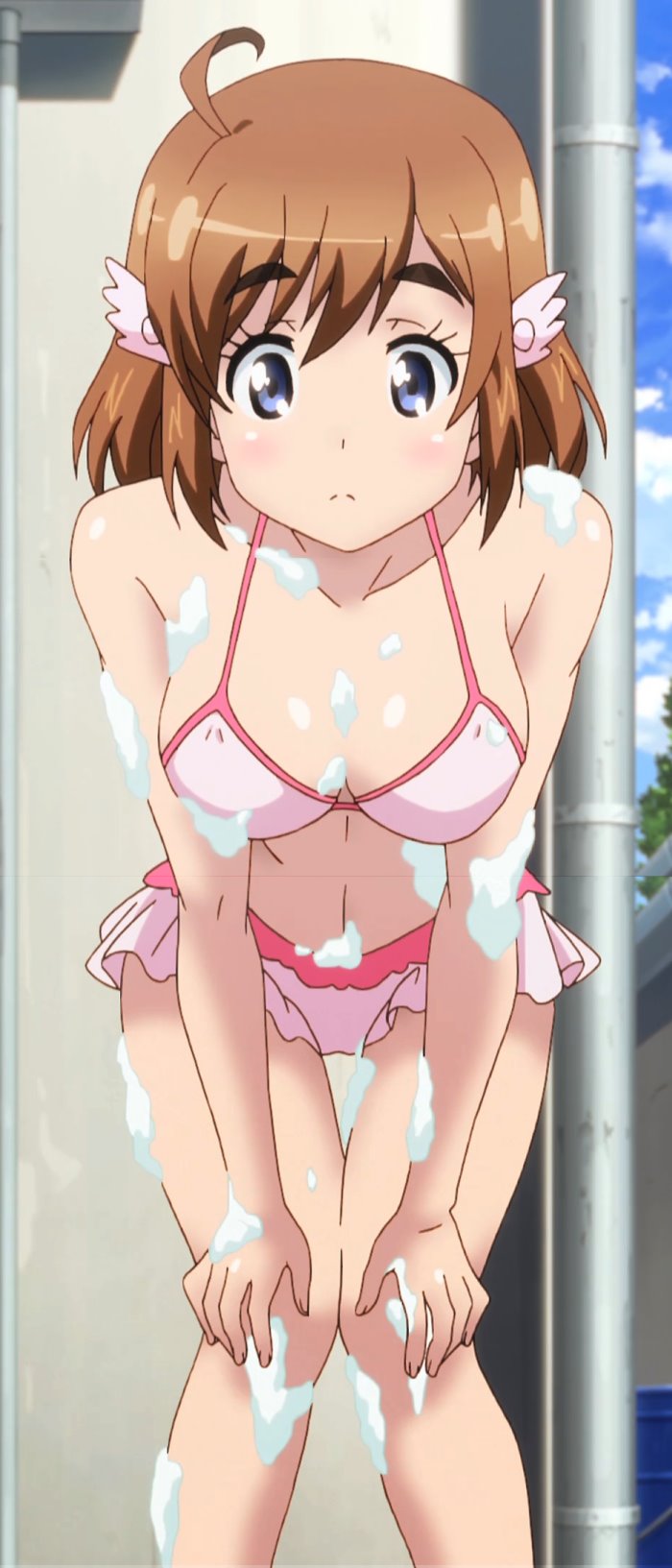 Are you OK? Hijiri announces that there is tea and snacks in the clubroom so everyone bails, without finishing the cleaning job. Raimu takes over and cleans all of them.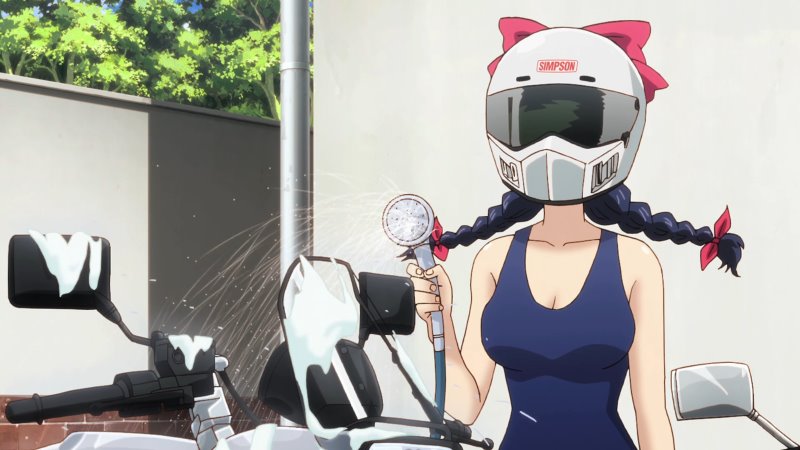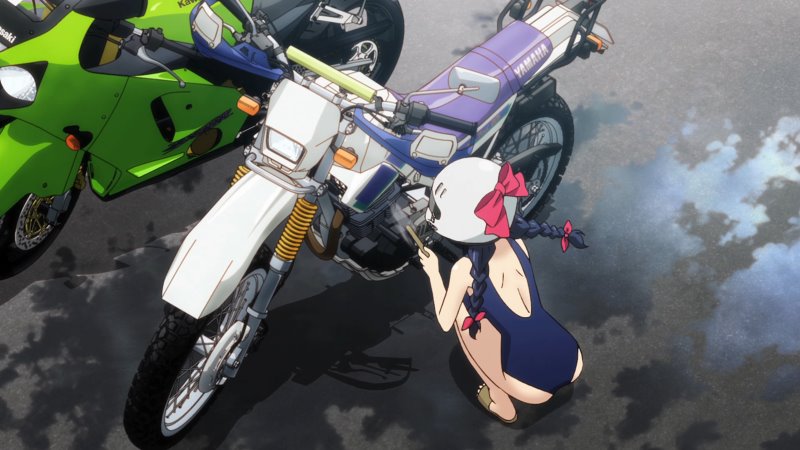 A job well done. And then it starts raining.
Posted by: Steven Den Beste in General Anime at 07:49 PM | Comments (6) | Add Comment
Post contains 307 words, total size 2 kb.
1
Obviously, their bike-sexuality is a response to their teacher's sexual harassment. Also, the magazine the manga runs in just ran a
bikini photo shoot
of a model cosplaying Raimu; don't know if she's washing bikes.
-j
Posted by: J Greely at May 03, 2016 08:05 AM (ZlYZd)
2
That teacher is probably going to be a continuing character. She's featured at the end of the ED.
Posted by: Steven Den Beste at May 03, 2016 09:03 AM (+rSRq)
3
The anime has been following
the manga
very closely so far, and this is the last serious pandering in the manga for quite a long time, so enjoy it while it lasts. The Onsen was chapter 12 and Bike Wash was chapter 16. There isn't any more massive fan service up through chapter 24, which was just released.
Posted by: Steven Den Beste at May 03, 2016 02:08 PM (+rSRq)
4
By the way, I think this is now one of my top three bikini episodes, the other two being
Yuushibu
and
Rosario and Vampire
(despite the limited animation, it has Kurumi-chan's Giant Beach Melons, and the catchy song with the same title).
-j
Posted by: J Greely at May 03, 2016 02:16 PM (CLiR9)
5
It took me a while. "Bikinis in Yuushibu? Oh, oh, oh! The parking lot sale!"
I don't remember one specifically from Rosario to Vampire but it doesn't surprise me that there should be one. It isn't a show I paid much attention to once I plundered it.
Posted by: Steven Den Beste at May 03, 2016 08:06 PM (+rSRq)
6
It's the fifth episode. Our Hero and his Dream Girl explore the school clubs, and the swimming club ends up being run by life-draining mermaids. But before that happens, there's a giant bikini battle led by the succubust and the witchloli, featuring songs by both of them.
-j
Posted by: J Greely at May 03, 2016 08:27 PM (ZlYZd)
Enclose all spoilers in spoiler tags:
[spoiler]your spoiler here[/spoiler]
Spoilers which are not properly tagged will be ruthlessly deleted on sight.
Also, I hate unsolicited suggestions and advice. (Even when you think you're being funny.)
At Chizumatic, we take pride in being incomplete, incorrect, inconsistent, and unfair. We do all of them deliberately.
How to put links in your comment
Comments are disabled.
10kb generated in CPU 0.01, elapsed 0.0221 seconds.
20 queries taking 0.0137 seconds, 23 records returned.
Powered by Minx 1.1.6c-pink.