June 20, 2016
Bakuon!! -- ep 12
I've been sitting here for fifteen minutes trying to decide how I should write this up and have come to the conclusion that I shouldn't. It's the last episode of the anime, and they constructed it out of chapters 39 and 44 of the manga.
I was hoping for another onsen episode, perv that I am, but they were right. Chapter 44 was an outstanding choice for ending the series.
It's common in comedy series for them to try to find a touching story to end it, and to temporarily turn off the comedy tap, and usually it doesn't work. It did work this time. The final story made Hane cry, and it gave me tears, too. Watching Hane running down the street pretending she was riding a motorcycle was heart breaking. And then Lime appeared.
This is a huge spoiler. DON'T READ IT UNTIL AFTER YOU'VE WATCHED THE EPISODE! Lime came across from the other timeline and took Hane back. If we needed any more evidence that she's a kami, this was it.
And then we got a happy ending.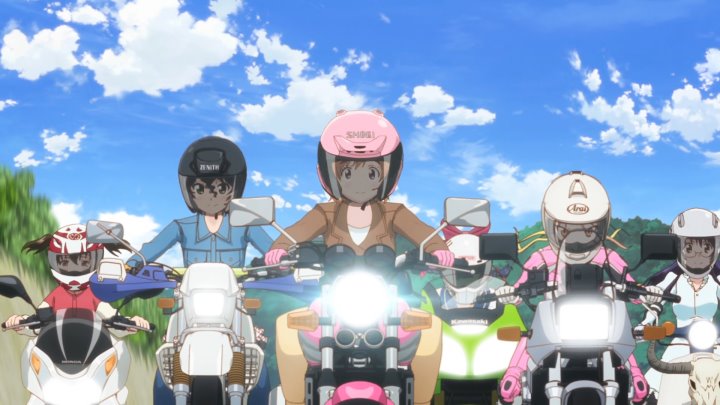 It was an excellent way to end the series. If you have fallen for the girls in this series, you'll love this episode! The second part won't make you laugh but it will make you smile.
Posted by: Steven Den Beste in General Anime at 11:41 AM | Comments (2) | Add Comment
Post contains 165 words, total size 1 kb.
1
By the way, this episode's eyecatch was first rate cheesecake:
Posted by: Steven Den Beste at June 20, 2016 01:00 PM (+rSRq)
2
I'm rewatching the series in order to plunder it. 26 grabs from the first episode alone. And I just noticed something:
The scene in the last episode of Hane running and making motorcycle noises is a reference to the first episode where Hane is riding her bicycle to school and making motorcycle noises on the last hill after having seen Onsa riding her motorcycle. Which makes the scene in the last episode all the more poignant.
Posted by: Steven Den Beste at June 21, 2016 10:22 PM (+rSRq)
Enclose all spoilers in spoiler tags:
[spoiler]your spoiler here[/spoiler]
Spoilers which are not properly tagged will be ruthlessly deleted on sight.
Also, I hate unsolicited suggestions and advice. (Even when you think you're being funny.)
At Chizumatic, we take pride in being incomplete, incorrect, inconsistent, and unfair. We do all of them deliberately.
How to put links in your comment
Comments are disabled.
7kb generated in CPU 0.01, elapsed 0.0212 seconds.
20 queries taking 0.0152 seconds, 19 records returned.
Powered by Minx 1.1.6c-pink.