June 13, 2016
Bakuon! -- ep 11
I think this was the funniest episode yet, and for this series that's really saying something.
---
It's in three parts, each telling a different joke. The first one is about how obnoxious and arrogant some bicycle riders are. In the second one, Onsa gets a disease and is emotionally devastated by it, and then her father and brothers figure out how to cure her.
Rin comforts her.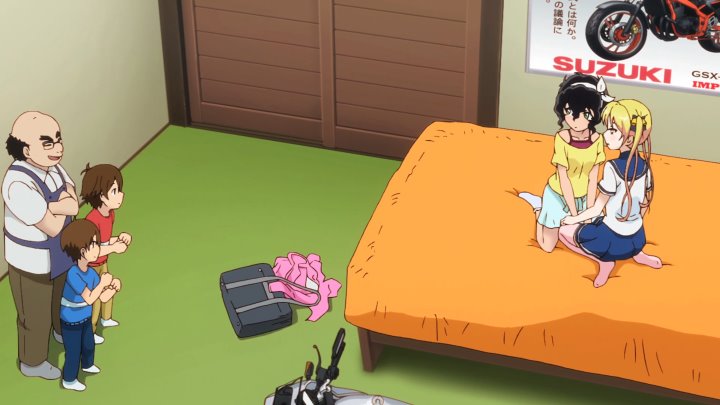 The joke is the nature of the disease and the nature of the cure, so of course I won't reveal it. This was the best segment of the episode.
In the last segment Chisame asks the bike club for advice on the kind of motorcycle she should buy. Big mistake. Everyone has an opinion and they end up fighting about it.
Chisame now has her scooter and she is no longer sucking light out of the room, so we're back in business.
Posted by: Steven Den Beste in General Anime at 12:26 PM | Comments (3) | Add Comment
Post contains 153 words, total size 1 kb.
1
They're taking things out of order, in the windup to the finish. The first segment of this episode was from chapter 33 of the manga. The second segment was chapter 30. And I could have sworn I saw the third segment somewhere but I just searched (twice!) and couldn't find it.
Assuming next episode (12) is the last one, I'm betting it will include chapter 36, which has another onsen scene.
Posted by: Steven Den Beste at June 13, 2016 01:01 PM (+rSRq)
2
An
eboshi
strapped on top of her helmet. Sometimes the little things are hilarious.
Posted by: Mikeski at June 13, 2016 03:30 PM (vBu7I)
3
One of the coolest things about Lime, especially if it turns out she's supernatural, is that she doesn't mind doing silly stuff with the rest of the girls (like the handle-bar dance a couple of episodes ago).
Posted by: Steven Den Beste at June 13, 2016 04:00 PM (+rSRq)
Enclose all spoilers in spoiler tags:
[spoiler]your spoiler here[/spoiler]
Spoilers which are not properly tagged will be ruthlessly deleted on sight.
Also, I hate unsolicited suggestions and advice. (Even when you think you're being funny.)
At Chizumatic, we take pride in being incomplete, incorrect, inconsistent, and unfair. We do all of them deliberately.
How to put links in your comment
Comments are disabled.
6kb generated in CPU 0.53, elapsed 0.2727 seconds.
20 queries taking 0.1314 seconds, 20 records returned.
Powered by Minx 1.1.6c-pink.