August 12, 2016
Autumn 2016 preview
Neregate has done its chart already; it's probably not absolutely complete but it's pretty large, so let's see what horrors await us.
As usual I'm not going to comment on everything, just on things that caught my attention.
AniTore EX is getting a sequel. Which is really strange; it was a 5-minute show about girls doing exercises, so what's to sequel? One of the girls was stunning. She was also rich and had her own indoor swimming pool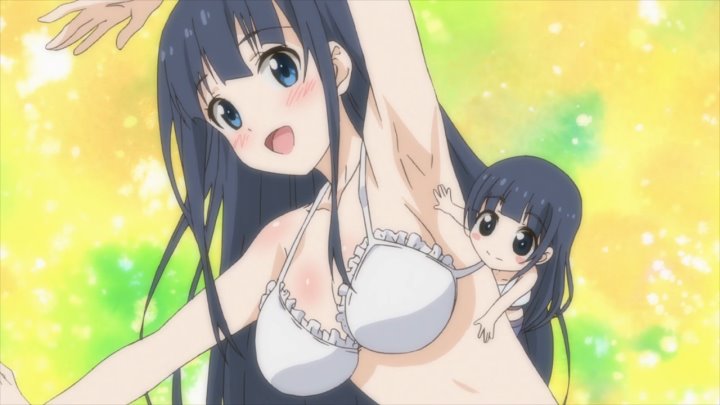 And she had a ferret that liked to crawl into her cleavage.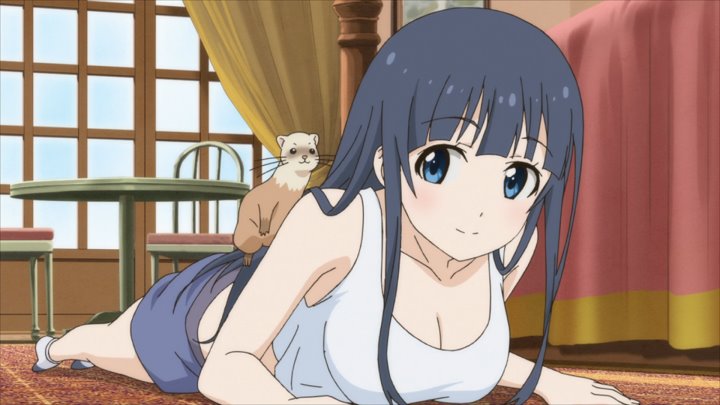 So at the very least we'll get more of her.

Gakuen Handsome has the sharpest pointy chins you've ever seen on the guys. They look life threatening!
Hibiki Euphonium is coming back for a sequel. I didn't watch the first series but I know some of you did.
Watashi ga Motete Dousunda is... well... this deserves to be quoted because I can't do it justice:
Kae Serinuma was an overweight fujoshi until one of her favorite characters died and she lost weight from the shock. When she returns to school, four attractive boys ask her out, but all Kae wants is to see them kiss each other.
I am NOT going to say anything about fat yaoi fangirls. I'm not!
Nazotokine doesn't have a plot summary yet. All we know is that the main character has the figure we like. Aside from that it's anybody's guess what's going on.
Vivid Strike might be set in the Nanohaverse but it doesn't appear to be part of the "Nanoha Vivid" continuity.
Soushin Shoujo Matoi is about miko-magic, and miko-magic is always a good thing.
Keijo is this season's total-pander series. (There's always at least one.) You can tell just from the intro video on the web site. LOTS of T&A; lots of gainaxing. And a thoroughly stupid series concept which justifies the fact that the girls spend a lot of time in bikinis bumping each other with their butts.

Brave Witches is part of the Strike Witches canon, but this story is about the 502 "Brave Witches". Who are also known as the "Suomus Misfit Squadron". If you've seen the Strike Witches movie, the 502 is where Sanya and Eila were assigned, and where one of their squad mates got hit by lightning while flying in. Well, she's in this show.
Other stuff: Bikini Warriors is getting an OVA, God knows why. Musaigen no Phantom World is getting an OVA and I'm looking forward to that. Tenchi Muyou RyouOuki has been dug out of its grave, cleaned up, and is getting a 4th season. Kancolle is getting a movie.
As usual there's a lot of stuff I haven't got the slightest interest in, like the 97th Gundam show, and half a dozen shows about idols, but overall it looks more promising than usual. Sure as hell better than this summer, I tell you.
Posted by: Steven Den Beste in General Anime at 07:26 PM | Comments (6) | Add Comment
Post contains 484 words, total size 4 kb.
Enclose all spoilers in spoiler tags:
[spoiler]your spoiler here[/spoiler]
Spoilers which are not properly tagged will be ruthlessly deleted on sight.
Also, I hate unsolicited suggestions and advice. (Even when you think you're being funny.)
At Chizumatic, we take pride in being incomplete, incorrect, inconsistent, and unfair. We do all of them deliberately.
How to put links in your comment
Comments are disabled.
10kb generated in CPU 0.01, elapsed 0.0201 seconds.
20 queries taking 0.0134 seconds, 23 records returned.
Powered by Minx 1.1.6c-pink.