August 31, 2011
SimEarth easter egg
Remember the easter egg? (Spoilers below the fold)
---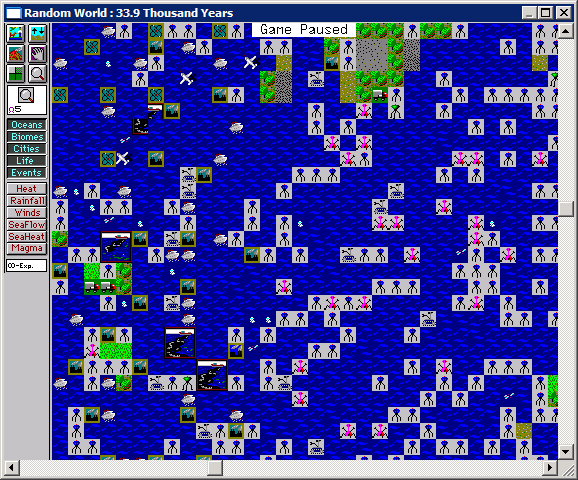 If you nuke a nanotech city, you get a new species: robots. It took me a while to figure out how you nuke things, though.
In terms of achieving space flight, I find the amphibians to be the easiest. Their cities like land and sea, so you get a lot of them and that makes everything go better. My amphibians made it to space flight easily.
And after the last of them left, the dinosaurs discovered fire. Problem was, my planet didn't really have all that much land. They eventually stalled at the information age.
So I used the tools to create a couple of nanotech cities, and then nuked them. Then I turned off all energy to anything except science, which led to them failing quite rapidly. (Between wars, plagues, and starvation, they didn't last long.)
Now the robots are building cities -- and they're even less picky than the amphibians. The amphibians don't like ice caps, but the robots don't even care about that. I think they may be the easiest species of all to win with.
XP mode really works very well, and it wasn't very hard to install it. I'm impressed; it's a nice piece of work.
Posted by: Steven Den Beste in Gaming at 07:49 PM | Comments (3) | Add Comment
Post contains 212 words, total size 1 kb.
1
This is how the world ends.
Posted by: The Brickmuppet at September 01, 2011 06:31 PM (EJaOX)
2
That's about right, because once the robots get established they pretty much take over. You may see a few prokaryotes still running around but nothing else.
Posted by: Steven Den Beste at September 01, 2011 07:20 PM (+rSRq)
3
So basically, SimEarth supports grey goo/hegemonic swarms.
Posted by: metaphysician at September 02, 2011 05:56 AM (3GCAl)
Enclose all spoilers in spoiler tags:
[spoiler]your spoiler here[/spoiler]
Spoilers which are not properly tagged will be ruthlessly deleted on sight.
Also, I hate unsolicited suggestions and advice. (Even when you think you're being funny.)
At Chizumatic, we take pride in being incomplete, incorrect, inconsistent, and unfair. We do all of them deliberately.
How to put links in your comment
Comments are disabled. Post is locked.
6kb generated in CPU 0.01, elapsed 0.0162 seconds.
20 queries taking 0.0114 seconds, 20 records returned.
Powered by Minx 1.1.6c-pink.