May 13, 2010
OHNOES! ITSA TRAP!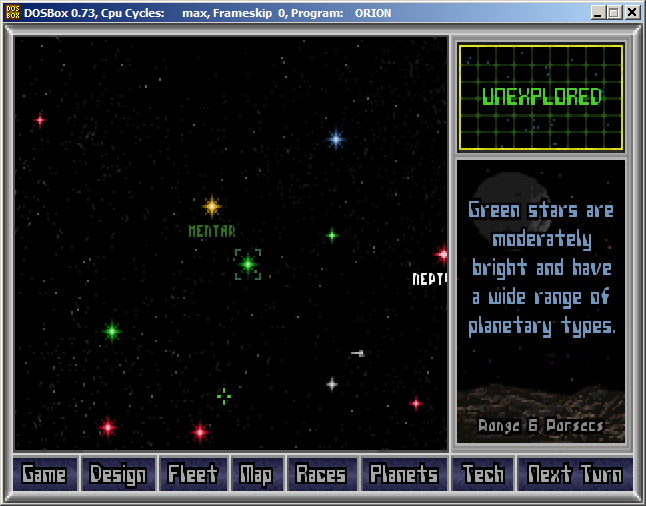 We're well into the game here. My Klackons currently own 32 planets (in a "huge" playing field) and my average tech is about 25. I was deeply worried about the Psilons, since I didn't encounter them for a long time. When I finally found them, they only had a single planet. They hadn't done any colonies.
Guess why? That green star, which is the only one within 3 parsecs of Mentar, turns out to be Orion. Everything they've sent in has gotten destroyed by the Guardian -- and because of that, the star remains unscouted, and it's the obvious choice for their next attempt to create a colony since it's so close.
A couple of days ago I wrote about how most of the races were no fun to play. Just for the hell of it I tried playing the Bulrathi, and in fact they were a lot of fun. I had a big tech advantage over the stinking Humans, and one time I invaded a planet of theirs with a population of 80, using only 40 attackers. And I won without any losses. It was hilarious.
I don't completely understand the Klackon racial advantage. The Meklars can operate two more factories per colonist than anyone else, so when they're nominally at "Robotic Controls IV" then they're really at "Robotic Controls VI".
But if I read the description properly, the Klackons produce twice as much for a given planet than anyone else would with the same planet and the same number of factories. Is that really how it works? Because than means that "Robotic Controls IV" effectively is "Robotic Controls IX" -- and that's scary.
UPDATE: The computer I used to play this on had a SoundBlaster AWE32 in it, which for the time was a pretty good MIDI synth. It was certainly a whole hell of a lot better than the SB-16.
DosBox emulates an SB-16, and it really sounds cheesy. Looking through the documentation, it seems as if it also emulates a Gravis UltraSound, which was another half-way decent MIDI synth. Does anyone know if that really does work, and if MOO will work with it? I know that my sound module (USB2, but very sophisticated) will have no trouble doing decent MIDI. But will DosBox use it? And what do I have to do to DosBox and to MOO itself to make it all work?
I'm a bit afraid to try it on my own, for fear of not being able to find my way back if I louse up. But it sure would be neat if the music sounded better.
UPDATE: Another thing I want to know is if it's possible to make DosBox scale the window up 2:1. Right now it's the size you see above, which is only 640*480 plus the bezel. If it was twice that size it still wouldn't fill my display, but it would be a lot more comfortable to look at.
Posted by: Steven Den Beste in Gaming at 09:43 PM | Comments (5) | Add Comment
Post contains 494 words, total size 3 kb.
Posted by: Intrope at May 14, 2010 08:35 AM (ilrUS)
Posted by: Steven Den Beste at May 14, 2010 08:44 AM (+rSRq)
Posted by: haphazard1 at May 14, 2010 04:58 PM (xF0tu)
Posted by: Steven Den Beste at May 14, 2010 07:40 PM (+rSRq)
Posted by: Steven Den Beste at May 14, 2010 08:02 PM (+rSRq)
Enclose all spoilers in spoiler tags:
[spoiler]your spoiler here[/spoiler]
Spoilers which are not properly tagged will be ruthlessly deleted on sight.
Also, I hate unsolicited suggestions and advice. (Even when you think you're being funny.)
At Chizumatic, we take pride in being incomplete, incorrect, inconsistent, and unfair. We do all of them deliberately.
How to put links in your comment
Comments are disabled. Post is locked.
9kb generated in CPU 0.17, elapsed 0.1273 seconds.
20 queries taking 0.0601 seconds, 22 records returned.
Powered by Minx 1.1.6c-pink.