June 16, 2010
MOO graphics
This post is for Toren. The rest of you are welcome to look at it, but probably won't find it too interesting.
I told him by email that I was going to post some frame grabs from Master of Orion to show how well they were able to use the primitive graphics of the era. So they're below the fold.
---
Establishing a colony on an "Ocean" world.

Ground assault on what I think is a "Barren" world

Planet status or a "Terran" world

A Psilon scientist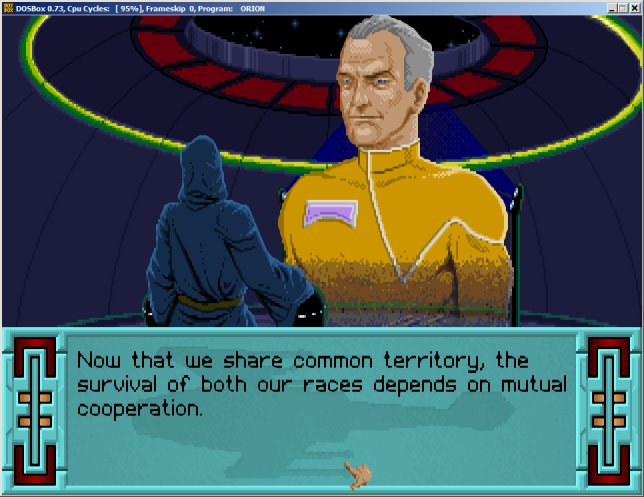 A Human diplomat

A Bulrathi diplomat

A Mrrshan diplomat, not being very diplomatic
Posted by: Steven Den Beste in Gaming at 12:20 AM | Comments (1) | Add Comment
Post contains 101 words, total size 1 kb.
1
I was doing ray-traced fractal landscapes back then, 1024 x 768 in 24-bit color. There was no hardware that could display it at the time (except in movie studios), but with proper antialiasing and histogram-based color reduction, I could make an animated GIF that looked like a Boris Vallejo painting.
I always wanted to make a game out of them, but Myst beat me to the punch, what with Macromedia providing them an animation framework us indy developers who couldn't afford the licensing fees had to write from scratch. By the time I had anything playable, there was no way it could have competed with all the Myst-alikes.
Oh well, it's more fun to play video games than to write them, anyhow.
Posted by: Tatterdemalian at June 16, 2010 10:14 AM (TaHHC)
Enclose all spoilers in spoiler tags:
[spoiler]your spoiler here[/spoiler]
Spoilers which are not properly tagged will be ruthlessly deleted on sight.
Also, I hate unsolicited suggestions and advice. (Even when you think you're being funny.)
At Chizumatic, we take pride in being incomplete, incorrect, inconsistent, and unfair. We do all of them deliberately.
How to put links in your comment
Comments are disabled. Post is locked.
6kb generated in CPU 0.03, elapsed 0.2156 seconds.
20 queries taking 0.2051 seconds, 18 records returned.
Powered by Minx 1.1.6c-pink.