July 26, 2011
Microsoft Casino
Getting bored with my other games, I dug out my copy of Microsoft Casino a couple of days ago. I usually play Blackjack and Pai Gow Poker, which is what I used to play when I went to Vegas, back when I was still able to travel.
But eventually those get boring, too. I did some experimenting with Video Poker in the game, and noticed something odd: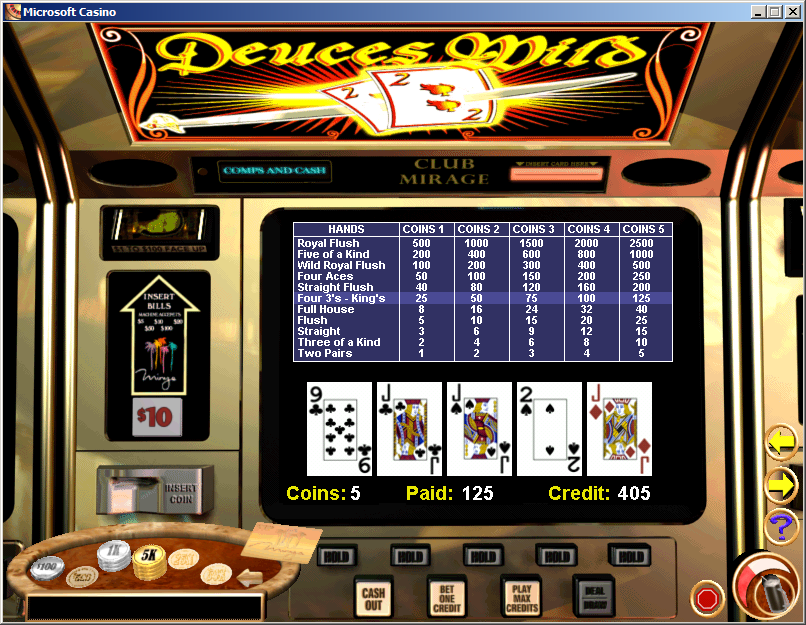 I can win this particular game consistently. I think the payoff matrix in it is wrong. The problem is that with four wild cards in the deck, it isn't all that hard to get 4 of a kind, and that's a huge payoff. You can adjust the price-per-point, and for a while I was playing it at pseudo-$10 per point, playing five points per hand. When I first dragged out the game, I began with about $3000 simulated. Now I'm up to $23,000, and that was with just a couple of hours of play.
I've gotten 4 Aces at least once, and I've gotten 4-of-a-lesser-kind several times. Each of them was a huge payoff. In fact, every single time I've played it I've ended up a big winner.
In theory this whole thing is a simulation of how gambling is actually done in Vegas including the payoffs, at the three specific casinos they simulate -- Treasure Island, Mirage, and Bellagio, which are all part of the same company. So how did they get the payoff matrix for this one game so badly wrong? If it's really like that in Vegas, I need to force myself to schedule a trip!!!
UPDATE: After I wrote this I started playing it again, and just got another 4-of-a-kind. In this game I've also gotten a straight flush. Right now my balance on the machine is about $4000, and my total is up to $27000.
Posted by: Steven Den Beste in Gaming at 06:13 PM | Comments (11) | Add Comment
Post contains 309 words, total size 2 kb.
1
You remind me of the obligatory casino in the game Tales of the Abyss. It only had two games, and both of them were hilariously broken. You practically couldn't lose money at the lottery, and once you figured out the trick ( always double down the first time, then continue a couple times if the statistics favor you ), you could make vast sums at poker. RPG casino minigames are usually more forgiving than real ones, but this was notable even by those standards.
( sadly, none of the items you could buy with your winnings were worth the trouble. . . )
Posted by: metaphysician at July 26, 2011 06:18 PM (hD30M)
2
Video poker machines can actually be like this in Vegas, although the exact payoff varies; with perfect play, you can make a modest and extremely dull living off of a $1 machine.
-j
Posted by: J Greely at July 26, 2011 06:22 PM (fpXGN)
3
MSCasino is a bit dated. It's based on casinos which belonged to Steve Wynn, who sold them to MGM about the time the game came out. And in part it's an advertisement for those three hotels.
So it features video and teaser photos of some of the big-name stars who used to perform there. There are a lot of pictures of Siegfried and Roy, for example, who no longer perform because one of them got mauled by one of their tigers.
And it features video of Danny Gans, who died about two years ago.
Posted by: Steven Den Beste at July 26, 2011 06:31 PM (+rSRq)
4
...every single time I've played it I've ended up a big winner.
Do you still have
Rio Rainbow Gate!
on your hard drive?
Posted by: Wonderduck at July 26, 2011 06:39 PM (3tp4g)
5
Could it just be a lucky streak? I just got back from a Vegas trip. I couldn't stop bleeding at the blackjack tables, despite good play, and I made a killing at Pai Gow Poker, despite it being my first time playing that game. Most of my turns at the craps table as the shooter didn't last more than 3 throws, despite usually doing a little better than that. Sometimes the cards just go your way.
Posted by: CatCube at July 26, 2011 07:43 PM (20436)
6
It doesn't feel like a lucky streak.
Posted by: Steven Den Beste at July 26, 2011 07:52 PM (+rSRq)
7
Since video games aren't played with real money, there's no reason not to skew the odds in favor of the player by default, and every reason to do so, since most players prefer to play games that can be "won" (by gathering an arbitrarily large pile of play money). There might be an option to modify the game to give more realistic hands, but a lot of players don't have the inclination to play through twenty rounds of high card and pair payoffs for every three of a kind they get.
Posted by: Tatterdemalian at July 26, 2011 08:25 PM (4njWT)
8
That pay table is not correct for deuces wild - what you describe is the behavior of a game that pays better than 100% (I used to program and test these games). Check out this "simple" optimal strategy for that game, and note the pay table's values: http://wizardofodds.com/deuceswild/simple.html
Posted by: chipotle at July 26, 2011 08:45 PM (ThfcP)
9
I thought as much. 5:1 pay for 4 of a kind is a lot more believable. MSCasino is paying 25:1, which is waaaay out of proportion.
I wonder if it was deliberate or a bug? It's the only game I've found in it which is like that.
Posted by: Steven Den Beste at July 26, 2011 10:45 PM (+rSRq)
10
I wonder if it was deliberate or a bug? It's the only game I've found in it which is like that.
I think you answered your own question in #3, when you said this was an advertising tie-in for existing hotels.
Posted by: Douglas Oosting at July 27, 2011 09:43 AM (sdWdc)
11
Just to see if I could, I've now run my balance up to about half a million dollars. You can do that if you're playing $1000 per point, which the game allows.
Posted by: Steven Den Beste at July 27, 2011 03:38 PM (+rSRq)
Enclose all spoilers in spoiler tags:
[spoiler]your spoiler here[/spoiler]
Spoilers which are not properly tagged will be ruthlessly deleted on sight.
Also, I hate unsolicited suggestions and advice. (Even when you think you're being funny.)
At Chizumatic, we take pride in being incomplete, incorrect, inconsistent, and unfair. We do all of them deliberately.
How to put links in your comment
Comments are disabled. Post is locked.
11kb generated in CPU 0.04, elapsed 0.0476 seconds.
20 queries taking 0.0289 seconds, 28 records returned.
Powered by Minx 1.1.6c-pink.