September 26, 2010
Master of Orion -- nightmare ships
Here's a medium bomber:
Here's a scout:
How, you may be wondering, did I get all that into such small packages, at such a low price?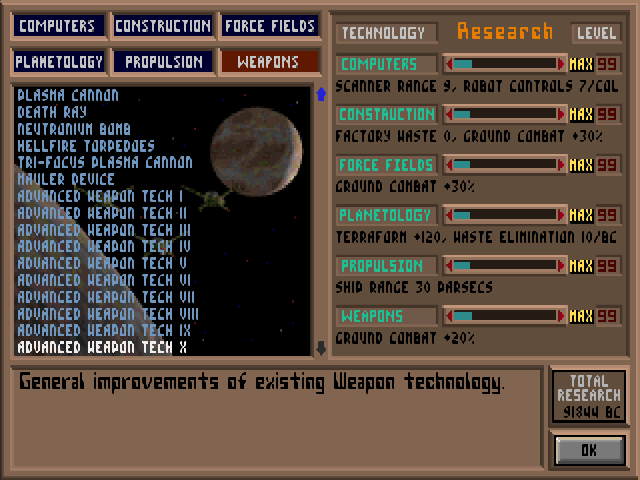 Posted by: Steven Den Beste in Gaming at 04:29 PM | Comments (6) | Add Comment
Post contains 32 words, total size 1 kb.
1
Now that is pushing the tech trees to the limit.
I am a bit curious about the combat speed 1, but maybe the sub space teleporter makes that immaterial? I have never gotten that far into the tree and gotten that particular special. Pretty funny to see the automater repair special on a medium hull. Of course, that medium hull has 108 HP....
Posted by: haphazard1 at September 26, 2010 09:34 PM (KTbd7)
2
Exactly so. When you have the teleporter, the only benefit from maneuver is missile def, and that's covered other ways in this design.
Also, if you use the teleporter, you get first shot. Equip the ship right, or use enough of them, and the other side won't live long enough to fire their missiles.
Posted by: Steven Den Beste at September 26, 2010 09:56 PM (+rSRq)
3
Out of curiousity, what is "cruel brutal damage"?
Posted by: metaphysician at September 28, 2010 05:18 AM (OLeXB)
4
I never figured that out.
I think it's just an acknowledgement that, aside from the Death Ray, it's the most powerful beam in the game.
Posted by: Steven Den Beste at September 28, 2010 07:10 AM (+rSRq)
5
I suspect cruel, brutal damage bypasses armor and also behaves like biological weapons as applicable (like when attacking planets), but could never set up a good test for it.
Posted by: bkw at September 28, 2010 07:52 AM (34O+x)
6
It doesn't reduce the carrying capacity of a planet. It just kills people and destroys factories, like any other energy weapon.
Posted by: Steven Den Beste at September 28, 2010 09:40 AM (+rSRq)
Enclose all spoilers in spoiler tags:
[spoiler]your spoiler here[/spoiler]
Spoilers which are not properly tagged will be ruthlessly deleted on sight.
Also, I hate unsolicited suggestions and advice. (Even when you think you're being funny.)
At Chizumatic, we take pride in being incomplete, incorrect, inconsistent, and unfair. We do all of them deliberately.
How to put links in your comment
Comments are disabled. Post is locked.
7kb generated in CPU 0.0, elapsed 0.0193 seconds.
20 queries taking 0.0132 seconds, 23 records returned.
Powered by Minx 1.1.6c-pink.