December 07, 2011
Master of Magic -- You want me to fight what?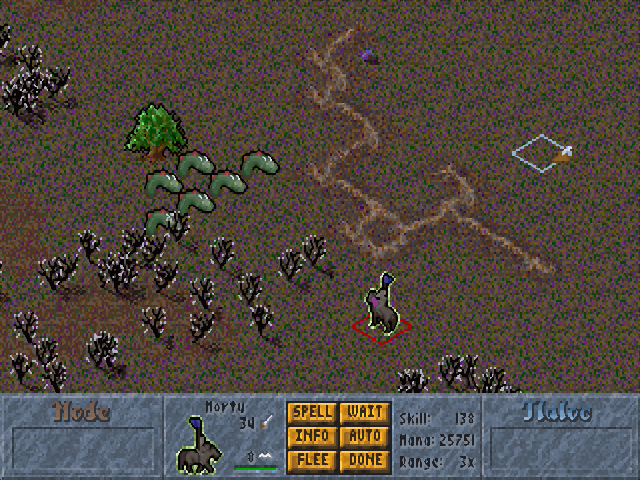 Mortu actually breezed right through this fight and took hardly any damage. But he was juiced to the gills with magic items and spells. (Including Regeneration.)
His weapon was something I bought from a salesman for about 3400 gold, and it included Vampiric and Haste.
His shield I also bought and it included Invulnerability. He himself is Magic Immune, though that didn't figure into this battle.
Between items and him being a Super Hero, he had 34 attacks (doubled, because of Haste), armor piercing, first strike, and was +7 to hit. And since he was flying, he was able to obliterate each Wyrm in turn.
Torin couldn't have done it better. Of course, Mortu was costing me 10 gold and 24 mana per turn, but since he cleared the entire Myrran plane all by himself, it was worth it. Of course, he started slow, taking the easy stuff first, and worked up to taking out the hardest ones. This was just about the last battle he fought.
And the treasure? A retort of Node Mastery. But I already had 13 books and 5 retorts.
Posted by: Steven Den Beste in Gaming at 04:33 PM | Comments (2) | Add Comment
Post contains 194 words, total size 1 kb.
1
I was thinking "splat" until I saw the 34 attack strength and huge stockpile of magic points. But enh,
I've seen worse
.
(Not without being bugged though; best I've ever done legit was 31 strength--and Bagtru didn't have near that level of defense!)
Posted by: ubu at December 07, 2011 05:02 PM (GfCSm)
2
Mortu (the Black Knight) is a "Champion" rather than a "Hero" and everything is amplified.
Posted by: Steven Den Beste at December 07, 2011 08:38 PM (+rSRq)
Enclose all spoilers in spoiler tags:
[spoiler]your spoiler here[/spoiler]
Spoilers which are not properly tagged will be ruthlessly deleted on sight.
Also, I hate unsolicited suggestions and advice. (Even when you think you're being funny.)
At Chizumatic, we take pride in being incomplete, incorrect, inconsistent, and unfair. We do all of them deliberately.
How to put links in your comment
Comments are disabled. Post is locked.
6kb generated in CPU 0.01, elapsed 0.0338 seconds.
20 queries taking 0.0245 seconds, 19 records returned.
Powered by Minx 1.1.6c-pink.