January 29, 2011
Master of Magic
I've been overdosing on Master of Orion. Though there's a lot of variety in that game, based on which race you play, which races are your opponents, and which technologies are missing from your research tree, it was getting old.
Back when all this stuff appeared on GOG, I also bought Master of Magic. And I played a few games. But the problem was that I kept running into my opponents long before I was ready. What I really wanted was to be left alone to develop my empire in peace.
Finally, a few days ago it occurred to me that there was a good way to do that: be Myrran. So I started a game with trolls, 4 white books, 4 green books and Myrran. But I loused it up, and quit.
Yesterday I tried it again. And it went a whole lot better. Not the most sterling win of my life, but a win nonetheless.
Some of that was luck. I was playing "Easy" and one opponent, and it turned out to be Freya (swoon), who is all-green. I eventually researched Nature's Awareness, and got a look at her empire and her army. And it was rather terifying, in fact. She probably had three times as many units as I did, and a lot of them were high class (e.g. priests, paladins). she easily had four times as many cities as I did.
But she didn't have as many nodes as I had by that point, and hers were Arcanian so my Myrran nodes yielded twice as much power. And I started having luck. I ended up with three red books found in various lairs and nodes, as well as one blue book and an additional white book. And I had some luck on which spells they gave me. By the end of the game I had Nature's Awareness, Great Wasting, and Planar Seal running.
Which meant I could watch her, and her land was becoming fouled, and she couldn't get to me. She had gotten through one tower and sent one scout unit through it before I got the Planar Seal going, but I hunted that one down and killed it easily.
And then I lucked into the Call Chaos spell, which is a lot of fun, if you're into mindless destruction. Costs 500 mana to cast, and it nukes any city, having a chance of destroying each building, and killing defenders and citizens. I had, by that point, captured all 15 Myrran nodes, and all my cities were mature and on trade goods, so I had a huge income. Most of my mana income went into spell research, and I ended up converting maybe 35,000 gold into mana (over the course of a couple of hundred turns) in order to power a major series of nuke attacks on Freya's cities. With my skill level, I could set one off every third turn.
By the time I was through with her capital, it only had one citizen and the only building in it was her tower (which can't be destroyed this way). I nuked all her other cities multiple times.
And it was interesting to watch how her units started disappearing nearly everywhere. Between all the corruption from the Great Wasting, and the corruption created by the Call Chaos, and the loss of things like farmer's markets and granaries, her economy was wrecked and she had to disband most of her military units. She couldn't feed them, and she couldn't pay them. The summoned ones, she didn't have the mana for.
By the time I was ready to cast the Spell of Mastery, most of her cities had no defenders at all. I watched two of her cities get trashed by wandering monsters, and three of them get conquered by raiders.
And she had nothing left to threaten me with when I started casting it. Finish.
I tend to favor green magic for a lot of reasons, but it has to be admitted that red magic is loads of fun.
But next time I think I'll try three white and five green. I think white magic is the most useless color, at the higher levels, but I just gotta have Guardian Spirits! And Healing! And Prayer!
UPDATE: Turns out I had a saved game left from before my rampage, so here's what Freya's area looked like before, and after.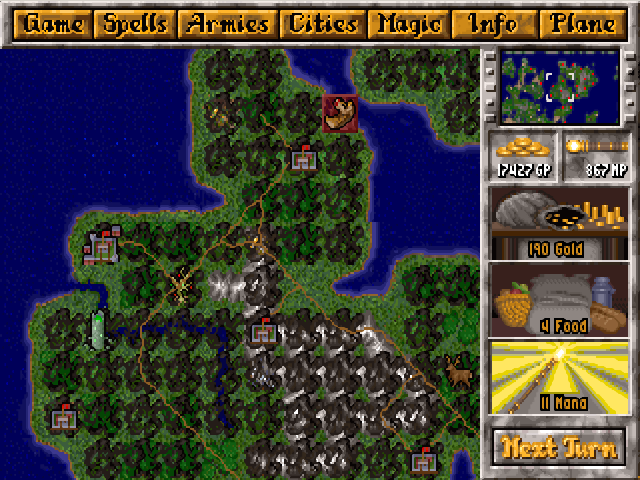 The AI really values ships, for some reason. While most of Freya's cities had nothing in them for defense, she had nine ships left sitting around doing nothing.
I've seen that in games with blue mages, too. They'll end up with piles of floating islands, just sitting next to their cities accomplishing nothing whatever except to soak up mana for upkeep.
Posted by: Steven Den Beste in Gaming at 06:24 PM | Comments (14) | Add Comment
Post contains 796 words, total size 4 kb.
Posted by: Aaron Nowack at January 29, 2011 08:36 PM (C5vYN)
Posted by: BigD at January 29, 2011 08:58 PM (dZQ+F)
Posted by: Steven Den Beste at January 29, 2011 09:24 PM (+rSRq)
Posted by: Mikeski at January 29, 2011 11:42 PM (GbSQF)
Posted by: ubu at January 29, 2011 11:50 PM (GfCSm)
Posted by: metaphysician at January 30, 2011 08:24 AM (hD30M)
Posted by: DrHeinous at January 31, 2011 07:55 AM (/Y+Yb)
Posted by: DrHeinous at January 31, 2011 07:55 AM (/Y+Yb)
Posted by: Steven Den Beste at January 31, 2011 08:04 AM (+rSRq)
Posted by: ubu at January 31, 2011 08:05 AM (i7ZAU)
Posted by: Steven Den Beste at January 31, 2011 08:36 AM (+rSRq)
Posted by: metaphysician at January 31, 2011 11:41 AM (hD30M)
Posted by: Avatar_exADV at January 31, 2011 12:07 PM (mRjOr)
Posted by: metaphysician at January 31, 2011 01:57 PM (hD30M)
Enclose all spoilers in spoiler tags:
[spoiler]your spoiler here[/spoiler]
Spoilers which are not properly tagged will be ruthlessly deleted on sight.
Also, I hate unsolicited suggestions and advice. (Even when you think you're being funny.)
At Chizumatic, we take pride in being incomplete, incorrect, inconsistent, and unfair. We do all of them deliberately.
How to put links in your comment
Comments are disabled. Post is locked.
18kb generated in CPU 0.05, elapsed 0.086 seconds.
20 queries taking 0.0503 seconds, 31 records returned.
Powered by Minx 1.1.6c-pink.