September 15, 2011
Living with a node
So there I was, minding my own business and starting a new colony on Arcanus.
What's that beneath my town? Looks like a blue node, doesn't it?
So I summoned a magic spirit, and the "meld" button worked, and I suddenly had 9 more mana income without having to fight for it.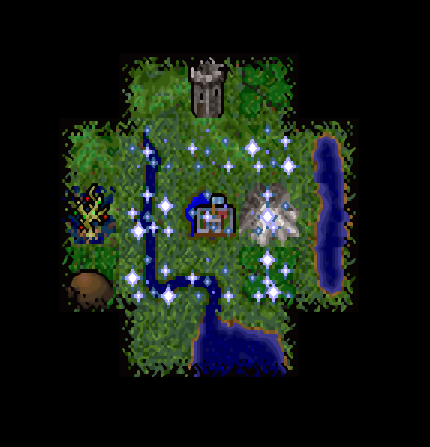 The neighboring brown Halfling town sent the welcome wagon to see me, but every time the raiders tried to enter, they got redirected to the node, and then bounced back. (Pity they didn't actually fight, though. I guess you can't have everything.)
I ended up being curious, and after I killed off the raiders (because I got tired of watching them), I tried moving one guy back into my town. And suddenly he, and all my other defenders who were already in the town, were in the node and preparing to fight. (Time to restore from a save game, folks!)
The node defenders were three Phantom Beasts and six Phantom Warriors, which was easy meat for a single stack of Shadow Demons. But in order to fight it without losing anyone else, I ended up having to vacate the town. With all the defenders out, the Shadow Demons could enter and fight alone.
Posted by: Steven Den Beste in Gaming at 03:09 PM | Comments (3) | Add Comment
Post contains 209 words, total size 1 kb.
1
From the shrouded tiles I am thinking this was your initial starting location? Otherwise the settler would not have been able to get onto the node tile without a fight.
The result with all the town's units getting pulled into the fight for the node is rather glitchy, though. There are various groups who have been producing bug fix patches for MoM, I will have to mention this one to them to see if they are aware of it.
Posted by: haphazard1 at September 15, 2011 04:58 PM (9yBYR)
2
Yeah, that was my starting position.
There's another case where you can have two-places-in-one but not quite. If you take a tower, and move reinforcements into that square from both sides, sometimes they aren't quite in the same place. If the tower gets attacked from one side, only the guys who reinforced the square coming in from that side will show up in the battle.
In terms of play, the only way to fix that is, when you reinforce a tower, move all the units out, wait a turn, and move all of them in again.
And if you do that, then all of them will show up when the tower is attacked from either side.
How in the heck can anyone be fixing the bugs in MOM? If they disassembled it and are working from that, they have way too much time on their hands.
Anyway, the problem here of course is that the world builder didn't check for presence of a node when placing my starting town. It doesn't come up much because the world is a big place and there aren't very many nodes, which is probably why this bug got missed originally.
It would have been interesting to see what would have happened if an enemy wizard had attacked my town after I cleared out the underlying node, but the game didn't develop that way. No one got anywhere near it.
Posted by: Steven Den Beste at September 15, 2011 06:07 PM (+rSRq)
3
My guess, if an enemy wizard had attacked, is that the attackers and my defenders would have met in battle, but on the field of the node, not on the field of my city. So I wouldn't have gotten any advantage from my city walls.
Posted by: Steven Den Beste at September 15, 2011 06:09 PM (+rSRq)
Enclose all spoilers in spoiler tags:
[spoiler]your spoiler here[/spoiler]
Spoilers which are not properly tagged will be ruthlessly deleted on sight.
Also, I hate unsolicited suggestions and advice. (Even when you think you're being funny.)
At Chizumatic, we take pride in being incomplete, incorrect, inconsistent, and unfair. We do all of them deliberately.
How to put links in your comment
Comments are disabled. Post is locked.
8kb generated in CPU 0.28, elapsed 0.2543 seconds.
20 queries taking 0.1554 seconds, 20 records returned.
Powered by Minx 1.1.6c-pink.