June 28, 2014
Different goals
XKCD sometimes posts a cartoon where he talks about how he plays some game a different way, or for a different goal. I have one of those, myself.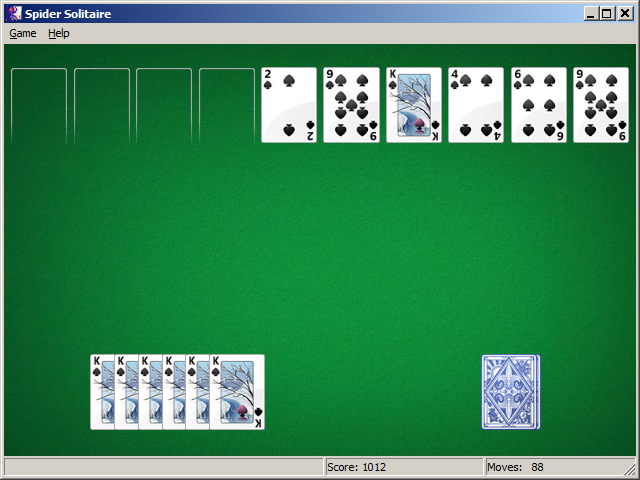 I play spider solitaire with the goal of reaching a point where the only way I can proceed is by "taking back" a move which removed a column of cards. That was even cooler in the Vista version of the game, because it wouldn't let you "take back" a column take, so the only thing you could do in this situation was to quit the game.
As a result of this, when I reach the point where I have one deal left and have taken six columns, I usually quit. It isn't possible any more for me to win (my way) and winning (their way) is easy. As a result my long-term win/loss record is really poor (according to them, counting wins their way) because I usually don't bother.
Posted by: Steven Den Beste in Gaming at 03:38 AM | No Comments | Add Comment
Post contains 159 words, total size 1 kb.
Enclose all spoilers in spoiler tags:
[spoiler]your spoiler here[/spoiler]
Spoilers which are not properly tagged will be ruthlessly deleted on sight.
Also, I hate unsolicited suggestions and advice. (Even when you think you're being funny.)
At Chizumatic, we take pride in being incomplete, incorrect, inconsistent, and unfair. We do all of them deliberately.
How to put links in your comment
Comments are disabled.
4kb generated in CPU 0.0069, elapsed 0.0231 seconds.
18 queries taking 0.0181 seconds, 16 records returned.
Powered by Minx 1.1.6c-pink.