March 26, 2010
Civ Delivered
Today, everyone (mainly me) got it right and my package was just delivered.
I spent last evening and most of today working on... a surprise. You'll see it in a few days.
UPDATE: Good grief! The Civ IV package includes four optical disks. I think one of those is a DVD, but the others are all game data! (Man, the original Civilization installed off of floppy disks. If this much data was on floppy disks, it would weigh about 200 pounds.)
UPDATE: The tutorial is excellent. And things are coming back to me.
When the game first runs it goes full screen in 1024*768 mode. However, you can control the resolution, and you can tell it to run in a window. The entire time it is running, the cooling fan in my computer is going hard. I haven't seen the actual CPU loading, but it's obvious a lot is going on. Most of that is animation of things like animals and smoke, and I saw in the config menu that those things can be turned off. Later I might do that, but the graphics are really rather charming now.
Running windowed, the aspect ratio is fine. I think that they scale the graphics to fit the display so that you see the same amount of the world no matter the window size. Using a bigger display gets you better imagery, not more tiles.
A lot of things they didn't tell me but I figured out on my own. The mouse wheel zooms in and out. Clicking with the mouse moves around on the map.
Clicking the "prt src" button brings up an error message saying that the frame grab failed, but (heh heh heh) I had Thumbs Plus running, in its mode where it grabs and stores a copy of anything put into the scratch pad. And that works just fine. So I've got some frame grabs and I'll put some stuff below the fold a little later.
---
Good thing the keyboard on this notebook computer has a number pad. It would be a pain to play this game if it didn't.
That image is reduced. Here's how it looks full-sized.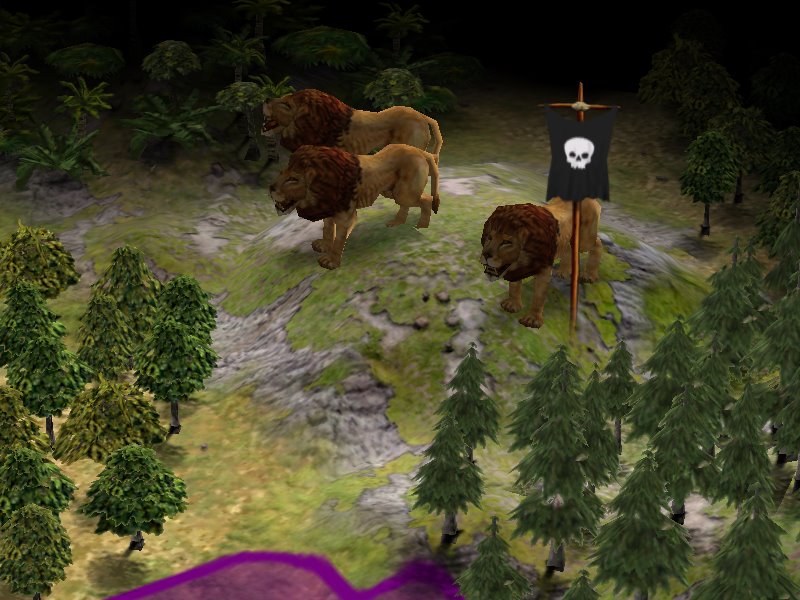 Oh noes! Lions are threatening ancient Rome. Quick! Throw some Christians at them and maybe they'll go away! (What? We haven't discovered Christianity yet? Well, then, I guess we'll have to fight them!)
Speaking of religion, it seems rather odd to me that when you get Hinduism it permits you to build the Parthenon wonder. You know, the temple to Athena, who isn't a Hindu deity.
I guess the idea is that Hinduism stands for all polytheistic religions. In the versions of Civilization I've played, government type had an affect on how the people acted, with more advanced government forms producing more, but the people also demanding more. I assume that religion is the same way, with different religions giving you different benefits but also different costs. I'll have to read up on them all. In the tutorial game I've already got three religions available to me. My empire is currently Buddhist but I'll probably want to change that.
My scouts have discovered sheep. When I was zoomed out and that square first appeared, I thought they were ducks.
Elsewhere on the map there are all kinds of different special squares. This being a tutorial game, that's reasonable. So I found grapes, and cows, and elephants, and beavers, and gold, and silver, and stone, and copper. I also have exactly one neighbor, Gandhi, who is peaceful and not doing a very good job developing his nation.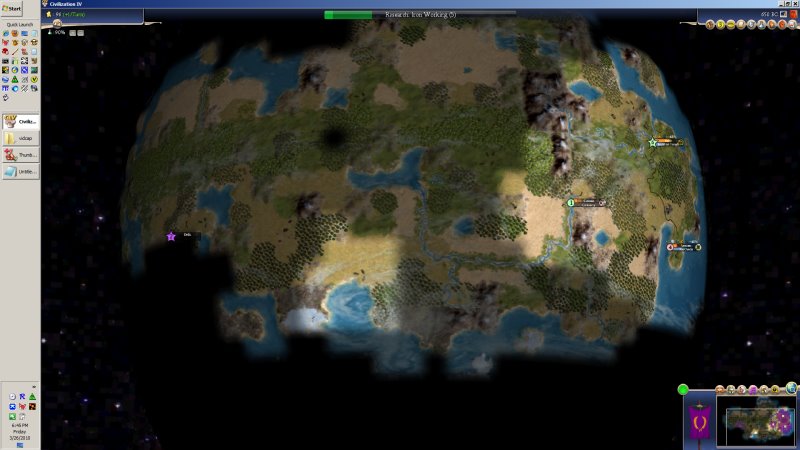 The tutorial world is not a very big place.
By the way, you guys aren't going to spoil this game for me by telling me all sorts of things that I would have had fun finding out for myself, are you? Right? Right? You're not going to do that?
Posted by: Steven Den Beste in Gaming at 01:19 PM | Comments (12) | Add Comment
Post contains 648 words, total size 4 kb.
Posted by: RickC at March 26, 2010 01:52 PM (chDMG)
Posted by: Steven Den Beste at March 26, 2010 02:28 PM (+rSRq)
Posted by: Dreamshadow at March 26, 2010 03:13 PM (GJA7G)
Posted by: Steven Den Beste at March 26, 2010 03:33 PM (+rSRq)
Posted by: Steven Den Beste at March 26, 2010 03:46 PM (+rSRq)
Posted by: Steven Den Beste at March 26, 2010 04:02 PM (+rSRq)
Posted by: Pixy Misa at March 26, 2010 06:55 PM (PiXy!)
Posted by: Wonderduck at March 26, 2010 09:08 PM (mfPs/)
Posted by: Avatar_exADV at March 26, 2010 11:55 PM (mRjOr)
Posted by: Mikeski at March 27, 2010 12:33 AM (GbSQF)
Posted by: Boviate at March 27, 2010 05:24 PM (PJNgE)
Posted by: Steven Den Beste at March 27, 2010 05:28 PM (+rSRq)
Enclose all spoilers in spoiler tags:
[spoiler]your spoiler here[/spoiler]
Spoilers which are not properly tagged will be ruthlessly deleted on sight.
Also, I hate unsolicited suggestions and advice. (Even when you think you're being funny.)
At Chizumatic, we take pride in being incomplete, incorrect, inconsistent, and unfair. We do all of them deliberately.
How to put links in your comment
Comments are disabled. Post is locked.
12kb generated in CPU 0.01, elapsed 0.0225 seconds.
20 queries taking 0.0135 seconds, 29 records returned.
Powered by Minx 1.1.6c-pink.