October 15, 2015
Nanoha Vivid -- anachronism
The anime runs up through about chapter 30 in the manga, but the manga goes a lot further than that, especially in raw. Chapter 69 has this image: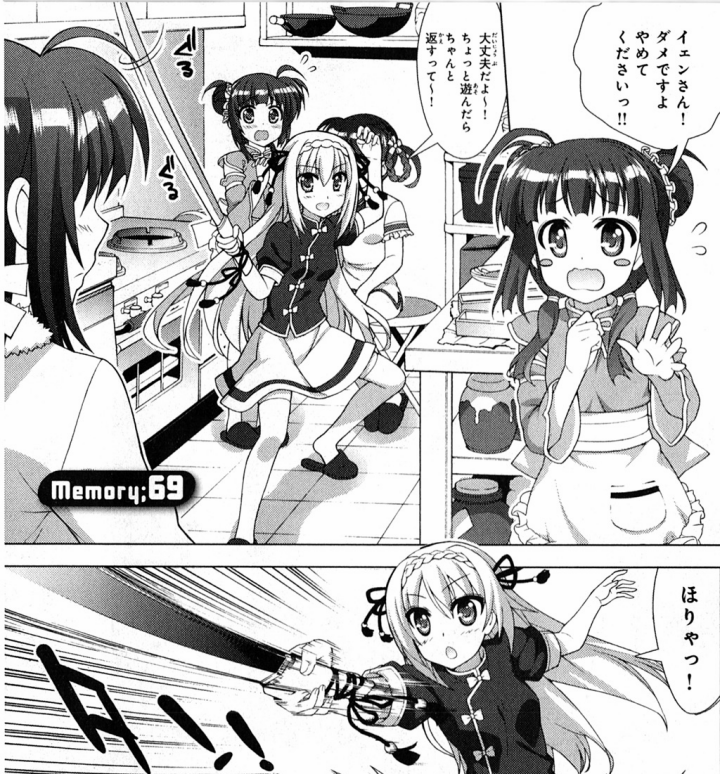 And it bothers me a lot. Explaining the situation would involve lots of huge spoilers, so I'll skip it. For the moment, leave it that the blonde chick with the sword is a brat living at a dojo for the "Fist of the Spring Sunlight" style of martial arts, which has been taught by Rio's family for generations. (It's also the main fighting style Rio has been trained in.) That sword belongs to Micayah, and it's a katana. Worse, it's also her magical device. The brat took the sword from Micayah's luggage without permission and has been playing with it while eating greasy food, and getting greasy fingerprints all over it. Micayah (in the foreground with her back to us) is not happy about this, and has challenged the brat.
What bothers me about the image is the brat's stance. That's French; it's a fencing stance. Fist of the Spring Sunlight is clearly intended to be taken by us to be an advanced form of Kung Fu, so where the hell did the brat learn French fighting style?
She didn't learn it well. When she does her lunge, her left hand should have dropped down almost to her leg.
Midchild is a real strange place; it's too much like Earth, or rather it's too much like Japan and China. The Wesley dojo is like something out of China, and the city Vivio lives in is like a clone of Tokyo, except with magic and high tech. It doesn't look alien enough. But except for the fact that all the magic devices speak English or German, it doesn't borrow hardly anything from Europe or the United States; it's all Far East. So what in hell is French fencing doing there?
Posted by: Steven Den Beste in Engineer's Disease at 01:52 PM | Comments (4) | Add Comment
Post contains 321 words, total size 2 kb.
Posted by: Avatar_exADV at October 16, 2015 08:24 PM (/lg1c)
Posted by: Mikeski at October 16, 2015 11:19 PM (TuMIP)
Posted by: J Greely at October 17, 2015 08:18 AM (ZlYZd)
Posted by: Steven Den Beste at October 17, 2015 08:33 AM (+rSRq)
Enclose all spoilers in spoiler tags:
[spoiler]your spoiler here[/spoiler]
Spoilers which are not properly tagged will be ruthlessly deleted on sight.
Also, I hate unsolicited suggestions and advice. (Even when you think you're being funny.)
At Chizumatic, we take pride in being incomplete, incorrect, inconsistent, and unfair. We do all of them deliberately.
How to put links in your comment
Comments are disabled.
8kb generated in CPU 0.0043, elapsed 0.0113 seconds.
20 queries taking 0.0081 seconds, 21 records returned.
Powered by Minx 1.1.6c-pink.