May 09, 2012
Mouretsu Pirates -- what's wrong with this picture?
There's a picture below the fold. There's something wrong with it. (Describing the situation is a spoiler.)
---
This is ep 16 of Mouretsu Pirates, time mark 03:34. The Yacht Club is on the Bentenmaru and they've made one FTL jump. Everyone is at dinner, except that Marika has rushed away to arrange bed assignments. Then we switch to the hospital to watch the real bridge crew. They begin with a shot of the hospital itself: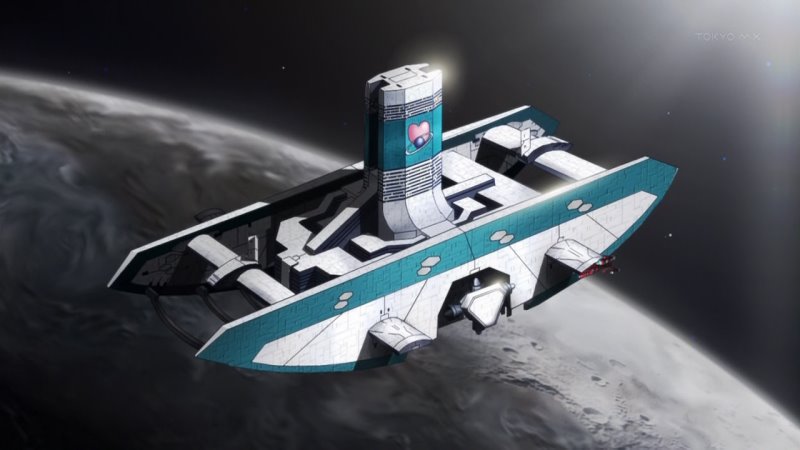 What's wrong with this picture?
UPDATE: By the way, there's something I've been thinking about for a while having to do with the pirate-shows: In ep 16 when they make their raid on the Princess Apricot, we see them running down a corrider inside the liner. The docking port where they entered does not connect directly to that entrance in the ballroom.
So when they leave they have to go back down that same corrider. If it were a hostile attack, that would be risky as hell; the corrider would be a perfect place for defenders to attack the pirates.
But, of course, it isn't hostile. The liner is cooperating. And this is what occurred to me: I bet that after the pirates collect all their loot, they don't take it back with them onto the Bentenmaru. I bet they give it to the liner crew just before leaving, and the crew later figures out who owns it all and returns it to them. So, no losses, and no payouts by Show.
Thinking back to episode 6, when Marika had her fight againt Kane, I suspect something similar happened. Kane left the Bentenmaru in the shuttle and docked with the liner. Crew there were expecting him, and smuggled him into the ballroom.
He had his fight with Marika, and pretended to be dead. The liner crew would eventually have hauled his "body" away on a stretcher or something -- at which point they would take him back to his shuttle, shake his hand, thank him for a good performance, and let him leave. And that's how the shuttle got back to the Bentenmaru; Kane flew it.
Posted by: Steven Den Beste in Engineer's Disease at 09:34 PM | Comments (9) | Add Comment
Post contains 359 words, total size 2 kb.
Posted by: Mark A. Flacy at May 09, 2012 10:52 PM (Zdi7L)
Posted by: ubu at May 10, 2012 12:01 AM (GfCSm)
Posted by: Jonathan Tappan at May 10, 2012 03:30 AM (poC8e)
Posted by: Steven Den Beste at May 10, 2012 06:45 AM (+rSRq)
Posted by: The Brickmuppet at May 10, 2012 08:28 AM (EJaOX)
Posted by: Steven Den Beste at May 10, 2012 10:57 AM (+rSRq)
Posted by: Pete Zaitcev at May 10, 2012 11:28 AM (5OBKC)
Posted by: jcm3 at May 10, 2012 11:31 AM (OU30d)
Posted by: David at May 10, 2012 02:57 PM (+yn5x)
Enclose all spoilers in spoiler tags:
[spoiler]your spoiler here[/spoiler]
Spoilers which are not properly tagged will be ruthlessly deleted on sight.
Also, I hate unsolicited suggestions and advice. (Even when you think you're being funny.)
At Chizumatic, we take pride in being incomplete, incorrect, inconsistent, and unfair. We do all of them deliberately.
How to put links in your comment
Comments are disabled. Post is locked.
10kb generated in CPU 0.02, elapsed 0.0219 seconds.
20 queries taking 0.0135 seconds, 26 records returned.
Powered by Minx 1.1.6c-pink.