May 07, 2016
Cheesecake: Kevlar and Cyanoacrylate
Today's search term is "Impossible shirt" and it touches a sore spot I've been brooding about for years. JGreely has a link on his side bar to a blog called "Boobs don't work that way" and this, in turn, is "cloth doesn't work that way."
There are two major issues here. We can call the first one the "Sternum problem". It's about the way that shirts on girls are drawn so that the cloth follows the skin all the way into the middle of the cleavage: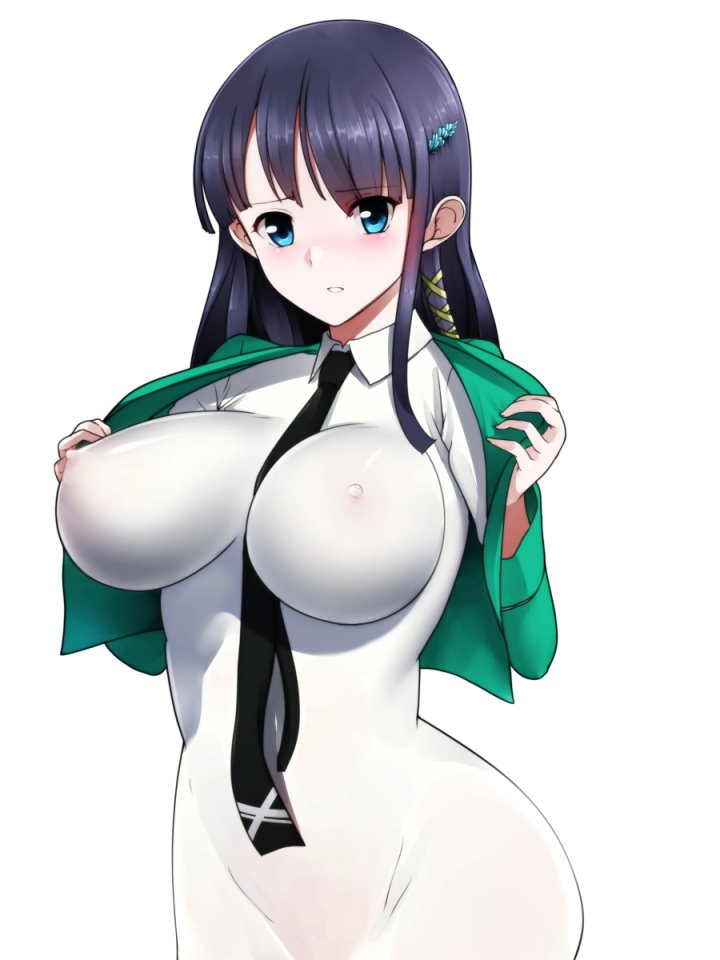 That's not cloth; that's paint. (Or heat-shrink plastic, ouch!) No way anything woven would do that. Even worse is when they do this with plate mail, such as Cecily Cambell in "The Sacred Blacksmith":
The purpose of a chestplate like that is to distribute the force of a blow. But with that shape, if she gets hit all the force is going to be transferred to her sternum, and it will probably be crushed -- leading to all kinds of physical problems such as bleeding in her lungs.
Fairy Tail gets this right. Erza Scarlet wears a chestplate a lot of the time, but hers is not only plausible for manufacture, it's also plausible defense: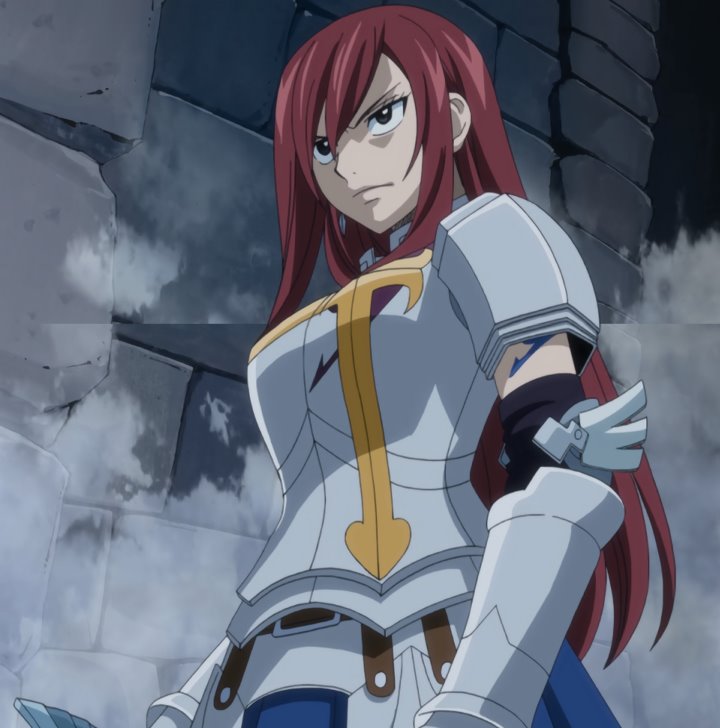 It doesn't try to form fit her breasts; it tries to spread the force of blows. Exactly right.
The other problem with a lot of this art we can call the "Hourglass problem", dealing with extreme ranges in the "three numbers".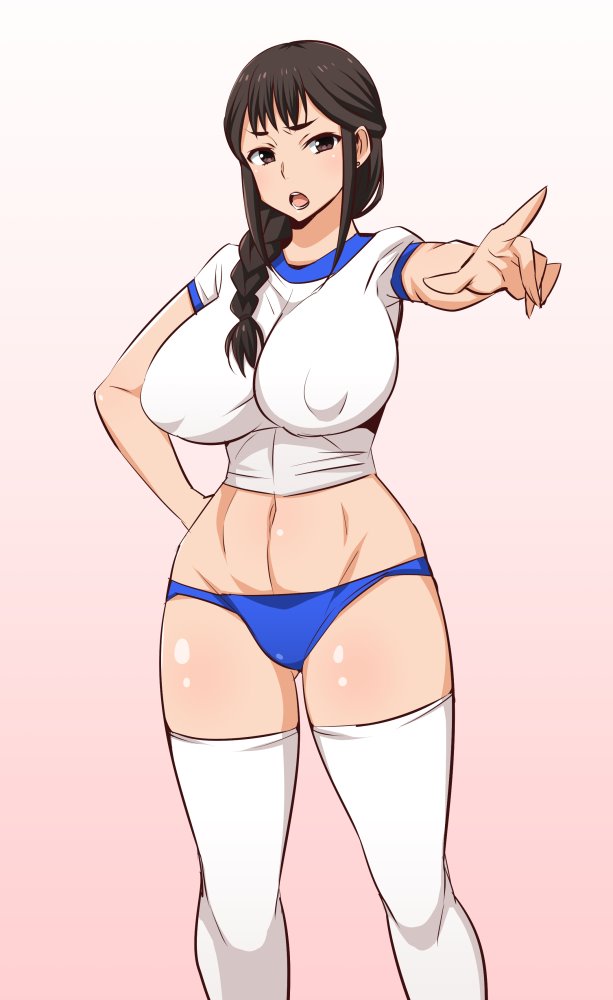 How can there be such a difference in diameter between the level of the breasts and the level of the waist? If it is like most T-shirts it's going to be a constant cylinder and if it's wide enough to hold that chest, it's going to hang like a sack at the waist.
Fairy Tail usually gets this one right, too. Nearly all the women in Fairy Tail have huge boobs and narrow waists, but they usually wear halter-tops or, as in this case, clothing which is obviously custom tailored. There are plausible seams in this to expand the top part without being loose around the waist.
So these two girls have both problems: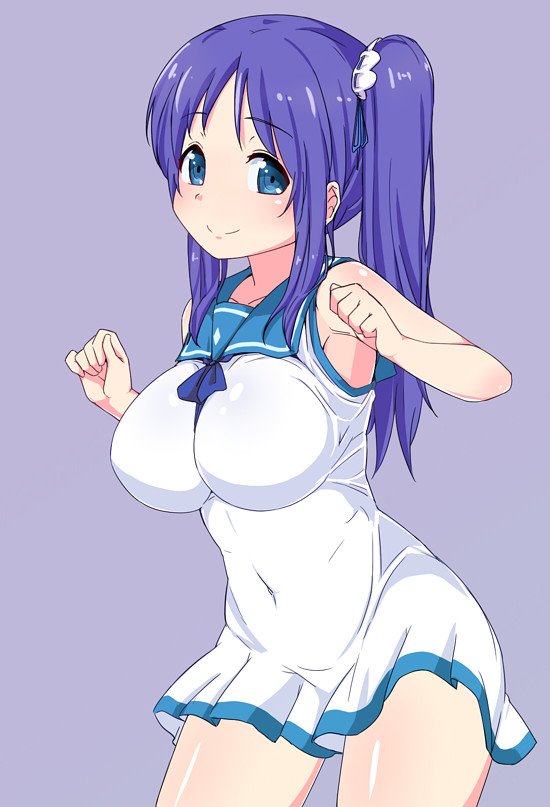 This is a particularly egregious example. The cloth not only follows the cleavage exactly, it goes under the boobs as well. There's no way that's cloth; it's another paint job.
---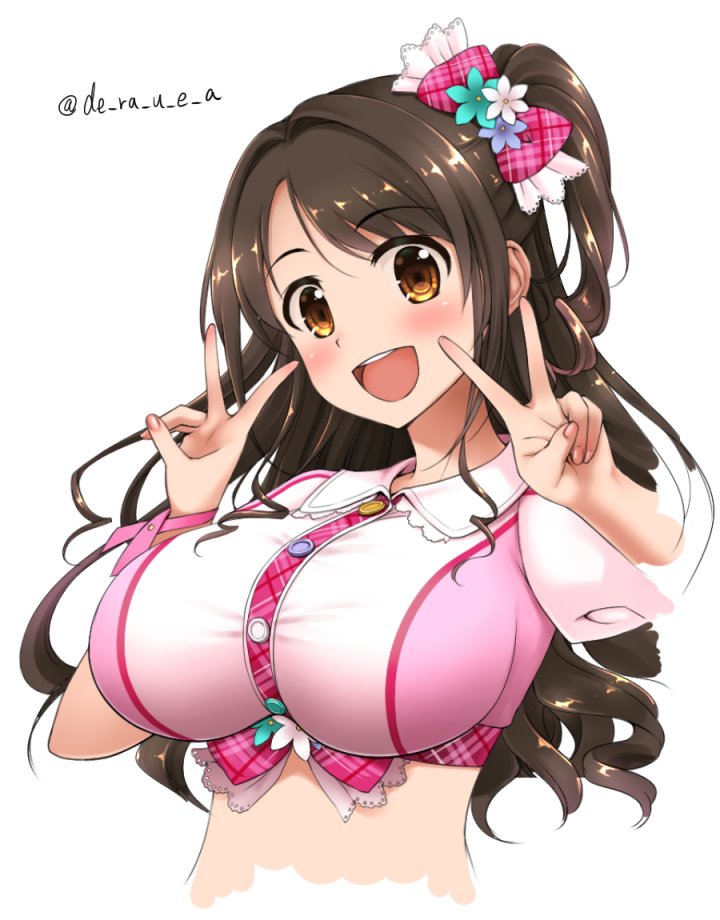 This doesn't have either of those problems because it's obviously custom tailored, but I'd be afraid to stand in front of her. When those buttons let go they're going to have the velocity of pistol bullets and a spectator could be killed. (Another reason to not be a fan of Idolmaster!)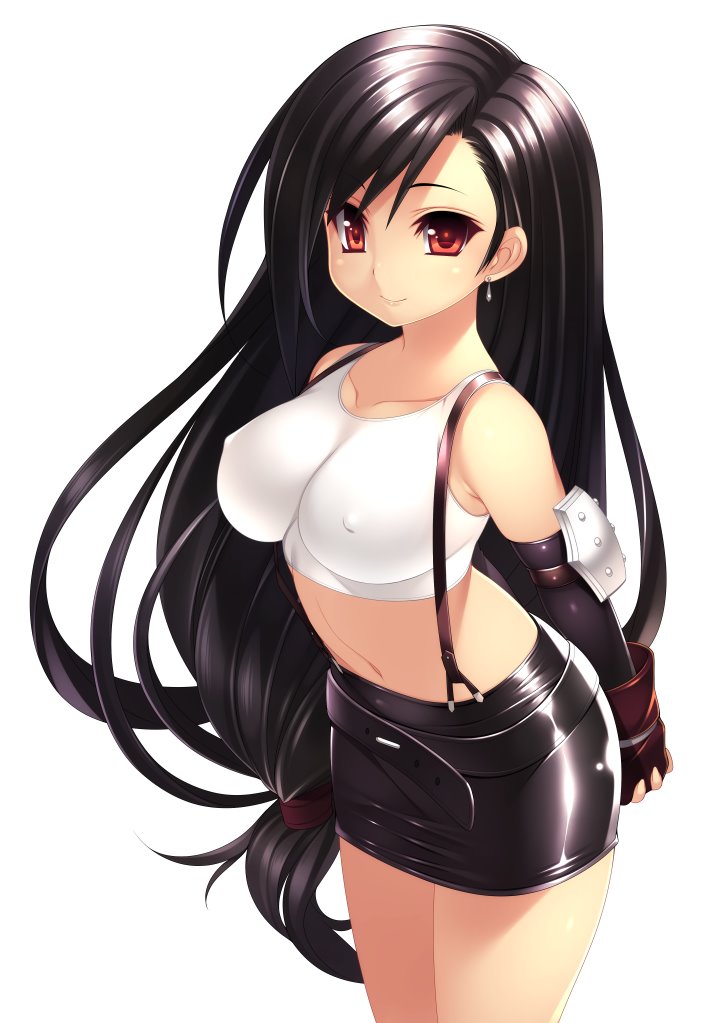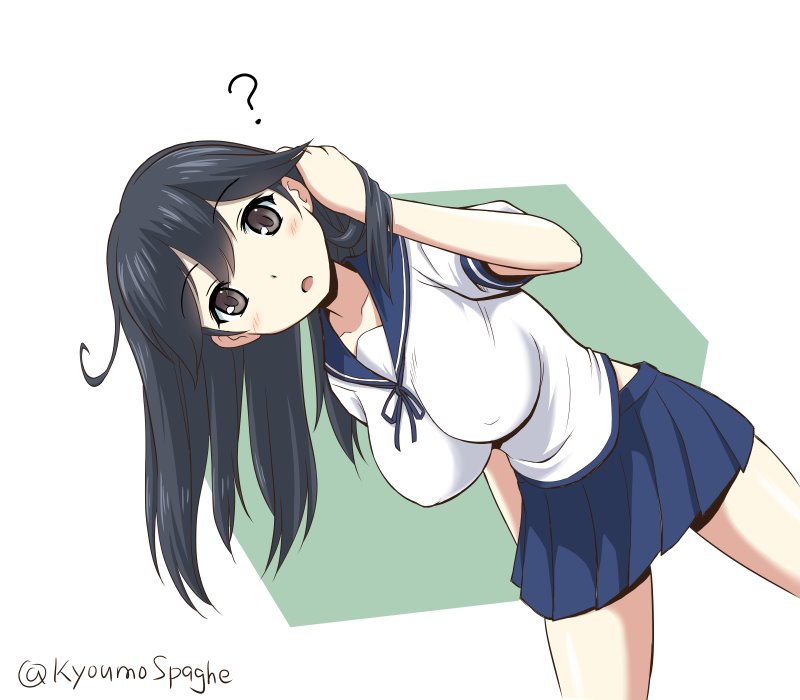 Ignoring the fact that her body is impossible, the shirt in this case is almost plausible.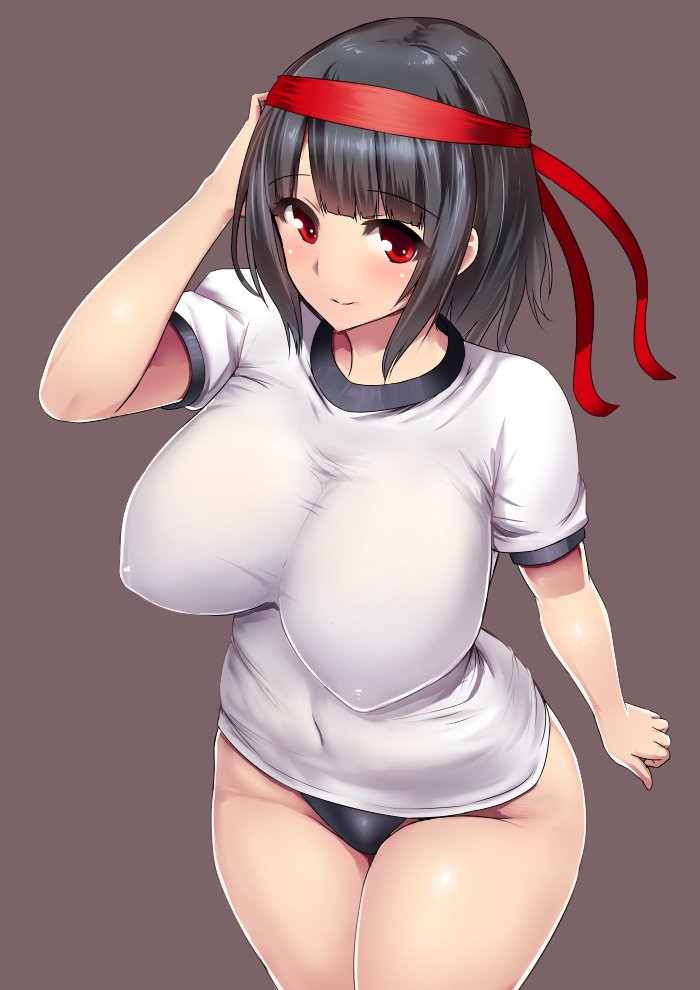 IIRC this is WinXP-tan. We can ignore this one because WinXP is impossible. Never happened.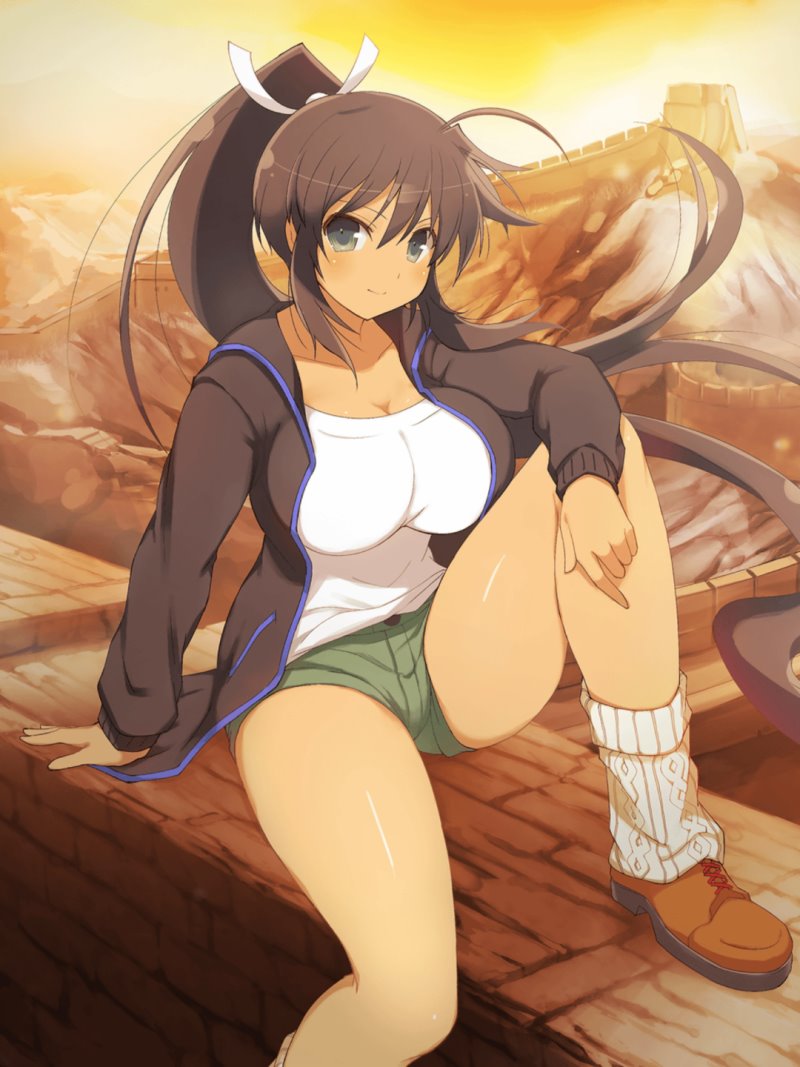 If Fairy Tail usually handles this well, Senran Kagura almost always fails completely.
And Touhou is not immune, though maybe we have to give her a pass because she's a magic user.
Posted by: Steven Den Beste in Cheesecake at 01:06 PM | Comments (6) | Add Comment
Post contains 504 words, total size 4 kb.
Posted by: CatCube at May 07, 2016 03:16 PM (fa4fh)
Posted by: Steven Den Beste at May 07, 2016 03:57 PM (+rSRq)
Posted by: CatCube at May 07, 2016 04:20 PM (fa4fh)
Posted by: cxt217 at May 07, 2016 08:59 PM (qfQs4)
Posted by: Steven Den Beste at May 07, 2016 10:27 PM (+rSRq)
Posted by: Brett Bellmore at May 08, 2016 03:14 AM (l55xw)
Enclose all spoilers in spoiler tags:
[spoiler]your spoiler here[/spoiler]
Spoilers which are not properly tagged will be ruthlessly deleted on sight.
Also, I hate unsolicited suggestions and advice. (Even when you think you're being funny.)
At Chizumatic, we take pride in being incomplete, incorrect, inconsistent, and unfair. We do all of them deliberately.
How to put links in your comment
Comments are disabled.
12kb generated in CPU 0.0082, elapsed 0.018 seconds.
20 queries taking 0.0111 seconds, 23 records returned.
Powered by Minx 1.1.6c-pink.