October 30, 2009
Aika Zero -- I know what's coming
Dammit. My sciatica is kicking up, so my left hip hurts. I did something to my neck, so that hurts, too. And I had an idea just before I went to bed, so I have had a hard time staying asleep because of it.
Insomnia is a bitch. And I can't do anything about my back or neck. (NO SUGGESTIONS, PLEASE!) But I can memory-dump the strange idea, and maybe stop having weird dreams about it.
I figured something out about Aika Zero: this is the series where Aika gets her bionic bra. I'll show you the NSFW evidence for that below the fold.
---
I downloaded an ISO of the DVD of the second episode of Aika Zero, and like the first one it included a picture drama, one with minimal animation but voices behind it. It's not subtitled in English, but it wasn't too tough to figure it out. There was one like that on the first disc, too, and it was about Aika learning how to be a waitress at a cosplay cafe. That one didn't have anything to do with the main series plot. This one is about some of the girls who have been taken over by the alien tentacle monster, though, and I think it does. So, on with the frame grabs!
These two girls are the main lieutenants for the purple haired one who is chief among those working for the alien tentacle monster.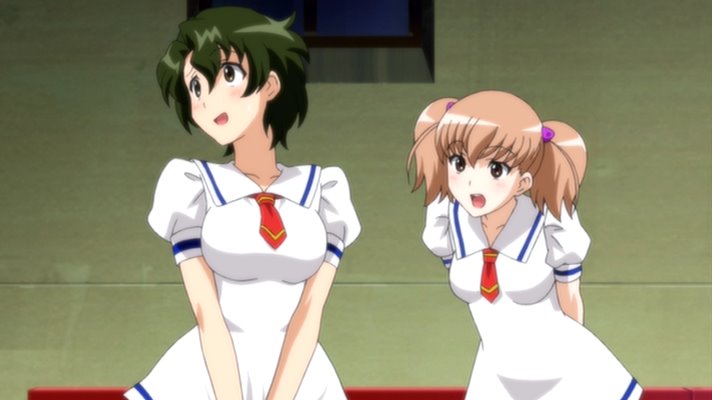 Hey, what's the problem?

I don't have any panties on!

Not to worry!

Because I'm not wearing a bra!

Hey, I have a great idea!

Let's do yuri!

boss-lady: Hey, you two, knock it off. Put these on.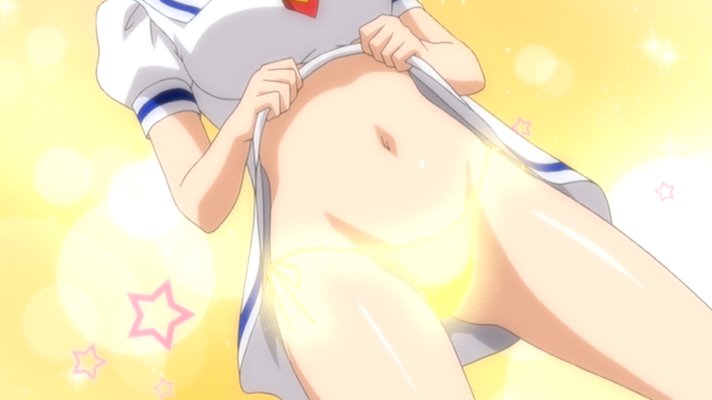 Ooh, these panties feel funny!

So does this bra!

boss-lady: evil chuckle
So that's what the picture drama was about. From here on out, there are frame grabs from ep 2 proper.

This is a cast shot of most of the girls who are working for the alien tentacle monster. The three in the middle are the top ranked ones, and the very center one is the boss lady. But there's another who is high ranked, and in a sense even higher ranked. She's really tall and beefy, and she's actually got a bionic bra as far as I can tell.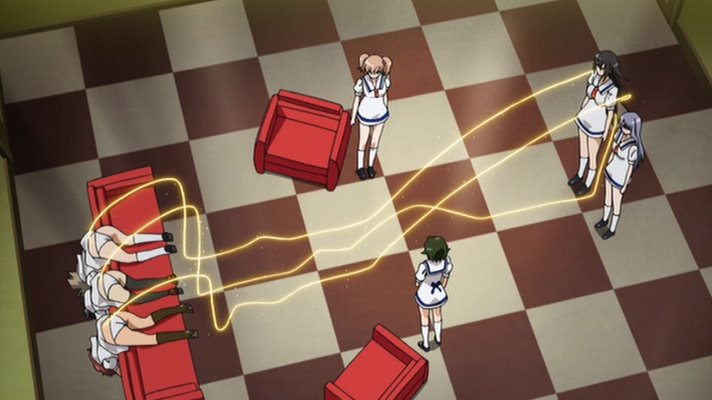 That's her in the upper right, next to the purple haired one, and you can see the alien tentacles coming out of her bra.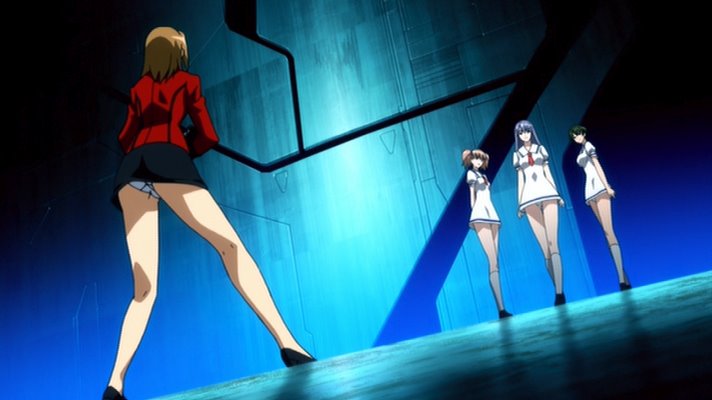 Late in the episode, Aika is in the cave beneath the school, and gets confronted by the big three. That's where the episode ends.

In the next-ep teaser, the moose jumps down behind Aika and grabs her.

And Aika gets poked in the butt, like all the others who have been captured, and she goes unconscious. By the way, this picture also proves that the moose's symbiote isn't her panties.
And that's why I put the pieces together. The alien tentacle monster has been gathering human DNA, and apparently has enough now to move forward with the next step in its plan to create symbiotes for some of the girls. The moose is the first, but the top three look like they'll be next, and Aika is also on the menu.
In the first Aika series, Aika said that she was involuntarily part of an experiment to create the symbiotes, and she was the only one for whom it was successful. In that series, the bad guy created a pair of bionic panties for his sister, and eventually they consumed her and turned her into a monster. It really was hideous.
I sure hope that's not what we're going to see in the third ep of this series. And I suspect we won't. Here's what I'm guessing: the alien mind control won't work on Aika. On the contrary, in the contest between her and the alien bra riding her, Aika will take over control of the alien because her will is strong. And that's why the experiment "worked" for her and the bra didn't end up destroying her.
As to the others, they'll all eventually start shrieking or something but the good guys in this series will manage to capture them all and remove the bionic underwear before it can turn them into hideous piles of protoplasm like happened to that one in the original series.
Posted by: Steven Den Beste in Engineer's Disease at 02:20 AM | No Comments | Add Comment
Post contains 726 words, total size 4 kb.
Enclose all spoilers in spoiler tags:
[spoiler]your spoiler here[/spoiler]
Spoilers which are not properly tagged will be ruthlessly deleted on sight.
Also, I hate unsolicited suggestions and advice. (Even when you think you're being funny.)
At Chizumatic, we take pride in being incomplete, incorrect, inconsistent, and unfair. We do all of them deliberately.
How to put links in your comment
Comments are disabled. Post is locked.
9kb generated in CPU 0.02, elapsed 0.0164 seconds.
18 queries taking 0.0114 seconds, 16 records returned.
Powered by Minx 1.1.6c-pink.