May 01, 2008
Eiken
Alright, guys, don't say I never did anything for you.
Eiken is rather legendary. I don't know of a non-porn title where the girls have bigger, more ridiculous breasts. Not all of the girls in it do, but there are a few who are well beyond belief.
It's an OVA and they only made two episodes of it. It's a bit surprising that they gave up on the OVA so soon.
Well, maybe it's not so surprising. NSFW below the fold. Also a huge number of frame grabs and a big flash, so it'll be slow loading.
The hero is named Densuke and he's the classic-for-this-kind-of-story under-developed wimp of a guy who, for no obvious reason, becomes a babe magnet. (Essentially the same character can be seen currently in Kanokon.) The girl of his dreams is Chiharu:

The second eyecatch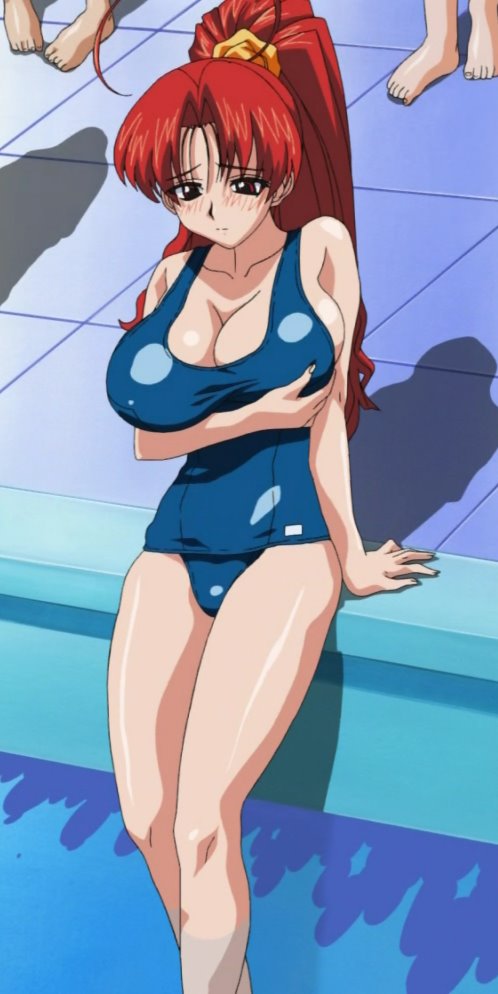 There are a hell of a lot of reasons why this series is extremely disturbing, but for me the most important is this: all through the series, Chiharu looks utterly miserable. It isn't until the final scene of the second (and last) episode that she finally smiles and begins to look happy.
Her kid sister is named Yuriko. According to Wikipedia, she's supposedly an A-cup, and that's a total crock if you ask me. (Especially considering that Japanese bra sizes are inflated (sic) one step. A Japanese "C" is an American "B".)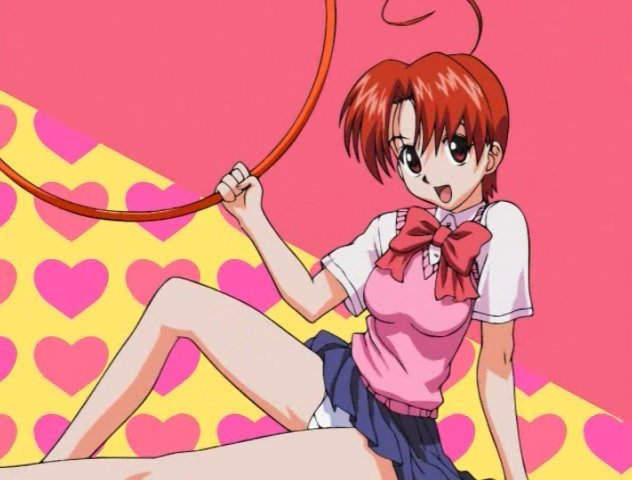 Yuriko feels inadequate; she's jealous of her sister's tits, and also of the fact that Densuke is paying attention to Chiharu. So Yuriko has decided to seduce Densuke, or something like that, and she's the most aggressive at molesting him of all the girls in the series. Here's her preferred way to greet him. I suppose this could be considered a kind of glomp.
And she does it again...
...and again...
This particular time she damn near drowned him. Here are most of the other girls in the Eiken club:
The one on the right, with the pink hair, is in 6th grade and apparently is the youngest in the club. (She's supposedly younger than the one sitting next to her.) Her name is Komoe and she supposedly has a 111 cm bustline. For the metrically challenged, that's 43 inches, and I don't believe that, either. It's a lot bigger. I don't understand how that girl can stand up without a cane, let alone walk -- or run.
As to running, there's a scene where she's in a race, and the... counter-vibrations reach catastrophic levels and she dumps flat on her face because of it. No, I'm not going to show it to you; it's too gross.
The one with purple hair is Kirika. She splits the difference between Chiharu and Komoe. It's obvious that her tits are uncomfortable, because she has a tendency to park them on top of Densuke's head. (Not only is he a wimp, he's also short.)
In a couple of scenes Kirika moves rather abruptly, and her breasts never stop bouncing afterwards. Here's one of them:
Enclose all spoilers in spoiler tags:
[spoiler]your spoiler here[/spoiler]
Spoilers which are not properly tagged will be ruthlessly deleted on sight.
Also, I hate unsolicited suggestions and advice. (Even when you think you're being funny.)
At Chizumatic, we take pride in being incomplete, incorrect, inconsistent, and unfair. We do all of them deliberately.
How to put links in your comment
Comments are disabled. Post is locked.
14kb generated in CPU 0.0068, elapsed 0.0179 seconds.
21 queries taking 0.0121 seconds, 24 records returned.
Powered by Minx 1.1.6c-pink.